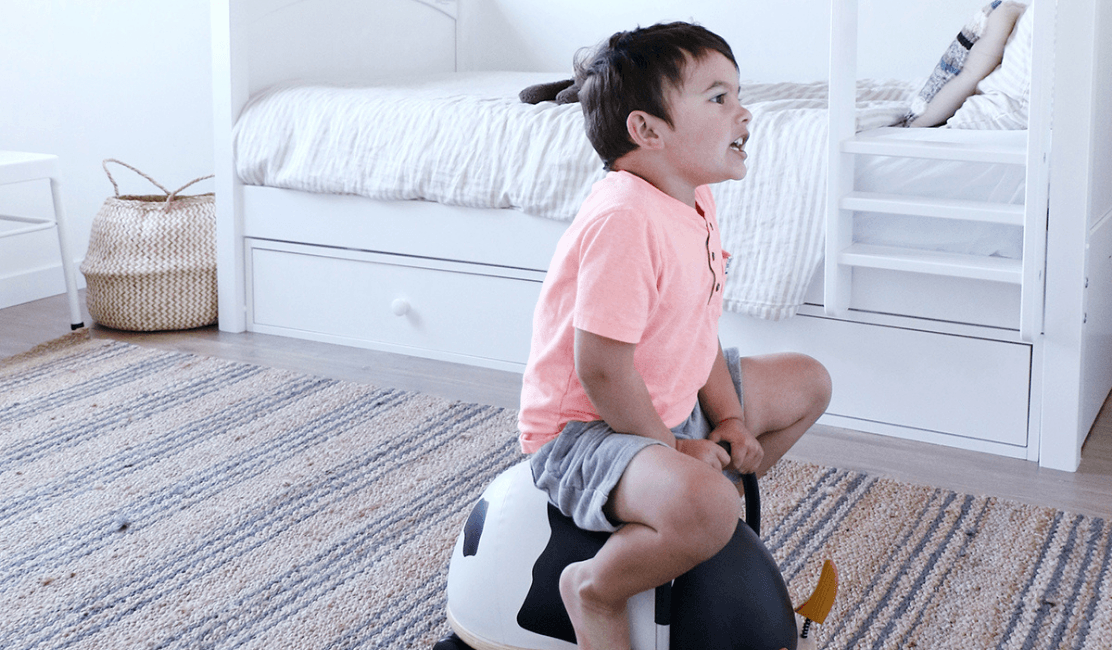 Looking for kids room, tween room and college dorm inspiration? Look no further! We've gathered our very best resources for choosing the right bed, bunk bed or loft bed with slides, storage, study & more with our custom kids bed links below. Interested in something specific? Contact our design team for assistance creating the right configurable bed for your space. 
Buying Guides
What Bunk Bed Height is Right for My Child?
Not sure what size bunk bed height is right for your child? As the Bunk Bed experts, we're here to help you select the perfect fit. Read our bunk bed height tips to choose Low, Medium or High + shop our wide range of Bunk Beds for all ages! As the best adjustable bed on the market, you can change your bed height later.
What Size Bed is Right for My Chid?
Need help choosing the right size kids bed? For kids, it's an impactful experience to get your own "grown up" furniture – it's a big event! But, how do you know what bed type is right? Learn how to measure your kid's room, and read tips for choosing the right bed size and height for your child's age and space.
Create Perfect Custom Kids Bed
Customize your bunk or loft bed. Start with basic twin beds for kids and then customize and style them to create your unique design. Choose heights, lengths, bed end styles and entrances as your base kids twin bed. Then, fulfill functional spacial needs with storage, study and play features.  
Maxtrix Unparalleled Safety and Sustainability
There are a lot of choices out there for kids' furniture, but we make it easy at Maxtrix. Whether shopping for your toddler or teen, Maxtrix - the world's largest kids furniture system - has custom options that are built to last and designed to grow. Trust the kids bed experts and don't sacrifice safety for style or fun for function! 
You found us! This is a fantastic place to get inspired when you are redoing your child's room. From bunk beds, loft beds, slides, fun fabrics and tents, Maxtrix Kids Furniture has a huge selection. In fact, you can create more than 22,000 combinations with our range of components and accessories! So, how did we create and grow to the world's largest kid's furniture system? Meet our owners - Stephen and Anne Jensen - and find out the story behind Maxtrix!
See most popular, best kids beds all in one Top Kids Beds Collection by Maxtrix, including best toddler beds, girls beds, best bunk beds and more for single or shared kids rooms. These room configurations easily sleep one, two, three, four or more!
The Holidays are over and we're left now with a whirlwind of new items. Let's talk some quick tips to de-clutter your kid's room with storage. Here are our top storage solutions with under bed storage, toy storage, bedside storage and convertible beds with storage for boys and girls rooms.
Create Perfect Kids Storage Bed
Read our Buying Guide with steps to build the perfect storage bed for your child, saving valuable bedroom floor space.
How to Shop for a Kids or Toddler Mattress
As adults we spend a lot of time trying out mattresses before choosing one, but how much effort are we spending on kids mattresses? Kids spend more time in bed than adults, and let's also not forget spills, wear and tear. Know how to shop for safe and durable mattresses for kids rooms, bunk beds, and toddler beds.
Top 3 Reasons to Choose a Low Profile Mattress
Elevated beds like bunk beds and loft beds are very popular with boys and girls as they provide so much functionality and fun. Don't sacrifice comfort, space, convenience or safety by choosing the wrong low mattress for your elevated bed. Shop the best low profile mattress for bunk beds and loft beds.
Unique Beds
Combine Two or More Beds - Corner Loft Beds, Tripes & Quads
Make great use of room corners and never hear the kids fight about the top bunk again with corner beds for kids, triple bunk bed & quad corner bunk beds for four. Sleep comfortably with bed designs intended to accommodate kids, tween, teens and even adults.
Triple Bunk Beds for Shared Kids Rooms
Need to sleep three? Accommodate three or more with our unique triple bed configurations -  stacked triple bunk beds, triple bunk bed with trundle, corner beds for kids and l shaped bunk beds with stairs. 
The Ultimate Quad Bed that Sleeps Four
Are you ready to see what one of our corner bunk beds for four looks like in a room setting? Many have asked us to show the scale of our quad bunk beds, and we are thrilled to be able to share our latest setup featuring a l shaped bunk beds with stairs.
We are super thrilled to announce the additions of both Queen and Extra Long size bunk beds. Even adults won't mind bunking up with the extra space afforded by these designs. Available in 43 configurations with 3 finishes!
Small Kids Rooms Pack a Lot of Punch
Small kids bedroom? Take a look at some of our best configurations that pack a lot of punch with sleeping, studying & storing solutions all in one compact bed design. See small space low lofts and high lofts for on or two kids, tweens or teens.
Tall Beds & Long Beds for Kids Rooms
Need extra bed length? Tall kid's room? Have the space to go bigger? Make your kid's bed suitable for growing kids, tweens, teenagers and adults with Maxtrix XL, Queen and Tall Beds. See tween room, teen rooms for inspiration.
Bunk Beds with Ladders on End for Tweens
Introducing a new way to climb up bunk beds - move the ladder to the bed end. This space saving style has a modern design and clean aesthetic; designed with tween and teen rooms in mind. Customize your bunk bed ladder with Maxtrix and position it on either side of the bed. Ladder on end options are available on any Maxtrix size or height configuration, including low, mid and high height bunk beds. Try a twin-over-twin bunk bed, twin-over-full bunk bed, full-over-full, queen-over-queen and many more options.
Slide Beds
Kids Love Slide Beds - Shop Top Selling Bunks & Lofts with Slides
Why climb down from your bed when you can SLIDE? Our slides can be added to any low, medium or high loft or bunk bed making perfect Kids Beds with Slides. Shop top slide beds for girls rooms, boys rooms, shared rooms. Get inspired with princess bed, castle bed, play bunks and fun kids beds all with slides!
Slide Beds for Kids - Best Bunk Beds & Loft Beds with Slides
Looking for beds with slides? We're combining sleep and play in several fun looks. Get inspired with kids rooms featuring bunk beds with slides, kids loft bed with slide and boys and girls beds with slides.
Girls Slide Bed - See Pretty Room
Remember Evelyn? We shared her cute toddler bedroom recently. Well, Evelyn is getting older, and it's a good thing her toddler bed can grow up with her. Now her room features a really playful loft bed. This girls slide bed is the perfect "Big Girl" bed!
Shopping kid's beds with slides? We understand; they're fun! Sleep & slide safely with our top slide bed safety tips. Consult our free checklist and shop quality bunk beds and loft beds with slides from Maxtrix.
Add a Slide to a High Bunk Bed
Now you can add a slide to a high bunk bed with the "Poof". Kids climb & slide safely with Maxtrix. Dress it up with play curtains making it a fun kids bed or add a trundle bed for sleepovers. Take a closer look at high bunk beds with slides or shop our extensive collection of bunk beds with slides in all sizes, finishes and options.
Back to School
Back to High School & College Guide: Furniture & Beds for Dorms
Want to simplify high schooler and college furniture searches for bedroom, dorm, apartment life? See our popular beds, desks & study for emerging college and high school students. Whether their going away or e-learning at home, set them up with solid wood furniture for teen rooms, virtual school learning and dorm living.
Back to School Guide: Elementary & Middle School
Is your child starting kindergarten? Returning to elementary school (K-5) or middle school (Grades 6-8)? We know your emotions are high. This is a new world for them - particularly with a lot of virtual learning in 2020. Let's transition them from preschool to elementary or elementary to middle school easily with a new room setup! We can help you change it by converting your current Maxtrix toddler furniture or starting fresh with new items from Maxtrix!
Back to School Guide: Preschool
It seems like everyone in the home gets nervous when it's time for our young toddlers to start preschool. There are are a few things, however, we can do in the home to help them transition well. Most importantly, let's make sure they are well rested and ready for a half or full day of fun. This starts with setting their bedrooms up well. We can help you there.
8 Tips to Help Kids Complete Their Homework
Limit homework and homeschool frustrations! Help your child cope with schoolwork at home blues, from covering basics to creating study spaces. These easy eight tips guide parents into setting their homes up for successful school years - whether studying in-person with homework, e-learning at home or homeschooling.
Without notice, your home has been turned into an all-inclusive location for sleep, study and recreation. As we spend more time indoors, get inspired with designs intended to help your kids - toddler to college - learn, play and hangout. Your home is now everything!
Loft Beds with Desks for Small Room & Study Environments
Back to School is a great time to create the right study environment for your child to get serious about school, virtual learning and homeschool. A loft bed with desk works in small spaces. Here are some simple ideas and considerations to help you create the right study environment for your child to focus and learn.
Back to School Ready with Kids Loft Beds with Desks
It's that time of year when we prepare for Back to School! You can easily create the right homeschool study environment using a loft bed with desk. It's the perfect solution for a small kids room, teen room or dorm. Here are some of our favorite room setups - get inspired & customize your perfect loft bed with desk from grade school to college.
MyMaxtrix Room Reveals
Ashley Noel Chooses Triple Corner Bunk
When it was time for all three young girls to share a room, Ashley Noel turned to the Maxtrix triple corner bunk bed with stairs. She loved that it freed up space for her girls to study, play and hangout. The staircase steps made climbing safer. See Ashley's beautifully designed shared girls room in this room reveal.
Corner Bunk Beds Add Space in Shared Boys Room
A house of boys is so much fun; especially when they share a room full of laughter, pillow fights and tons of play sessions. Blogger Adrianne Betz with Little Adi + Co. loves the excitement and enjoys creating spaces for her two young boys to share. She has always liked bunk beds for their space-saving appeal.
How to Divide a Shared Coed Room with Twin XL Beds
Mom Alexie from RaisedKind designed her coed boy and girl shared room with space for even Mom & Dad to snuggle. Neutral finishes and sustainable products checked her boxes. See how to divide a shared kids' room with Twin XL beds, trundles and storage, which serve their short and long-term goals - toddler bedroom to teen.
Tall Bunk Bed for a Growing Boy
Meet Charlie. He's a fun-loving, energetic 5-year-old who HAD to have a bunk bed! See why his family chose the Tall Bunk Bed with trundle & guard rails.
Twin over Full Girls Bunk Bed with Slide
Mom Tracy Dimarco designs her daughter's new shared bedroom featuring the "Slick" Twin over Full Girls Bunk Bed with Slide! She loves the idea of keeping the room tidy with underbed storage drawers while the girls love sliding out of bed. See their 'pretty in pink' Room Reveal with a girls bed with slide. 
Low Loft Bed with Slide Room Reveal
Families love investing in solutions that last, and that's exactly what Brittney Fusilier did for her daughter's room makeover. Her daughter, Madison, was ready for her first big girl room and REALLY wanted a bed with a slide. Having co-slept on-and-off with her parents since birth, Brittney knew that if Madison helped her pick out her first big girl bed, she might be super excited about sleeping independently. Little sister, Liv, would also be joining her in the years to come, so they needed a kids bed that would grow with the family over time, and from one kid to a shared solution. 
Big Girl Princess Room Transforms
Lily was ready for new adventures. She wanted to trade in her Princess low loft for bunk beds so she could climb high like her brother. We added a full bunk bed on the bottom so Mom and Dad could enjoy snuggle, reading and storytelling time (a big part of our nighttime routine).
Girls Twin over Full Bunk Bed Room
We love that Mel from GunnGirls believes rooms are sanctuaries. We couldn't agree more. We spend most of our lives in them; especially as children. And, when it was time to update her girls' new bedroom, we were thrilled that her research led her to us. Mel's daughter's, Genesis (7) and Daisy (4) love sharing a room and really wanted a bed that allowed them to comfortably sleep and hangout together. Mel chose our Slope Twin over Full Bunk Beds with slat bed ends as the centerpiece of their new bedroom design. Meet the girls and see their pink and white girls room reveal staring White Twin over Full Bunks! 
Boys Room Inspiration with Classic Twin Bunks
When a family moves, many take it as an opportunity to update furniture and decor to fit their new space. Kids rooms are typically at the top of the list. Social media influencer Chelsey from FrengePartyof5 reveals her shared boys room at their new home featuring classic twin bunk beds. See her room design and shop the look.
Room Inspiration 
Looking for more inspiration? Try our Rooms We Love collection or follow us on Instagram or Pinterest!