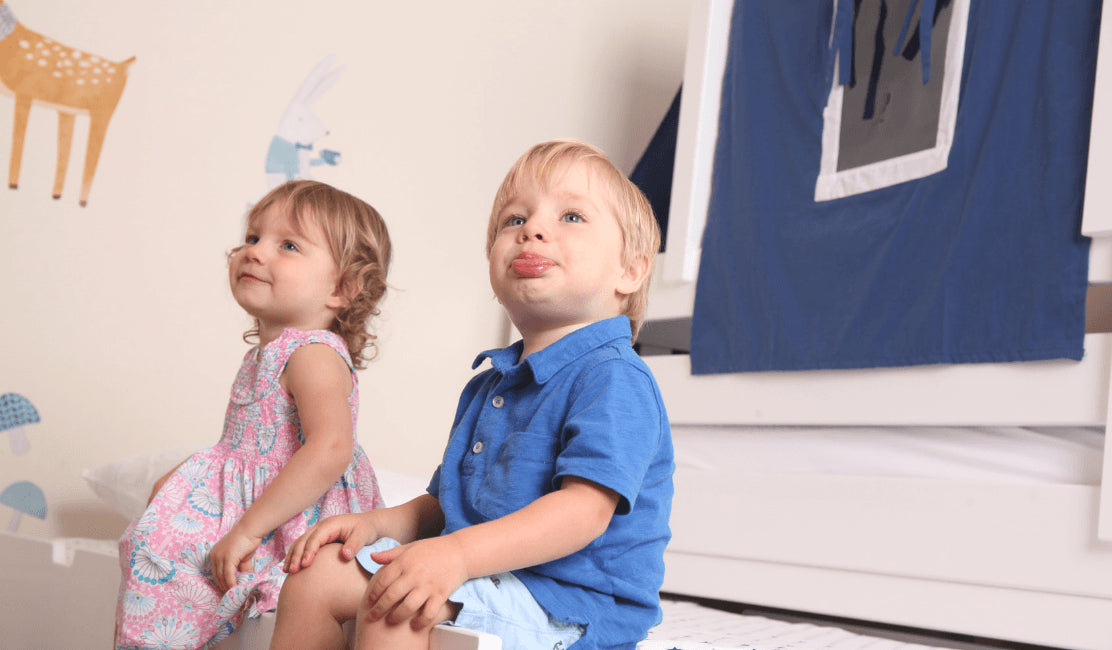 Remember hearing the soft sound of pitter-patter steps down your hallway for the first time? That's when you realized your 'baby' climbed out of the crib. For many parents this is THE feared stage. Toddlerhood. Temper tantrums. Terrible two's. We've all heard the frightening expressions. But, why focus on the negatives when there are so many positives? Like building a cool toddler room! Here's your opportunity to get that final budget approval for a bedroom makeover!! It's time to upgrade to a toddler bed. Have fun with it and build a space evoking laughter, joy and lifetime memories. Follow these tips when it's time to shop for toddler beds for boys or toddler beds for girls.
When should I transition to a toddler bed?
When your little one actively climbs up the side and manages to get over the top (be careful as there is a real chance of injury here). 
When he/she is able and wants to follow simple instructions – but can't because they are trapped in the bed! 
When the bed simply gets too small! 
When you don't want to keep getting up to "rescue" your toddler from monsters at night. 
When you are ready to get woken up by your child coming to your bed rather than hollering down the hall. 
Maybe you replied, "yes," to one or many of the "when" statements above. So, now, you think your child is ready. What a milestone! Consider the following items below.
How do I keep him/her inside the bed?
Put lots of friends like stuffed animals or treasured blankets in the bed and explain that he/she – like them – need to stay in there! If you add a top tent to your toddler bed this will help create a cozy, unique yet defined space that they will connect to sleep time.
How can I make the new sleeping quarters as safe as possible?
Pay special attention to the height of guardrails for your toddler bed. You want to make extra sure they are as tall as possible to prevent accidental falls at night. (Note: Maxtrix has one of the highest guardrails in the industry at 11" above mattress surface, if used with a low profile mattress.)
Remember that the higher the mattress you buy, the lower the guardrail! Avoid any gaps or protrusions on kid's furniture. All manufacturers have to comply by federal safety standards, but you may want to double check that there is nothing your child can get stuck in or nothing their clothing can get wrapped around and cause accidents.
Insist on natural materials. To manage and prevent allergies and exposure to toxins, insist on natural materials in your child's room (like wooden furniture, and 100% cotton fabrics). Make sure lacquers and paints come from reputable suppliers. We use only certified lacquers and paints and then double tests the end product to ensure they conform to US and European regulations.

Other safety considerations include: Keep bedding minimal until you are absolutely sure your child can free him/herself from covers and duvets.
What other products/ideas could make the transition to the new bed easier?
When an established routine gets interrupted, things can get out of hand easily. Get your child in on the choices you make by showing them images of their new bed and creating excitement.
Mark this transition as a happy occasion for him/her. If you can coincide with a birthday/holiday make the new bed a special present. Consider a furniture system that looks like a mini playground. With lots of fun to be had, they make the perfect present!

Storage is another big consideration. Do you want your little one to help clean up his/her room? You can add movable storage drawers to your bed to hold all the toys, and he/she can see the difference between messy and tidy super easily.
Does he or she have lots of cousins and friends over for sleepovers? What about nighttime fears? Does he/she call for Mom a lot? You can add a trundle to make sleepovers comfy for all visitors (voluntary or not!)


Lastly, remember that style and function matter. You don't have to re-configure the entire nursery when you get a new toddler bed, but there are a few tips to bear in mind.
Put the bed away from windows or other spots where injury could occur. 
Place the bed in the darkest spot in the room, and maybe invest in block out blinds to keep your little one sleeping a bit longer in the morning. 
A top tent for your toddler bed can drown out sounds and light, and we often get reports from moms that their kids sleep much better when they snuggle under one of our tents. (PS: you can very easily remove the top if you want – great if it's hot and you want air to circulate.)
Maxtrix toddler bed
.