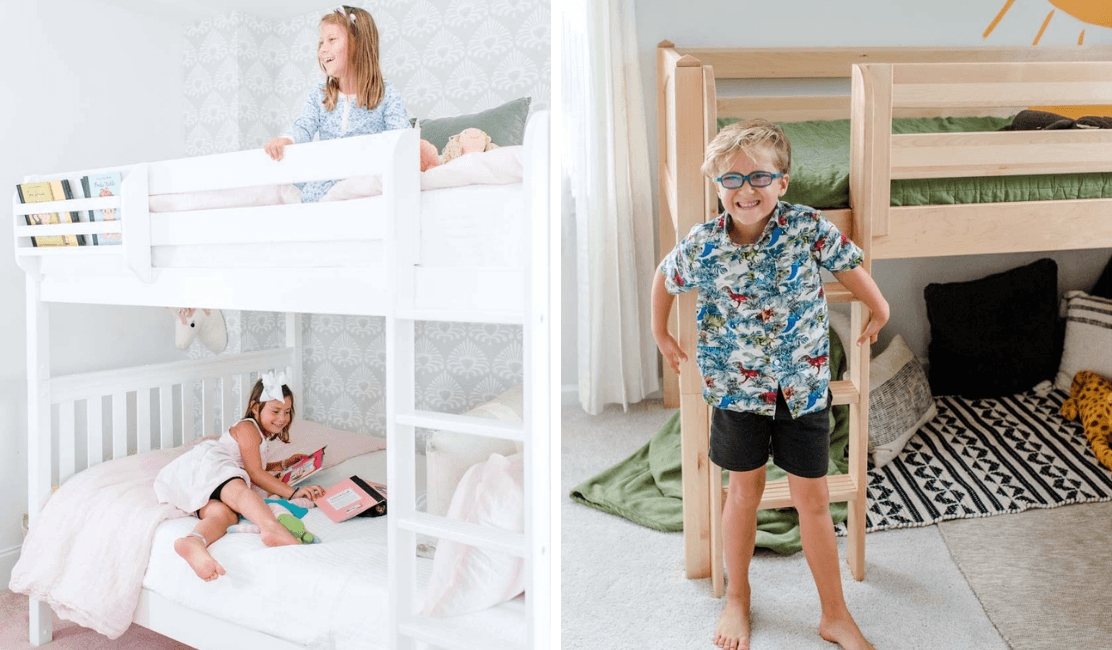 It's easy to understand why kids wish for bunk beds for their next room makeover. What's better than climbing up to your own private space where others are not allowed? Or, how cool is it to recreate the same sleeping arrangements that they had at summer camp? We understand why parents search for "bunk beds" first when it's time to makeover their big kid's rooms.
But, there's a common misunderstanding that we would like to address as the Bunk Bed Experts! Do you mean to shop for bunks or lofts? Loft beds also sit up high and provide many of the same features as its sister, the bunk bed. While considering the many sleep options for your child's room, know the main differences (and possibilities) between bunk beds and loft beds - so when it its time to furniture shop, you know the exact terminology to use!
Bunks or Lofts? Let's Discuss Bunk Beds
A bunk bed is defined as at least two beds that are stacked on top of each other and form one unit. If you need at least two beds in one room, and you don't have much space, a bunk bed may be the perfect option for you. Of course, there are many different bunk variations. Traditional twin bunk beds (Psst: Maxtrix offers 3 heights - low, medium and high!) Here is an example with our best selling Get It bunk:
Others prefer the popular staggered bunk bed design as seen in a twin over full bunk bed:
If a twin bed is a little too small for you, shop our larger sizes, including Twin XL, Full, Queen stacked bunk bed! Many people love the extra space the bottom bunk provides in a twin over full bunk or twin xl over queen if going larger. Whether you go with an angled ladder or bunk beds with stairs for easy climbing to the top bunk, you've got a classic look that accommodates all. 
Sleeping more than two is also easy with larger bunk beds made for three, four or more. Beds decide as l-shaped configurations or corner bunk beds help maximize space and fit nicely into room corners. It sleeps three with ample space underneath for desks, hanging or storage. Or stack your beds up high if you have taller ceilings and a smaller, more narrow room footprint. There are many ways to sleep more than two in a room, look for triple or quadruple bunks.

Bunk beds are available with different entry options like straight ladders, angled ladders or stairs - you can read more about the advantages of these different entries. Here's an example with an angled ladder:

You can add additional bunk bed storage or even add a third bunk trundle bed to add more sleeping space. Shop bunk beds with under-bed storage or trundles. Lastly, with bunk beds, you can choose to dress up and accessorize your bunk with curtains and slides – something Maxtrix specializes in! Shop all bunk beds with slides. 
Bunks or Lofts? Let's Discuss Loft Beds
A loft bed is a single bed that is raised on supports high enough to allow the use of the floor area below for various purposes. If you are after the "sleeping high" feeling, but you don't need two beds in a room, a loft bed may be the perfect option for you. The added benefit of a loft bed is the huge amount of floor space it frees up – right underneath the bed. Unlike a bunk bed where this space is occupied by the lower bunk, a loft bed allows you to create a play-space with cute curtains, a storage space with dressers or bookshelves or an area to add a desk or a sofa. 
While many people may think of loft beds for college dorms or older kids, you can actually get them in different heights. Starting with a low loft, which is perfect for elementary school aged kids. Add slides or play curtains for more fun: 
mid loft
, which works well to add lots of storage underneath.
Or, high lofts which leaves plenty of space to add desks or additional storage under the bed. With our new XL and Queen size loft beds, even high school and college students find our tall study lofts to be the perfect size.
You can also go for a corner Loft, which basically combines two loft beds across a corner from each other – great for two kids sharing a room and utilizing all the floor space possible. Here's a look at the "High Rise":

Now that you know whether you want a bunk bed or loft bed, you can easily begin your search with Maxtrix with our Best Sellers. And, remember, when purchasing Maxtrix, you are buying a bed that will last from toddler to teen. You can reconfigure our bunk beds or loft beds at any time. Bunk beds can become two twin or full beds and low lofts can become high lofts or bunk beds. So, you're never stuck with one bed! Contact our team at any time to transform it into something new!