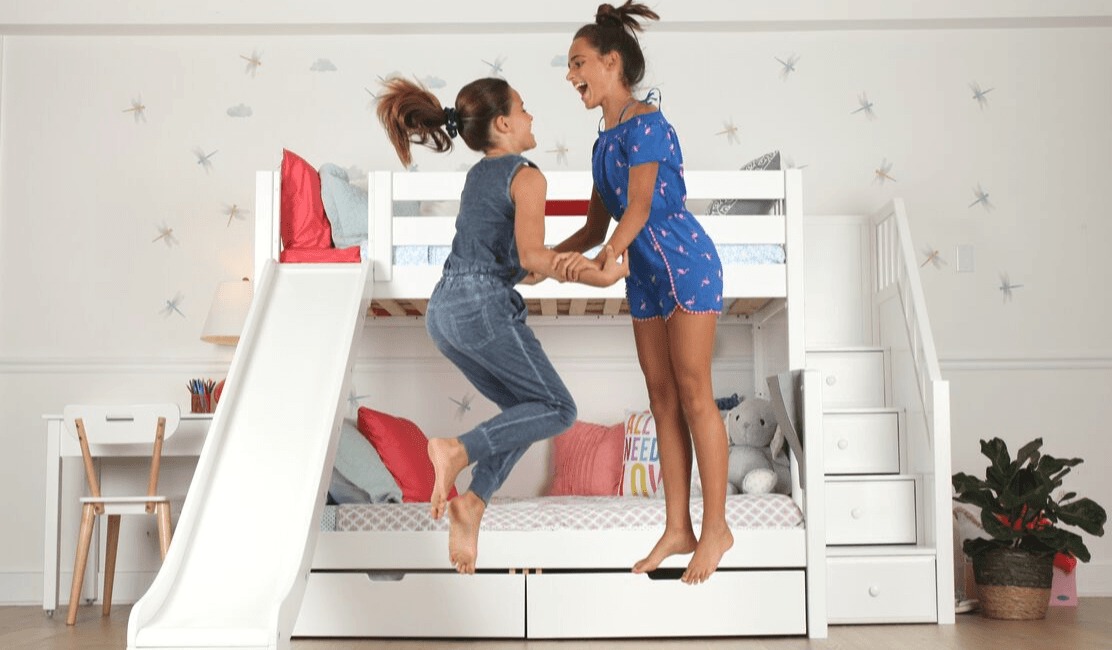 Why climb down from your bed when you can SLIDE?! That's guaranteed kid fun all year long. Think of it as an indoor playground - a slide bed is guaranteed to add that instant cool factor to any child's bedroom. Children love sliding out of bed, and even going TO bed just got so much more fun (yes, that is possible!). Interested? Explore our collection of beds with slides, bunk bed with slide, or all of our Fun Kids Beds.
Slides are only a part of the fun factor as they accompany unique loft beds with slides and kids bunk bed with slide for children . Our color coordinating slides - white, chestnut, and natural finishes - can be added to any low or medium loft or bunk bed so your child can slide out of bed to start their day! Furthermore, now slide platforms are available for high lofts and bunks.
As part of the Maxtrix® system, these slide beds are convertible - which means you can take the slide off and change the setup of your child's bedroom as your child grows. So the cute low loft with slide you start them out with can be changed over time to become any of our Maxtrix® combinations.
Its sturdy construction, curved landing zone, and extra high side panels make sliding safe and comfortable. And, all of our kid's beds - with our without slides - are built with solid hardwood so they are high quality, durable beds made to last. Here are some of our favorite boys and girl's bedrooms with indoor slides. If you see one you like, go ahead and shop our Fun Kids Beds Collection! You know you will make one lucky little girl or boy SOOO happy. :)
Best Girls Beds with Slides - Bunk Beds & Loft Beds
Girls up first! How about our new slide with slide platform for high beds with slide? It is a very safe choice for climbing up to a high loft or bunk bed. We're showing it here with a high twin bunk bed called the Poof! Just add an trundle bed to complete the look! Also, we have castle panels that attach to the front of a high loft, creating perfect boys castle beds or girls Princess beds with slides.
Twin over full bunks with slides provide ample space on the bottom bunk for reading, snuggling and playing while the slide and top tent give it a princess bed look. Add stairs to the end of the bed and shop our best selling twin over full bunk bed with slide AND stairs - the FoxTrot.
Worried about your child sleeping too high? We offer low and mid-size bunk beds and loft beds with slides for little kids. The bottom is an instant playroom (or use it to store toys, books or stuffed animals). This girl is enjoying a low loft with curtains called the Den - we can almost hear her giggling now!
Top Boys Beds with Slides - Bunk Beds & Loft Beds
OK, we admit this is really up the alley for boys. They absolutely can't get enough of our slide beds. If you want a more basic look, then start with a low loft with a slide. The side entry is a nice option as well - as seen on the Brainy below - but you could also put the ladder in the front of the bed. Add an under-bed curtain to low slide beds to make it a play loft bed. Start with the low bed now, but know you have the option to increase it to a mid/high loft or bunk as your child gets older. All of our beds easily convert.
Who's the king of his bunk? Spark your child's imagination with just the right setting for hours of play. Bunk Beds with Slides are popular for sleepovers, too! 
Two children? Lots of sleepovers? That bottom bed seen above may come in handy. Or, make it a triple with three stacked beds. We added the slide to the middle bunk for the perfect slide height. This custom look can be designed with our customer care team.
Create Unique Slide Beds!
Choose your style! We think you'll have just as much fun designing your kid's bed with slides as they will playing and sleeping on it! Start with one of our beds - bunk beds or loft bed - choose your entrance (angled ladder, straight ladder or staircase), height (low or mid), end style (curved, panel or slats) and if you want a twin or full-sized bed. Your kids bunk bed with slide just might be there perfect - functional - best gift this year! 
We've bundled many of our top looks together for you, but if you'd like assistance creating your own unique bed, contact our customer service team or use the Live Chat button on our site!