back to school
Kid's Desk Roundup: Pick the right one for your student!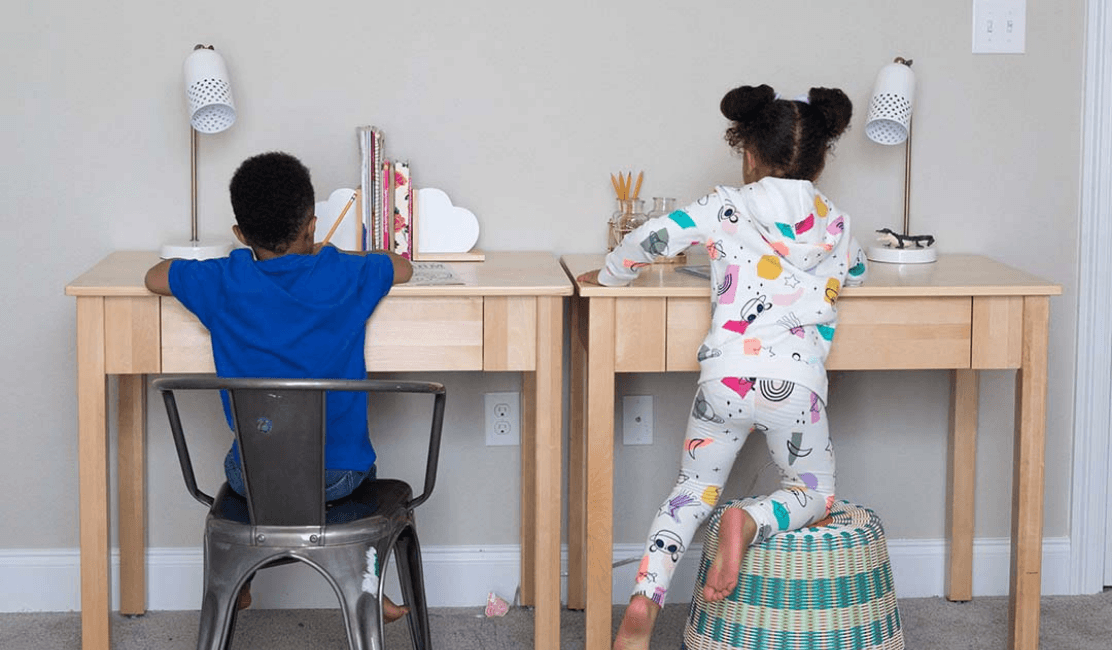 Looking for a kids study desk for your home? Help your child with homework and studies with a solid wood desk made specifically for kid's rooms, playrooms and any study space within your home. We want to help your preschool, elementary/middle, high school/college student thrive, so our team at Maxtrix crafted several functional setups with top quality so you know you can keep the desk for many years - and then hand it down to the younger sibling. Here's a helpful shopping guide to help you choose the right desk for homework, studying, crafting, homeschool, virtual learning, homework, or school from home.
Two-Drawer Study Desk with Storage
Our most popular student desk is the two-drawer desk! The drawers can be ordered on the left or the right side of the desk. This compact design - with storage - slides perfectly under any Maxtrix low loft or works functionally on its own.

The best part is the coordinating modern chairs! The legs and frame of the chairs are available in white, chestnut or natural and then we offer the seat and back in multiple colors. Let your child help you pick the look that's perfect for his or her personality!
Simple Study Desk
This versatile study desk is smaller but fits almost any space. The pencil drawer holds small items, but there's still plenty of room for homework and studies! This is the ideal kids desk for small spaces. Student desks fit nicely beside almost any of our bunk beds, forming a bunk bed with desk setup. 
Student Desks with Drawers
If your child has a lot of items to store, our solid wood student desk with four drawers on either side might be the way to go! Think about how tidy their desk spaces will be with that much storage!  Whether you choose the two drawer, four drawer, student desk or desk with hutch, you'll be impressed by the depth of the drawers. Just think about how many study supplies will be packed into them!
Study Desks Under Beds
The beauty of all of our desks is that many of them fit directly underneath our loft beds, creating a functional study and sleep environment! Get inspired with a few of our favorite lofts bed with desks!
Corner and Long Desks for Bigger Beds
For our high lofts, we highly recommend considering our long desk and new corner desks, which work under high loft or corner loft beds. Long desks fit the length (back wall) under our loft beds. With extra surface space, this is ideal for an older child, teenager or even a college student. We have an even longer version of this desk in the XL length for Twin XL Loft beds. 
On the contrary, our new corner desks fit the width of the bed end - think footboard or headboard. Or, set it lengthwise next to more storage under a corner loft bed!
Need Help Shopping for Kids Study Desks?
Like something you've seen but can't find it? Want to customize your look? Have questions or need suggestions regarding what might work best in your space? Contact our friendly team! We'll help you find the perfect kid's desk for your home. You can reach us via our live online chat tool or
contact us
.  Get inspired with entire
Back to School Collection
. Have a great school year!