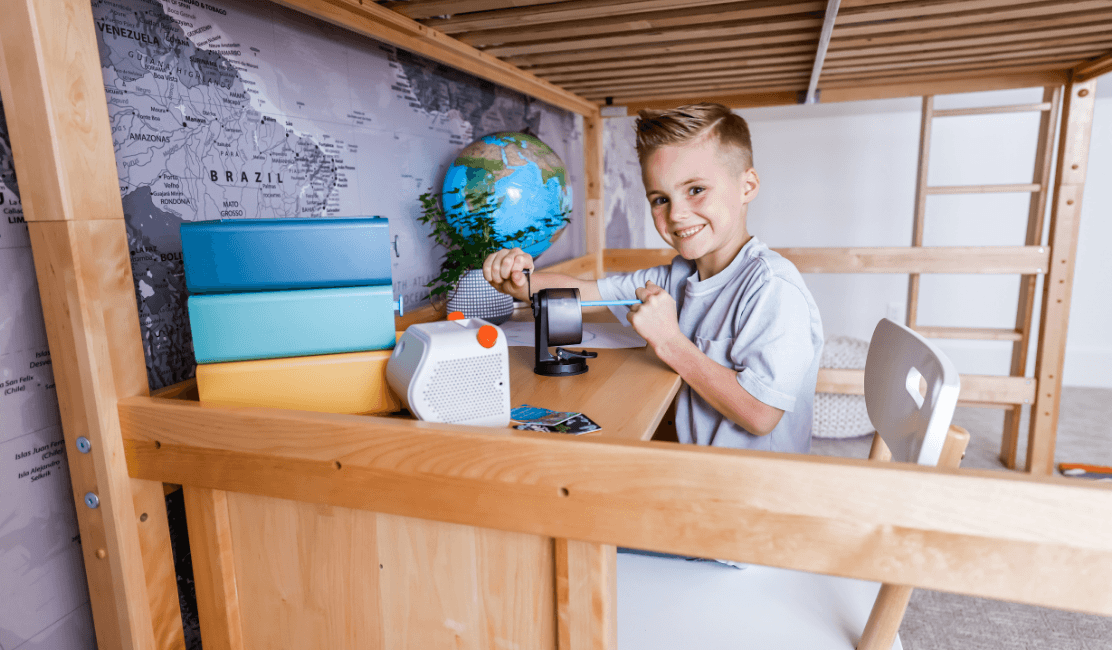 Back to School is a great time to create the right environment for your child to get serious about school. The kitchen table may do the trick when nobody else is around, but seriously... when is that ever the case? When you are a kid, staying focused is tough – and siblings, pets and parents can be terribly disruptive when it's time to hit the books. So here are some simple ideas and considerations to help you create the right study environment for your child to focus and learn.

Even the smallest room can become a functional space for studying and reading. The best way to save space and maximize small rooms is to raise the bed off the ground (also called "Lofting the bed") and use the space underneath for desks and storage. There are many loft bed designs, and choosing the right bed size and bed components depends largely on your child's height and needs. As you approach the time to customize your child's unique bed look, here are some of the main options to pick from:
Twin, Full, Twin XL, Full XL & Queen bed sizes
Low, High or Ultra High bed heights
3 Headboard styles (panel, slatted and curved)
3 Finishes (white, natural and chestnut)
One, two and three bed designs for shared rooms
Different combinations of desks and storage options for studying and keeping the small space tidy
Your end result is a functional bed with desk that maximizes small room layouts for at-home learning, school at home, homeschooling, homework and virtual classes.
Low Loft Bed with Desk
Consider a low loft for younger children. Ideal for kids 6 – 10, the low loft bed is 50.75 inches tall and creates 32.75 inches of space underneath the bed. Maxtrix offers desks that slide exactly underneath the low loft so they can be pulled out when it's homework time, and tucked underneath the bed when studying is done. A great "side effect" of this solution is that desktop clutter is automatically eliminated!
Any of the desks come with castors so they can easily slide in and out. They can be used as freestanding desks too, if you decide to re-configure the room as your child grows. Here is an example using our "Box" low loft, which can be equipped with storage units like bookshelves and dressers or combined with a desk and chair to create a cute study environment.
Mid Loft Bed with Desk
Ready to upgrade for an elementary or middle schooler? Try a mid loft bed with desk. The mid loft stands 61.5" tall, which is better for growing, older kids. The extra height allows for more drawers in a dresser or more shelves on a bookcase. Here are all of the bed heights for referencing:
One of our most popular mid loft bed configurations is called the
Bling
with a study desk, dresser and bookcase. You can move the furniture pieces around to fit your needs, and the desk rolls in and out as needed. 
High Loft with Desk
A high loft with desk is a popular choice for tweens, teens and even college students, as they provide plenty of headroom and space to add desks or shelves underneath. Maxtrix high lofts are 71 inches tall, and provide 53 inches of headroom.

Choose from staircase lofts, or the more traditional straight/angled ladder versions. Underneath the loft you can add a full length desk with 1, 2, or 3 drawer storage units if you chose.
You can also create a study corner with our corner desk right underneath your high loft bed.
Tips for Adding a Desk to Your Kids Room
Pick a desk that works with the room setup and has the functionality you are looking for in your boy's or girl's room. We get questions about desks all the time from customers, and here are some of their top requests:
Which desks are best if you need lots of storage?
Consider some of our options with drawers or hutches for extra space to put books and papers. The small 2 drawer desk is very popular as it has deep storage drawers. 
Which kids desks offer space saving solutions?
You may want a kids loft bed with a roll-away desk. Pull out the desk when it is in use or push it easily underneath your low loft when unused so the floor space can be used for hanging out, lounging or play.
How can I make the perfect use of the little remaining space I have under my loft bed?
We have designed many desk options that fit exactly under or against any of our Maxtrix beds. Are pieces are designed to work together perfectly so the dimensions match across multiple components. Just as our design team for assistance selecting the right desk for your specific bed that you've chosen. 
Compare Your Study & Student Desk Options
The Maxtrix
study desk
has been designed to fit exactly against a twin headboard, which creates a very versatile solution:
Place it right against the footboard of a standard twin bed.
Combine it with a bookcase or dresser to use the full length underneath a low loft.
Slide it under the low loft and create a great pull out desk solution.
Place it underneath a high loft for a space efficient study spot. 
The Maxtrix student desk comes with a 2 drawer unit (you can decide whether to attach it left or right facing). Solid wood construction makes this a beautiful, great quality desk. Slide it underneath any of our low loft beds or slide out later on as a great free-standing piece.
The Maxtrix full length desk was designed to run the full length of a Maxtrix loft bed – so it fits exactly underneath a high loft. Available in regular full length and XL lengths, this desk optimizes design for older students who have a lot of materials, books and personalized items to showcase. 
Maxtrix high lofts come with additional support beams, which make them even more stable and sturdy. Specially designed to fit underneath the high Loft, the corner desk and the full length desk can be directly attached to these beams to create a large study surface with plenty of legroom underneath.
Versatile Desk Chairs for Your Kids or Teen Room
A great chair is important for comfort and to move easily around between grabbing your books and papers from the shelf and settling in at the desk to study. Kids, tweens and teens love chairs on rollers, and we completely agree! We love the pop of color chairs can add to a room, and of course the quality, feel and look of wood. Our newer chair collection includes versatile chairs available in many different color combinations. Have fun creating the perfect look for your child's or teen's room!

Design the Perfect Loft Bed with Desk for Small Rooms
And, there you have it! A perfect study bed for your girl or boy! Need help designing the right configuration for your space and needs? Consult our complimentary design team standing by. They'll have you design a custom look for your small room or space.