back to school
Hudson's Elementary School Room Upgrade to Low Loft Bed with Desk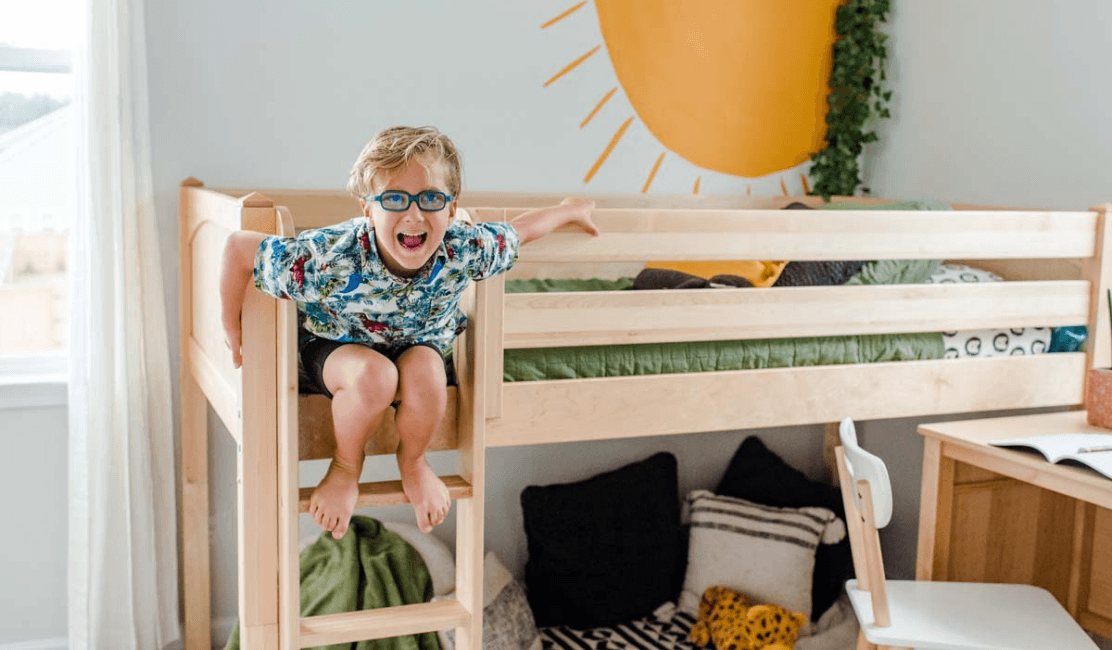 But, let's take a step back and see just how this new design became possible. Here's Hudson's original twin xl bed from his shared room with Presley:
Hudson's new setup includes his original Twin XL bed now raised with Maxtrix leg extenders, converting it to a low loft bed.
They opted for a straight ladder for a minimalistic design and to free up floor space.
The end result is a low loft with desk, which is perfect for elementary-aged kids. Because she originally chose a Twin XL size bed, there are 4 extra inches of leg space for Hudson to grow into as he gets older. 
The lofted bed is supported by super sturdy under-bed slats, so Alexie knows not only will Hudson sleep safely, but she can also join him for bedtime reading or snuggles.
And, now the space underneath the bed can be used for hanging out, reading and playing.
Hear more from Alexie, or shop either of his room designs now.
Mom Designs Kindergartner Room with a Low Loft with Desk
Learning at Home Study Environments 
Whether your child is virtual learning, homeschooling or attending school in-person year round, having a "home base" for your child to study and learn is essential to their success. For small spaces, combining beds with desks creates a multi-functional setup for both sleep and studies. With options as small as a twin xl low loft like Alexie's, to high queen lofts, there are options for every age - elementary to college. 
For a good luck at our most popular at-home learning set-ups, try our Back to School collection. Or, to shop Alexie's look now, go directly to her collection.