When it comes to vacation rentals and Airbnb's, having versatile and flexible sleeping arrangements are key. Whether you're welcoming a large family or accommodating a single person looking for extra space, having a queen bunk bed or twin xl bunk bed can make all the difference. These types of big beds maximize your square footage while still offering guests plenty of room to get comfortable during their stay. From allowing multiple people to sleep in one bedroom to providing an all-in-one solution for storage and sleeping needs, these extra-long bunk beds open up endless possibilities – ultimately becoming the perfect addition for any vacation rental property owner or Airbnb host. Learn how to maximize space in your vacation home or see top 5 bunk beds for airbnbs. 
Why Are Twin XL and Queen Bunk Beds Best for Vacation Rentals and Airbnb's?
Adding a bunk bed to a vacation rental or Airbnb is an excellent idea for creating extra sleeping space. Twin XL bunk beds are popular because they're able to fit comfortably in most bedrooms and easily accommodate two guests. Often referred to as a twin over queen bunk bed, a twin XL over queen bunk bed can sleep up to three people. A bunk bed with queen on bottom is especially helpful in situations where the space within your beach house or cabin is limited but you still want enough beds for all guests. Queen size bunk beds for adults also feature a lofted bed frame with a twin XL bed on top to open up your room for more bedroom furniture, like desks, dressers, and nightstands. Or, add storage drawers or trundles underneath the bed for extra accommodations.
Twin XL bunk beds and twin over queen bunk beds also provide cost-effective solutions that can make or save money for property owners and operators. Having one of these setups also helps create fun, memorable experiences for families who rent out the property as it encourages them to do more activities together. They're functional pieces of furniture that simultaneously add value and make your rental more attractive than ever. 
Do They Make Bunk Beds with a Full on Top and Queen on Bottom?
If you want even more space on the top bunk, then try a Full Over Queen Bunk Bed, which is sure to provide the extra space adults and teens preferred in a shared room or Airbnb. The exact size is called a Full XL over Queen bunk bed as the top bed needs to be a little extra longer in order to match up length wise with the bottom Queen size bunk bed. The assembled dimensions equal 84" L x 68" W x 70.75" H. Full over Queen Bunk Beds are offered with angled ladders in the front or move the ladder to the bed end. This Airbnb features the Full XL over Queen bunk right next to a twin over twin bunk bed, providing sleeping quarters for 4-6 comfortably. See more of this cabin collection with a Queen and Full Bunk Bed.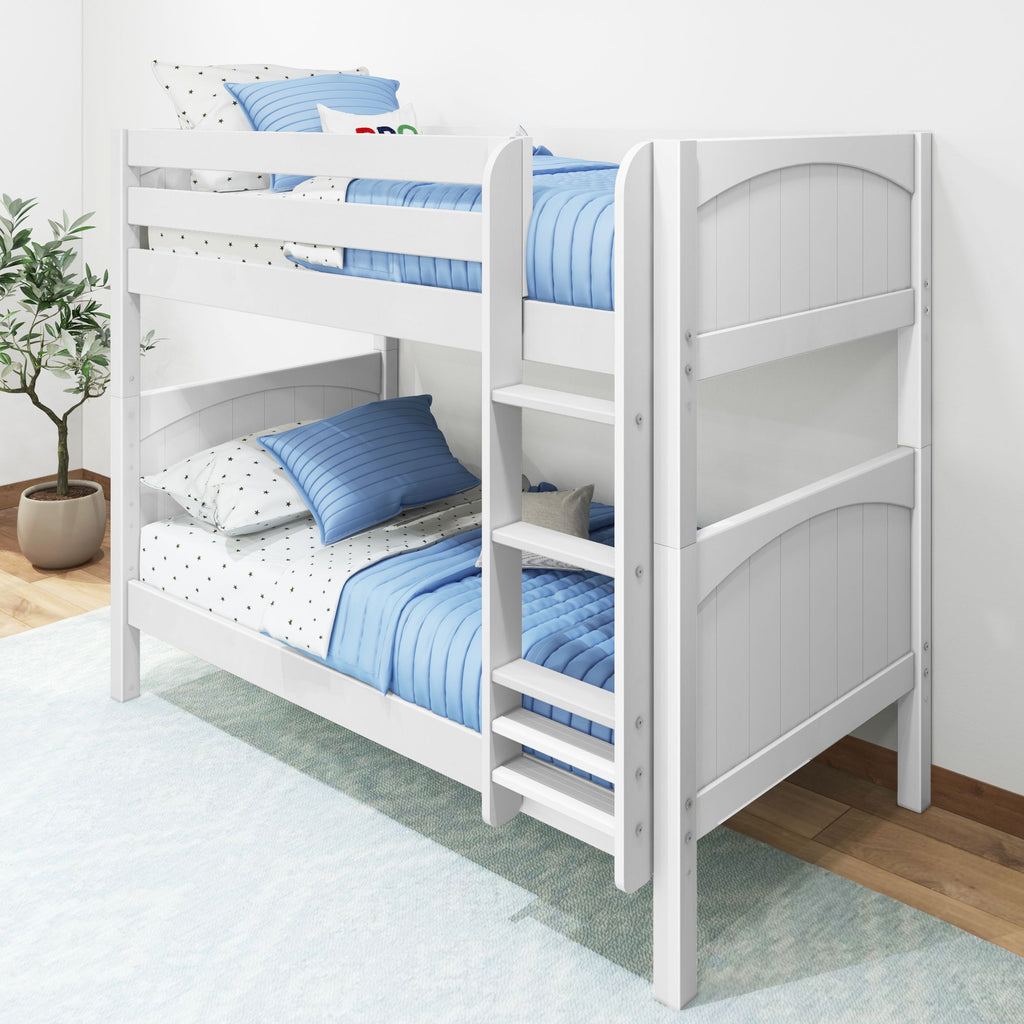 Different Options for Furnishing and Decorating with Twin XL and Queen Bunk Beds 
When you have a smaller space to work with, twin XL bunk beds are an excellent option for furnishing and decorating. If you want something more spacious, try twin over queen. This style allows more space on the bottom bunk and provides ample room for adults or teens. Both sizes can be paired with drawers or a trundle bed to create multi-functional spaces. By adding styling elements like unique wall art, decorative pillows, comfortable blankets and more, you can create a more personalized look that feels like home while staying practical and functional. Coastal hues are very popular for beach homes with a lot of white and pops of color. 
What Are the Best Mattresses for Twin XL and Queen Bunk Beds?
Twin XL bunk beds are a great option for making the most of limited space. Just like a twin XL loft bed, a twin XL bunk bed will give you more space to stretch out and rest. To get the best sleep experience, it's important to find the right twin XL mattress or queen mattress for your twin XL bunk bed or twin XL over queen size bunk bed. The best mattresses feature breathable or cooling memory foam to provide a cool night's sleep. For bunk beds, we recommend pairing these with 5-inch to 8-inch-thick mattresses for superior comfort and maximum guardrail protection. Learn why low profile mattresses are best for bunk beds.

How to Sleep the Most in Airbnb with Triple & Quad Bunk Beds
To sleep the most, try XL bunk beds and Queen bunk bed sizes in triple, quad and corner bunk bed designs - see triple and quad bunk collection. Each bed sleeps at least one person, with the option for more with the Queen size - that means 3-4 people per room. Additional trundles can be added for a fifth or sixth guest. You can even stack the beds vertically with a Twin XL triple bunk bed. Maximize the amount of sleeping space in your Airbnb with triple bunk beds and quad bunk beds designed to help you get the most out of your rental property. 
Where To Find the Best Twin XL and Queen Bunk Beds
Are you looking to increase your rental or Airbnb listing's appeal and start drawing more customers? Consider incorporating larger bunk beds such as a twin XL bunk bed or twin over queen bunk bed. These larger sizes provide extra space for couples, families, and other groups, ensuring a comfortable stay. Having twin XL and twin XL over queen bunk beds also allows for easier two-person occupancy without having to purchase two separate beds. Even better, these beds are stylish and come in multiple finishes that are sure to suit any space. See the full Queen & XL bunk bed collection for Airbnbs.
Whether you're building mountain lodges or re-designing a seaside getaway the process of optimizing sleeping space is the same. Oftentimes it's expensive and time consuming to get a custom piece made to fit. Contact our design team and we'll recommend a configuration without the custom price tag.