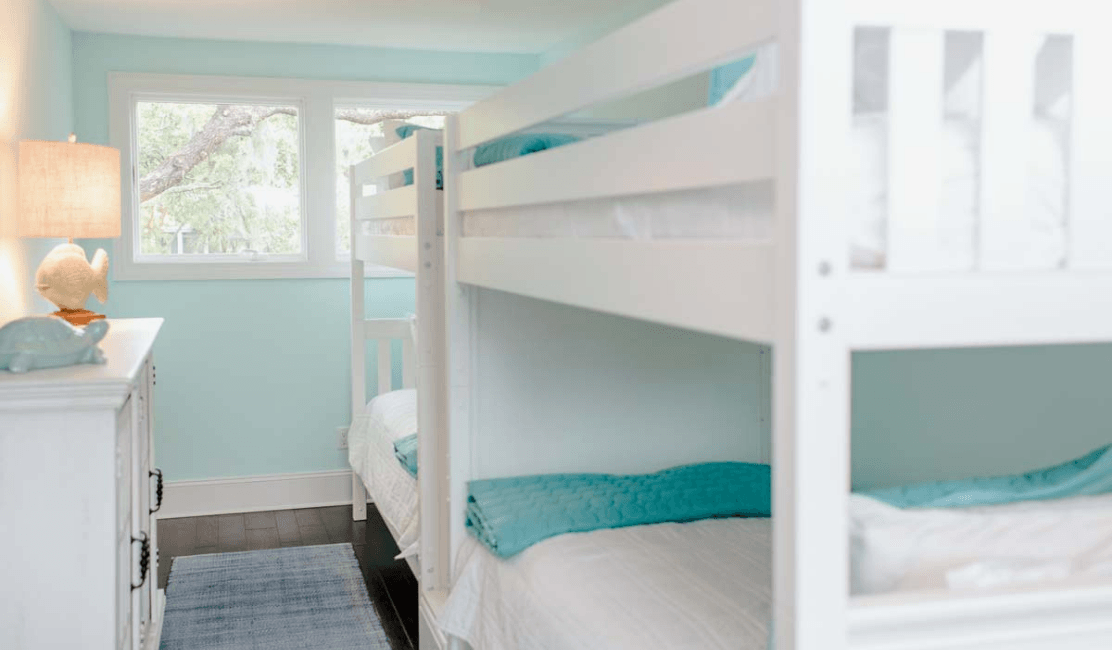 Ready to get your vacation or beach home ready for the summer? It's that time of year when we all start to anticipate our summer travels with excitement of sunny skies, family and friend time and sleepover fun! For many, it's all about accommodating as many as you can in your beach or vacation home. Adding solid wood bunk beds to guest and kid's room quarters will maximize space and allow for the max party in each space. Take a look at our most popular five bunk beds for vacation and beach homes.
Queen Bunk Beds for Adults & Kids
The excitement is real over our newly released XL and
Queen Bunk Bed
 options. This bed works for so many reasons, but many choose its frame to accommodate kids and adults alike - in fact, take here are many
Adult Bunk Beds
to consider. The Twin XL at the top provides extra leg length while the Queen bottom bunk is big enough for two people! See the
Twin over Queen Bunk
.
Need a Queen size bunk on top as well? We have that! Just take a look at how much sleeping space comes with the Queen over Queen bunk bed: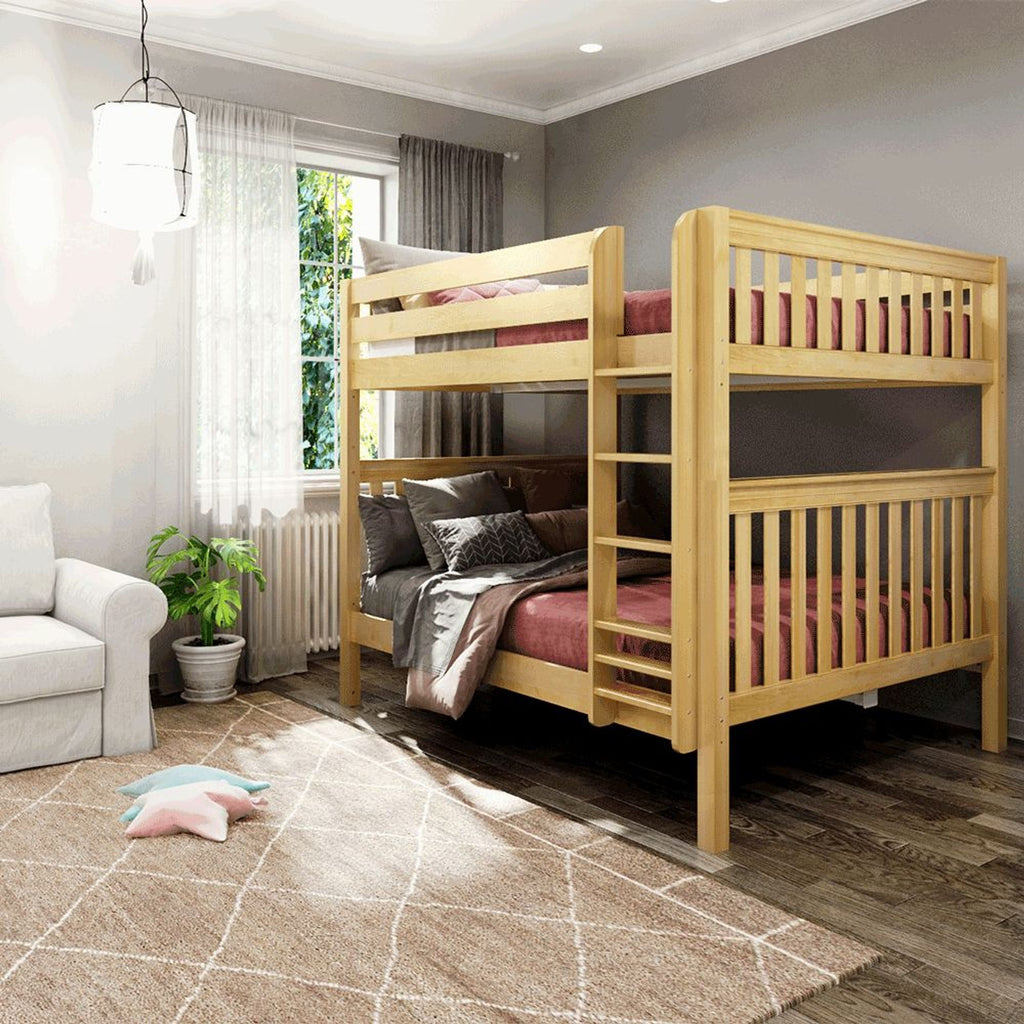 Triple Corner Bunks for Vacation Homes
Maximize corner space with a bed that fits perfectly into the 90 degree angle. There are so many triple corner bunks that sleep three easily. Two beds sit up high in an "L" shape and the third bed is ground level. Use the space under one of the top corner bunks for storage. We know you'll want it to keep rooms tidy during your summer stay!
While we have a variety of triple corner bunks with different entries (staircase, angled and straight ladders), our Triathlon is currently a top seller with a staircase on one side and angled ladder on the other. This triple corner bunk also has a full size as the bottom bed and two twins up high. Upgrade it to a Twin XL over Queen and you get the Decathlon:

Stacked Triple Bunk Beds
Tall ceilings? Ready to stack three beds together and keep your floor space? How about a stacked triple bunk bed? The Holy is our most popular design because with two straight ladders, you are truly maximizing space. Our sturdy bunks are made of solid wood and withstand up to 800 pounds, so you know your family and friends will sleep comfortably and safely with this triple bed.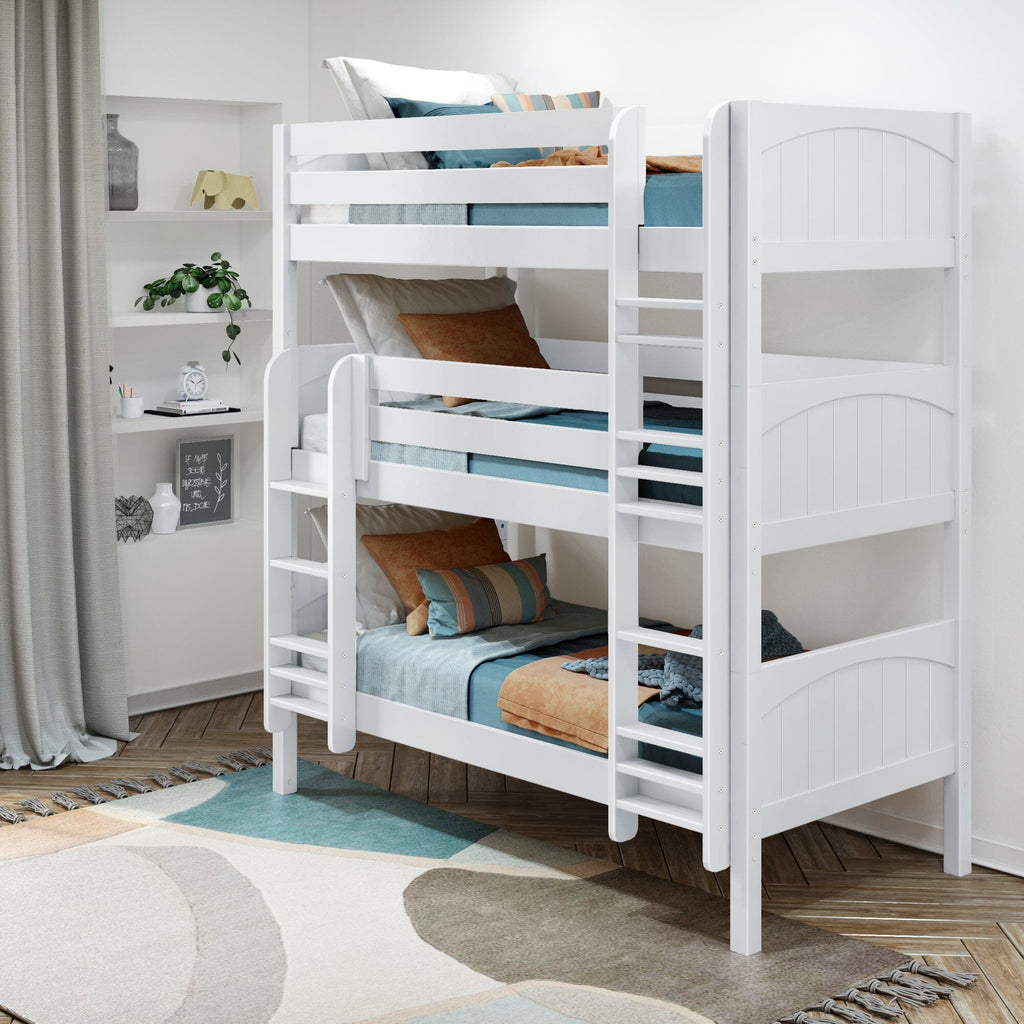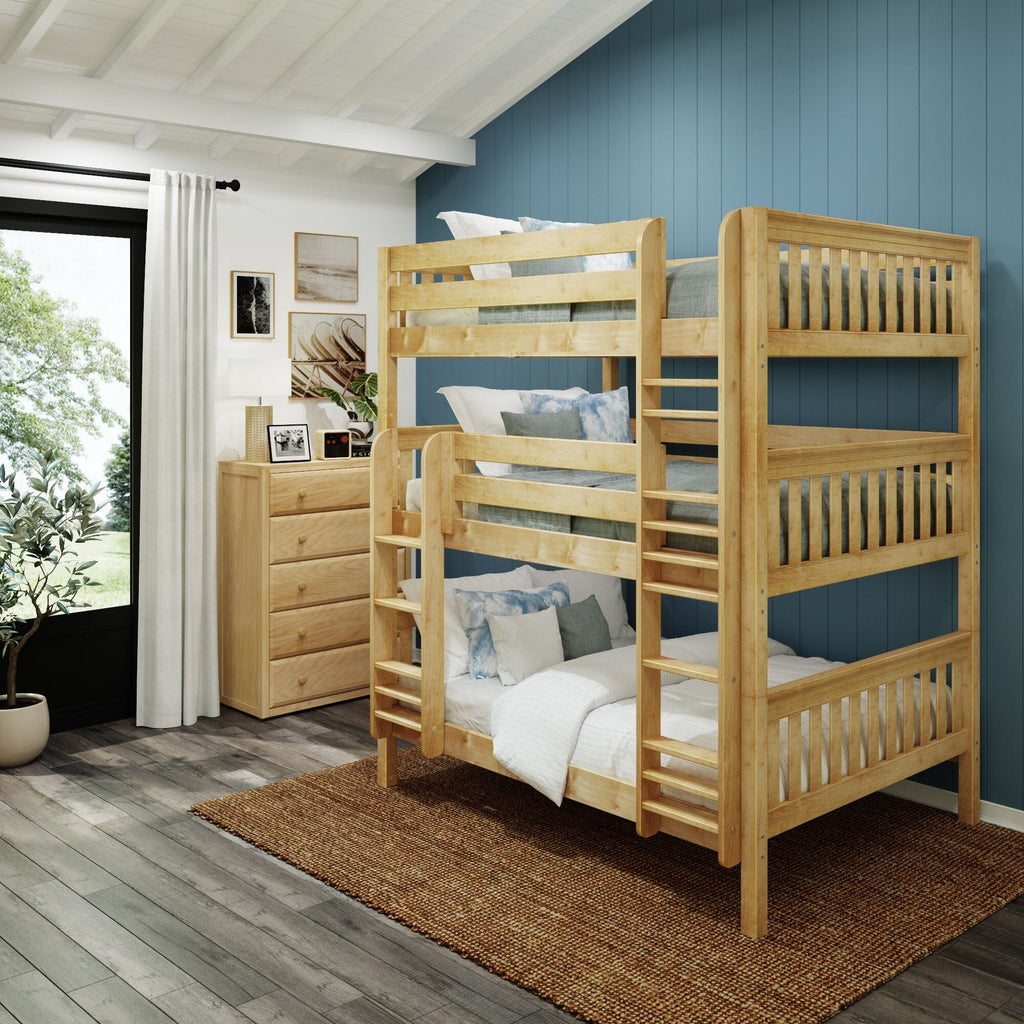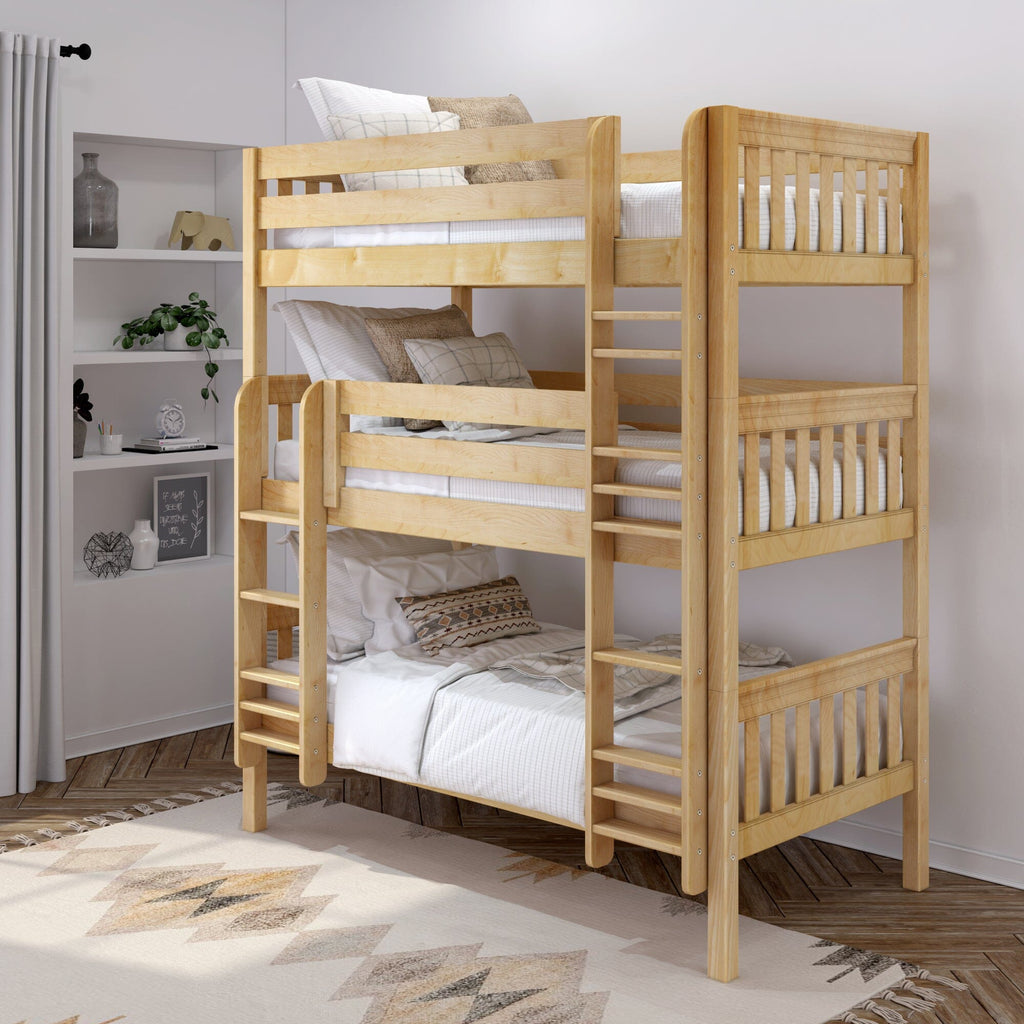 Quadruple Corner Bunk Beds
Sleeping four to a room is no problem with our quadruple corner bunk beds. This bed affords you the option to keep square footage for walking space and make use of the corner. We outfitted a vacation spot near us in Myrtle Beach, SC, with a Quad showing you just how well the bed works for four.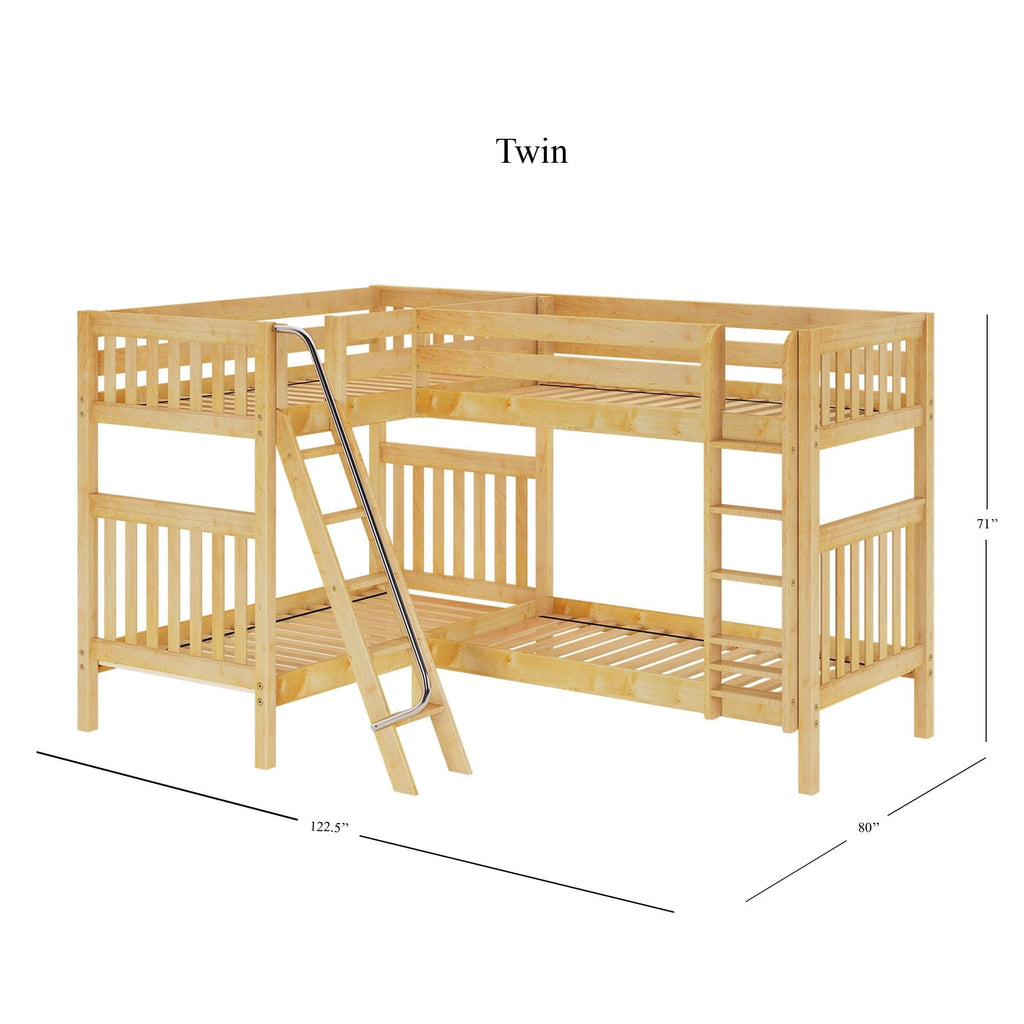 Long Quadruple Bunk Beds
Have a long wall you can work with or a larger guest room or loft? If you have the space and desire a very popular look for two bunk beds next to each other, then try our
Quadruple Bunk Bed with staircase
in the middle. You can get this look as a twin/twin, full/full, twin/full or
ask our design team
about our new Queen options.
Add a Bed to Your Airbnb Guest Room
No matter which design you choose as your base bunk bed, you always have the option to sleep even more with a pullout trundle beds. Available in Twin size and Twin XL sizes, this bed can easily pull out when the extra bed is needed, but it also tucks away nicely otherwise. Add a trundle and sleep one more! Here are some of our best selling bunk beds with trundles to start out with.
Low Profile Mattresses for Airbnb Bunk Beds
Finally, maximize head space in these bunks with a low profile mattress. At only 5", this gives you every bit of space possible for kids and adults to sit up in our bunks. They are also very comfortable!! :)
Design Help for your Vacation Home or Beach Home
Ready to design the perfect bed(s) for your beach home or vacation home? We have a dedicated design team that is here to take your room measurements and sleep goals and help select the right bunk bed for your room.
Contact our design team
 to get the process started!