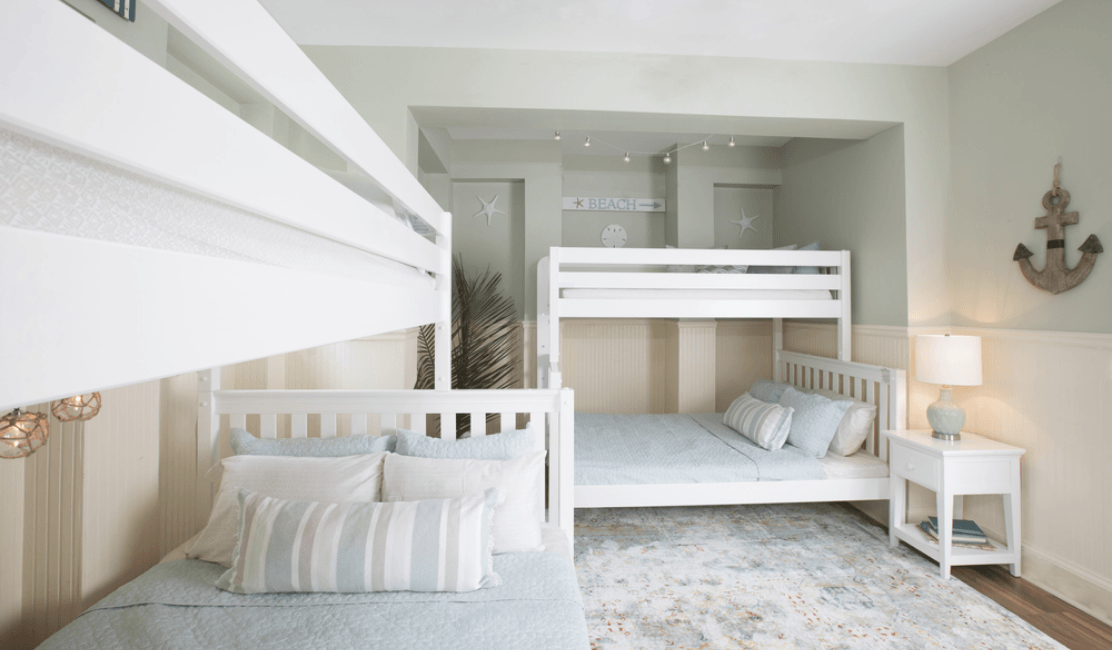 Owning a vacation home is a wonderful investment opportunity, but how can you get the most value from your space? Sleep the maximum amount of guests possible in each room. No matter if you're trying to get the entire family together in a mountain cabin or if you are re-designing a seaside rental to optimize sleeping space, the process is pretty much the same. Plan, measure and design your rooms for multiple heads in beds. 
Best Vacation Home Bedroom Ideas
When designing spaces for visitors, be it family or vacationers, consider the "real life use" – how will you and your guests actually use these rooms? Are you trying to accommodate adults mostly or is your property family-friendly? If the latter, how can you make family living more convenient and comfortable? What are your options for sleeping large groups in two, three or four bedroom properties? Are there trending Airbnb furniture and decor ideas?
Versatile furniture solutions are important to accommodate kids, tweens, teens, college students and even adults; especially if everyone is staying in one home. We've seen our fair share of challenges optimizing small spaces like kids' rooms and shared room solutions. After many years designing spaces and coming up with unique beds to accommodate many, we have sleep solutions for almost any scenario. Here are some ways to plan your guest rooms according to your space and needs.
What is the best bed configuration for vacation rental?
Most rental homes have small rooms, in which case it is challenging to fit more than one bed in the space. Consider bunking two or three beds on top of each other to accommodate many using the same square footage as one bed. This frees up walking room and allows for more storage and hangout spaces. Plus, we all know prospective renters would love to see photos of decluttered rooms, right? Bunk your beds and keep the space looking open and inviting. 
What is the best bunk bed for an Airbnb or rental?
Maxtrix bunk beds are modern, spacious and comfortable. With so many different styles and sizes, the right bunk bed for your rental space and needs is sure to already exist. This means you do not need a carpenter to custom build bunk beds for your airbnb, beach home, cabin or rental. There are recommended configurations for all scenarios. Let's quickly address a few. 
Best Bunk Beds for Sleeping Many Kids in a Vacation Home
Trying to sleep lots of kids? That is typically the case if an extended family is vacationing together or two-three separate, family units. The most popular designs that kids love include bunk beds with stairs, bunk beds with slides or larger beds like triple and quadruple bunk bed styles. More than anything, kids enjoy fun elements like slides, curtains and top tents. Bring the fun inside for those unfortunate rainy/cold/super hot vacation days! 
Stairs are popular for entrances as they are super safe to climb and provide a much wider base for stepping. Parents have that added reassurance that little ones are making it up and down safely. The stairs double as dresser drawers, which really helps for storing items during your guests' stay. Plus, whoever is making the beds and changing the sheets might also like the extra stepping room. (Here's a great, quick reference guide describing the pros and cons of staircases vs. ladders.)
Triple bunk beds and quad bunk beds are just fun. Each kiddo has his/her individual space to feel comfortable while also sharing the room with cousins and friends. Just think about those nighttime sleepovers and giggles! Worth every penny.
We know they'll have fun, but how can we also know our young guests remain safe? Added safety rails for bottom bunks are appreciated by many families with younger guests. Families have the option to remove Maxtrix guard rails if they don't need them, or attach them if they do. 
Best Adult Bunk Beds for Airbnb and Rentals
Looking to optimize sleeping spaces for adults, too? That's often the case with Airbnb interior design. Adults often have to share rooms with their children or other adults; especially if you are vacationing with a party of 8, 10 or more people. The good news is that Bunk Beds are perfect for adults also. With larger and wider bed options like XL and Queen sizes, longer arms and legs have space to spread out. So, if you are looking to create a modern, fun way to sleep lots of adults in your vacation property, take a look at Queen bunks.
All XL and Queen Bunk Beds can hold up to 2 tons of weight with an extra metal bar added underneath the slat base, so they are perfect for adults and families. Safety is always a priority when purchasing furniture. And, if you know your bed are going to be used weekly by different renters, go with solid wood and construction so you know your guests will sleep safely. Rental furniture is definitely put to the test!
How to Sleep an Entire Family in One Rental Room
Outside of traditional bunk beds that are stacked, there are other options for sleeping multiple people - like a family - in one room. Some visitors may have small children, so co-sleeping may be important to them. A Queen bed with a pullout trundle bed (stored underneath when unused) may serve as a better option for that family of two or three. A younger child or two could sleep right next to Mom/Dad without having to climb a bunk ladder. This design is perfect for a larger family as it comfortably sleeps up to six:
Think through who will be spending time in your beach home or cabin, and give multiple options to accommodate the people who will be spending the most time at your vacation home or Airbnb rental. If most families are traveling with older kids, tweens or teens, then they may want separate sleeping quarters. Corner beds, quad bunks and triple bunks provide these private accommodations: 
How to Sleep Four in Beach Home
Here's an excellent example of a beach rental in beautiful Isle Of Palms, SC. The challenge was to create spacious sleeping quarters while maintaining the coastal and classy look and feel of the décor. The room was a pretty standard size, but it needed to accommodate four people - kids and/or adults - comfortably. The solution was a Twin XL High Bunk Bed with Stairs. The owners worked with the Maxtrix design team to ensure two "Whopper XL" beds could work right across from each other on opposite walls. After verifying they would, the end result was a well spaced out setup that fit the room and design perfectly. 
How to Sleep Four or More in a Cabin Room?
If you're trying to sleep at least four to one room in a cabin, then think about how to use both sides of the room. This cabin homeowner decided to place a Full over Queen bunk bed on an opposite wall from a traditional twin bunk bed. This design is ideal for sleeping adults, teens and kids all in one space with private sleeping quarters. Depending on the size of the family, each person can select the right size bed - from twin, full xl and queen. See the airbnb cabin collection.
Do Queen Bunk Beds work in Small Spaces?
If it's difficult to position two beds beside each other, try a High Queen over Queen Bunk Bed. It provides ample space for guests to stretch out in a Queen size while maximizing headroom and ceiling height. This bed accommodates four adults comfortably in even the smallest guest rooms. 
What Bunk Bed Works for Narrow Room?

Likewise, if sleeping many is the end goal in a narrow or small room, then try putting two bunk beds beside each other with a staircase in between. Homeowners in Kiawah Island chose this route to sleep many comfortably.
What is the Best Mattress for Rental Property?
Once you've selected right bunk beds for your airbnb, beach, mountain or vacation home, don't forget to think through your mattress decision. The thicker the mattress, the less headroom you'll have between your bottom and top bunk or between the top bunk to ceiling. Also, why not maximize safety guard rail heights? We highly recommend 5" low profile, high quality mattresses. They are lighter and easier to pick up when changing sheets (which you'll do often with renters). Here's a helpful bunk bed mattress guide for further information. 
Need Bed Ideas for Your Guest Room or Rental Property?
Even small spaces with strange angles can be converted to comfortable sleeping spaces. As mentioned, oftentimes it's expensive and time consuming to get a carpenter to custom design a piece that will fit. Let us help! Our design team will  create a room design based on your measurements and make a recommendation on how you can accommodate the most people in a given space. Think two all the way to ten! Got multiple rooms to furnish? We can do that, too. Let's make your beach home, cabin or rental property the best it can be so your guests want to return year after year. Cabin bunk beds are huge hits!