beds for kids
The Pro's and Con's of Staircases and Ladders for Bunk and Loft Beds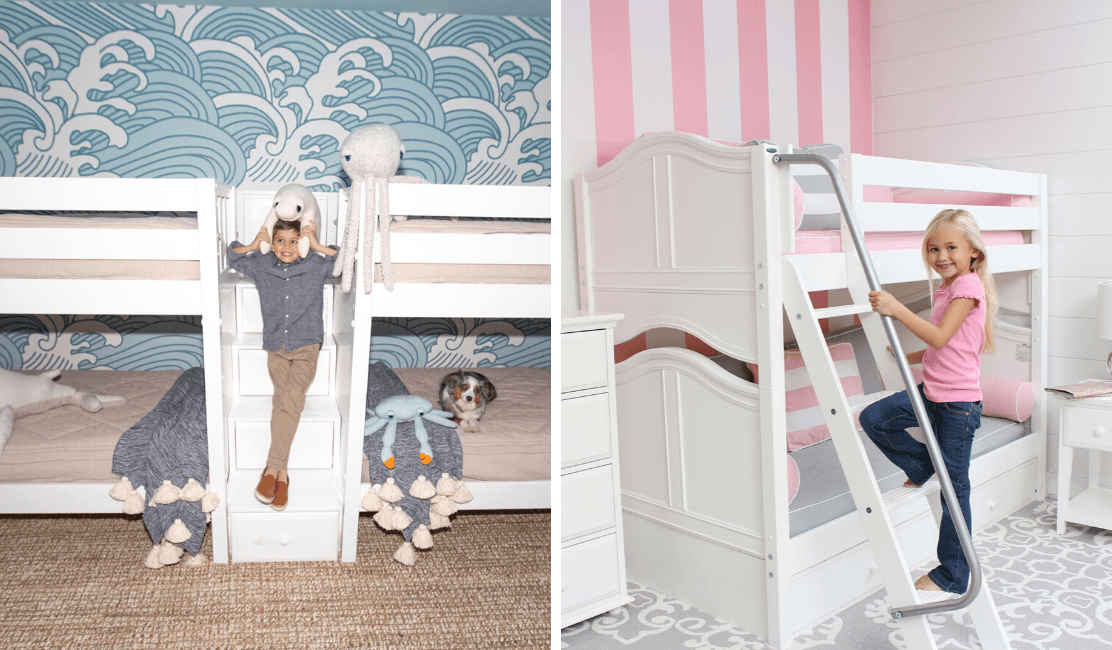 How do you want your child to get up to the top bunk? If you've been researching
loft beds
or
bunk beds
, you know there are quite a few climbing options. Let's start with some facts about beds with straight ladders, angled ladders and beds with stairs.
Kids Bunk & Loft Beds with Ladders
For ladders, the most commonly used version is a straight ladder, which usually connects directly against the bed. An angled ladder sticks out into the room and should be sold with a safety rail. Staircases usually are attached next to the bed, in effect making the bed longer, and enabling access through the footboard of the bed. 

Three Tips for Selecting a Ladder or Staircase Bed for your Child
Now that you are considering both beds with ladders and
beds with stairs
, here are three tips that will help you make your selection for your kid's bedroom.
1 - Space!
Possibly the most important consideration... A straight ladder bed is usually the most space saving option, and a staircase can take up the most space. But, it all depends – if you have a long and narrow room, a staircase can be a great idea, as it usually does not protrude at all from the bed. Our newest design option allows you to move the straight ladder to the bed end. This is a minimalistic look designed with tweens in mind. 
But, don't forget that a staircase offers extra storage, which can save space elsewhere. The steps in many models (definitely for all of the Maxtrix® versions) double as easily accessible storage drawers. So you can eliminate an additional piece of furniture like a dresser and use the staircase steps instead. 
An angled ladder will protrude further into the room, but in many cases, you can decide where to attach the ladder to the bed in order to minimize any impact on space utilization. 
In the case of Maxtrix®, all of our ladders can be attached pretty much anywhere you would like to have them – on the left, on the right or even coming out from the head or footboards. And, you can always change your mind and change the configuration later! Here's a good visual of two of our entry options with two of our best selling Maxtrix twin over full bunk beds - the Slope with angled ladder and the Sumo with a staircase entry:

2 - Safety
While getting to the top bunk may not seem like a particularly dangerous undertaking, slips and falls can happen and should be avoided at all cost. The safest option out there is a staircase as it not only provides the largest surface to step on, it also has a built-in sturdy handrail. Since it is connected to the end of the bed, your child will literally be covered on both sides while entering the bed. Shop beds with stairs. 

The angled ladder is another good option if you are concerned about safety – the angle makes climbing up easier and less treacherous, especially for younger children. And, the added safety rail on one side usually gives enough support to avoid any major accidents. Be sure to look for wide steps in the ladders, groves on the steps to avoid slippage and a sturdy handrail that is comfortable to hold on to.
Straight ladders are the most affordable option. To ensure you chose a safe one, be careful that the steps are wide enough to provide a good hold and are grooved to prevent slippage.
3 - Comfort
If you have ever tried to climb a rope-ladder with bare feet, you know how uncomfortable it can be not to have enough support for the soles of your feet while climbing! As it's highly likely your child will be climbing into bed with bare feet at least some of the time, the size of the ladder steps really do make a difference.
 
For adults, often overlooked is the need for YOU to climb up there to change the sheets or read a bedtime story. So, while your child may be perfectly fine with thin ladder steps, you may find the weekly trip up there is a little more challenging than you imagined. Again, the most comfortable option for everybody involved is the bunk bed with stairs, as the added space and support make climbing up on the top bunk easy and super-safe.

Design Your Bunk Bed or Loft Bed with Stairs or Ladders
Did this help you make your selection? If you have questions about ladders or stairs, please ask away in the comment section or contact our staff. We're happy to help!