Twin Mid Loft Bed with Stairs
More coming soon! Backorder now to secure yours before they sell out again. Contact us for more info on when this item is expected. How Backorders Work
FREE Shipping on all orders over $100 – ends soon!
Space for sleep, study and play all one place makes this the ultimate combination of fun and function. Easy to climb, super sturdy steps double as storage drawers, great for clothes or toys. More underbed space, but not too high, our popular twin Mid Loft with staircase = the perfect happy medium!
Features
Quality: Solid, knot-free premium hardwood construction (Maple, Birch, Aspen) Non-toxic, low VOC finish.
Flexible: Staircase can be assembled on either right or left-hand side of bed
Strong: Tested to hold 800 lbs (that's double the U.S. safety standard!)
Stable: Patented Rock Lock Leg Bolts provide rock solid connections
Safe: Industry-Leading 16" tall guardrails
Modular: Easily converts to a higher loft, bunk bed, or to a standard bed
Choices: Available in natural, white or chestnut finish; and with slat, panel or curve bed end style. Also available as a full size loft bed.
Raised high enough for ample underbed space (10+ inches than the low loft!), but still suitable for younger children and low ceilings, our popular mid loft bed with stairs works for all.
Staircase makes it easy for kids to climb up top, and comfortable for parents as well. Each step has a deep drawer, providing built in storage to help keep your child's room tidy.
Use floor space under the loft for play (optional cute under bed curtains), storage (matching dressers or bookshelves), or add your own kids furniture. The 'GALANT' is extra safe, functional and fun!
This Maxtrix Mid Loft Bed is great for younger ages; but also designed to easily convert into a taller loft, a bunk or standard twin bed as kids + families grow. Built to last.
Dimensions
L: 100.75" x D: 42.5" x H: 61.5"
Height is measured from the floor to the top of the guardrail.
Guardrail height: 16" (measured from the surface of the slats to the top of the guardrail)
Mattress support slats are spaced 2.75" apart.
Underbed height: 44.25" (measured from the floor to the slats of the bed)
Not sure how to measure your space? Check out our Fit & Measurement Guide.
Delivery & Assembly
Maxtrix delivers anywhere within the continental U.S.!
FLAT RATE DELIVERY
With unlimited flat rate delivery, any number of eligible furniture items within a single order are delivered for a flat rate fee. Transit time typically takes about 10 business days once the order leaves our warehouse. The freight carrier will contact you directly to schedule a delivery appointment. Delivery times are generally Monday through Friday 8:00AM - 5:00PM.
*Maxtrix furniture components are made from solid hardwoods and can be heavy, therefore we recommend having 2 adults present to carry items into your home. Depending upon the size of your order, shipments may come on a pallet.

See details about what to expect once you place an order.

SELF ASSEMBLY
Maxtrix furniture requires assembly. Two adults are recommended for self-assembly.  Time and effort for assembly varies depending upon which bed model you order (i.e. a simple day bed is quick & easy, while a quadruple bunk with staircase may take a while longer). Maxtrix furniture ships with detailed assembly instructions and all of the hardware needed.

PROFESSIONAL ASSEMBLY SERVICES
Assembly Services are available at preferred rates for Maxtrix customers through partners in many areas of the country. Please chat, call or email our customer service team to confirm availability in your area.
Customer Reviews
Customer Reviews
08/02/2019
Serena M.
United States
Assembly frustrating, but worthwhile purchase
We searched for a very long time to find a bed that would fit our needs. We wanted to bunk a 2 yo and 4 yo. A ladder would not be safe enough, in our opinion. We also had already purchased a twin xl bed from a different manufacturer two years previous. Other loft beds we looked at were either too low, not providing enough space for the second bed or too high, encroaching on ceiling space and the comfort level for Mama provided the age of the kiddos. The mid loft was a nice compromise. The assembly was very frustrating, but totally worth it in the end. The unit shipped in smaller sections, but hardware was not specific to the section itself and we didn't see any notes to the effect in the directions. For example, we found the necessary hardware for the lift section in amongst the stairs. This didn't seem logical to myself (engineer) or my husband (physist), but in the end all of the hardware was found. This purchase has been wonderful. Both of our children are successful at navigating the stairs. The weight capacity allows for us to read with them in bed. The guard rails eased this Mama's concern for potential roll out. Overall, I highly recommend the mid loft with stairs.
Fun bed!
Bought two of the mid-loft bunk beds with stairs for my kids; the quality is excellent! Changing the bedding is a hassle, but we knew that when looking at purchasing a loft bed. We also bought a playhouse fabric that hangs down - the Velcro tape did not keep it secure, after a while it would fall down. We had to replace it, and so far it is still stuck. Assembly was fairly easy. The beds look great and add lots of space to the rooms for playing. The added storage in the steps is perfect for stuffed animals, blankets, spare clothes, etc. We also purchased a bookcase and keep it under the bed for a cosy reading nook. Love that this bed can grow with the kids; we won't need to purchase anything else.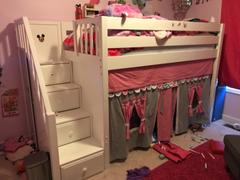 Definitely recommend this product
We are very happy with the quality of this product . Assembly was pretty easy, good directions were provided. It is very sturdy and looks very nice. My son absolutely loves it! Perfect for his teen room.