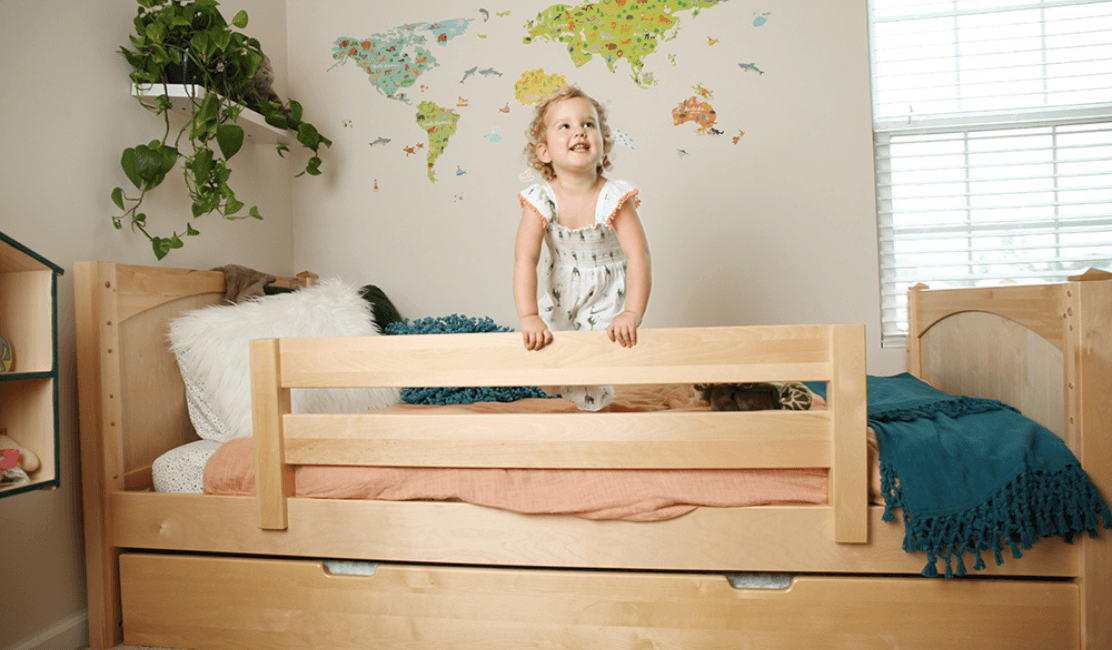 There are a lot of choices out there for kids' furniture, but we make it easy at Maxtrix. Whether shopping for your toddler or teen, Maxtrix - the world's largest kids furniture system - has stylish, custom options that are built to last and designed to grow. Trust the kids bed experts and don't sacrifice safety for style or fun for function! 
Here are some key differences between Maxtrix Kids Furniture and others. Choose from safe, sustainably designed hardwood kids beds, bunk beds and loft beds in many different finishes, heights and styles creating your very own unique design that works for your child's space and needs. 
Any bed that sits off the ground needs safety features to ensure kids sleep comfortably and safely. All Maxtrix bunk beds and loft beds have 16" high guardrails - the highest in the industry! When paired with one of our low profile 5" Kids Mattresses, you'll have 11" of safety guardrail height (more than double the regulation requirement). 
Even young children entering their first "big kid" bed will appreciate this safety feature on any of our toddler beds or day beds with front and back guardrails. 
Maxtrix products are constructed from premium Maple, Birch and Aspen - all harvested from forests with a sustainable re-planting policy. Trust a product with knot-free, premium grade, solid hardwood construction! Compare that to easy-to-chip chipboard or knotty pine construction and you'll see a big difference. 
Worried about longevity? With a five-year warranty, Maxtrix honors and stands behind the integrity of its products and construction. So, rest easy knowing you have a customer care team standing by if any issues arise. Most other kids furniture companies only offer one-year warranties. 
All Maxtrix beds are built to withstand more than 800 lbs. of weight pressure. US Safety Regulations require bunk and loft beds to withstand a 400 lb. dead weight test, so you'll sleep easy knowing we're tested at 2x the standard!
When approaching a kids bed design, know that your options are endless with Maxtrix. Start with the basic options and then expand from there to create a very unique style for any space or kids age. Many furniture companies have very limited options, but Maxtrix beds are available in five sizes (twin, full, twin xl, full xl and queen), three finishes (white, natural and chestnut) and multiple entry options (straight ladder, angled ladder and staircase).
Bunk beds and loft beds are also offered in low, mid and high heights (even uber sometimes!) This means any combination is possible to achieve the look that you want! 
Concerned about Sustainability? Why Maxtrix kids beds are kind to the environment.
Maxtrix is the world's largest furniture system, which means that each bed is made up of various components. These pieces are completely reusable in that a bed design today can be reconfigured into a completely different design tomorrow. There is no need to ever "throwaway" a Maxtrix kids bed, which is why they are much more environmentally friendly than many other choices. Just like recycling glass bottles gives you many uses from the same container, the Maxtrix system is designed to use components over and over again, leading to less waste and environmental impact.
Think about it as Lego Building Blocks for kids furniture. Take a part a bunk bed and make it two separate beds, add onto a base bed with another bed converting it to a bunk bed, add storage or study underneath an elevated loft bed, take off a slide when your child outgrows it, or change a loft bed into a corner loft bed with two beds up high. All of these are examples of how bed components are reusable, creating sustainable designs from toddler to teen. 
Learn more about Maxtrix Sustainable Kids Furniture that grows with your child and how you can customize a kids bed.  
Shop Safe & Sustainable Kids Beds
Like what you're reading but not sure what you are looking for quite yet? Maxtrix compiled its top kids beds and best sellers into one collection to get you started. Or, find inspiration by looking at some of the most unique kids bed configurations. 
Showing 6 of 55 products. See all the products in Best Sellers collection.