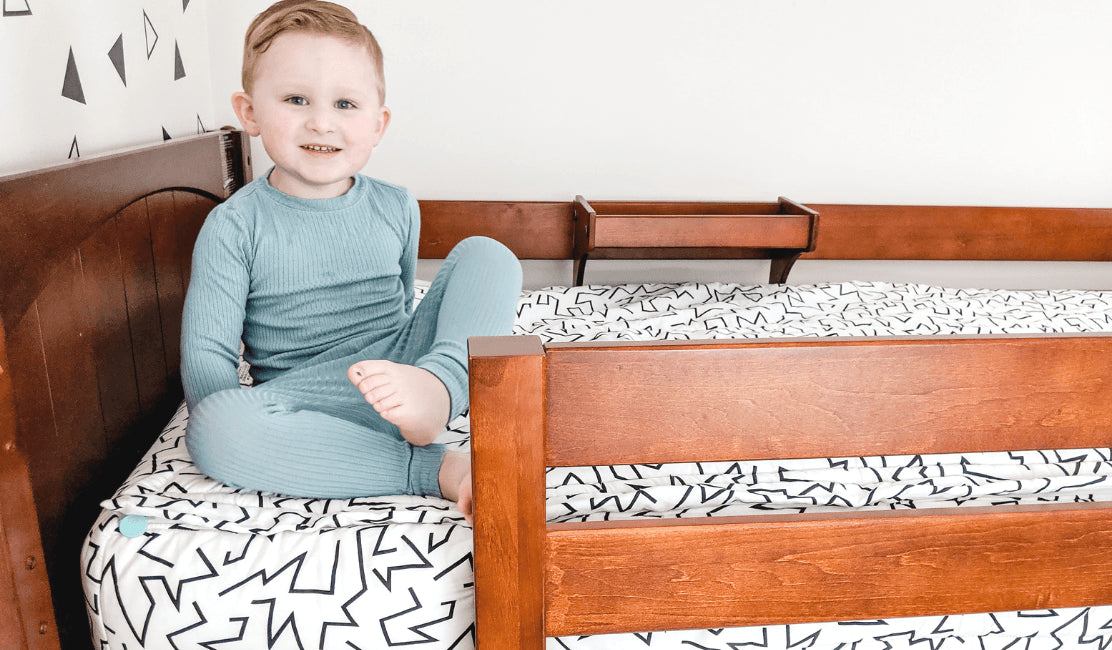 Elevated beds like bunk beds and lofts are very popular with boys and girls as they provide so much functionality and fun to any kid's room. The product search doesn't stop with the bed itself, though. The kids mattress you choose for that bunk or loft is equally as important to ensure their safety and maximize space. We highly recommend a
low profile mattress
for elevated beds. See who
Sleepline
just rated as the 
Number One Kids Twin Mattress
- Maxtrix!
While regular mattresses for children come in 8,10 or even up to 20" thick, a low profile mattress maintains the comfort and quality of a regular mattress but is designed to be much thinner. A lot of mattresses use "filler" materials to build up to a desired height. A quality low mattress avoids this filler material and maximizes quality materials in as slim a profile as possible. Great quality low profile mattresses are quite a rare find – but there are lots of reasons you should consider them for Bunks and Loft beds.
1. Safety - Optimize safety rail height with a Low Profile Mattress.
It's very safe for children to sleep up high when the bed and low mattress are configured correctly. Front and back safety rails on the top bed or loft ensures your child stays in the bed while sleeping and moving around. Minimum regulations require that safety rails are 5" (13cm) higher than the mattress surface, but we strongly recommend you look for a bed and mattress combination that exceeds this limit. Maxtrix® Bunks and Lofts come with a 16" (41cm) rail height, one of the tallest in the industry.
The rail height can be optimized with the best low profile mattress. Most twin or full mattresses are 8 inches high, but a Maxtrix low profile mattress for children is only 5 inches high, which means you have 3 extra inches of space. Remember, that the taller the mattress you use, the lower the safety rail becomes, so look for a low profile mattress, especially for the top bunks or loft beds. A Maxtrix® bed can accommodate an up to 11" (28cm) thick mattress, however we recommend not exceeding 8" (20 cm) on the top bunk for added safety.

2. Convenience. Make chores easier with a Low Profile Mattress.
We often hear people ask how to make the bed on a top bunk or loft bed. We unanimously agree that a low mattress is much easier to handle when changing sheets, plus it's lighter to lift. So, when it comes to making the top bunk, it makes a big difference as you can actually get the sheets on there without a lot of difficulty and without lifting a lot of weight. There's a big win for Mom & Dad!
3. Space. Maximize your headroom with a Low Mattress.
Shorter ceilings? Worried about your child bumping his or her head on the top bunk? Remember that the taller the mattress, the lower the headroom. There is a way to increase the space between the bunks and the space between the top bed and the ceiling - maximize your headroom by minimizing the height of the mattress. A 5" low mattress for kids is ideal for this situation; especially if it's a great quality mattress so you don't lose any sleeping comfort.


Bottom line? Don't sacrifice comfort, space, convenience or safety by choosing the wrong mattress for your elevated bed. Start shopping our best low profile mattress for bunk beds and loft beds. And, here's a handy low profile mattress buying guide to ensure you're selecting the right one.