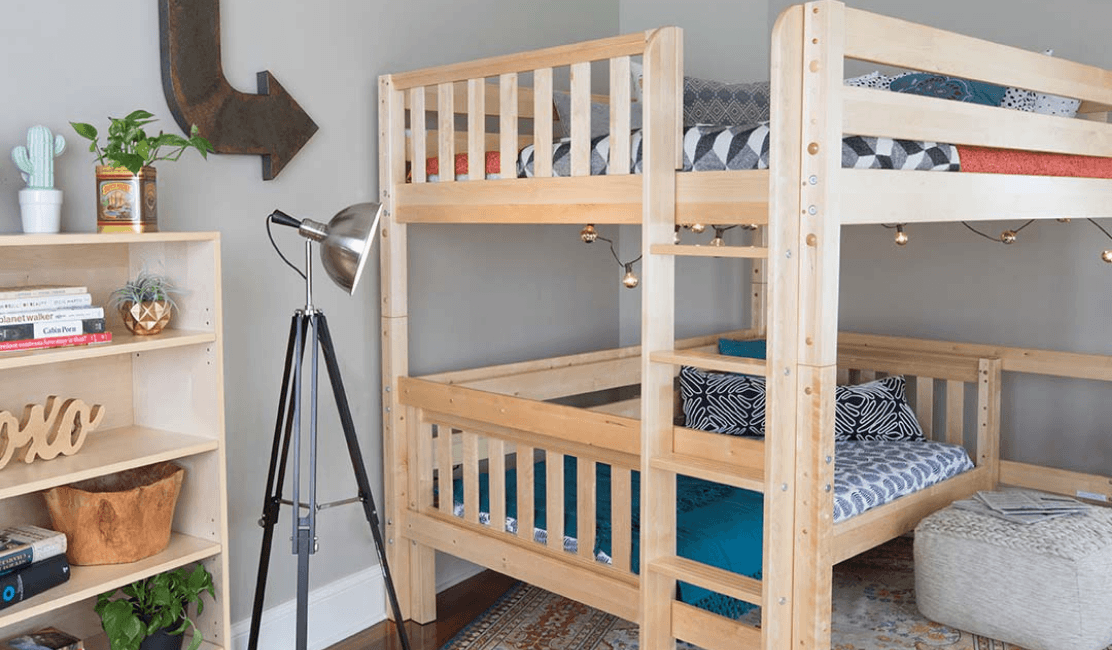 Congratulations to recent middle and high school graduates who finished up major exams and achieved significant milestones; particularly as many journeyed unchartered territories with harder classes and curriculum. Now it's time to gear up for the next chapter in life, which is exciting but also a little scary. We remember all of the nervous energy involved with high school and college preparation.
Want to simplify the furniture search for home, dorm and apartment life? Consult our guide below or shop our High School Furniture and school furniture for college with our best selling and most popular convertible loft beds, Twin XL loft beds, bunk beds, desks, study bunk beds and loft beds, and college bedroom sets for the emerging high school and college student. Whether they're going away for the first time or learning at home, set them up for success with custom solid wood furniture for teen rooms as well as on and off-campus living. Shop All Back to Campus or see beds for dorm room ideas below.
Loft Beds with Desks for Bedrooms, Apartments & Dorm Rooms
A high loft bed with desk is preferred by high school and college students as they sit high enough off the ground, which is great for two reasons. One, students feel like their sleeping quarters in a shared room is more private with an elevated bed, and, two, the raised design lot of space underneath the bed for studying and storing personal items.
Our high loft beds for dorms are very popular for this reason. The bed sizes range from Twin and Full Size to College Loft Beds Twin XL, Full XL and Queen. Add a desk underneath the loft bed for the best study/sleep combination or use the space for standalone bookcases, dressers, nightstands or smaller desks. And, keep in mind that all lofts easily customize to the room dimensions, so the ladder entry can reverse and change sides (even sit off the footboard) when needed for the same price.
For super high ceilings or dorm rooms, we now have Uber High Lofts, which are the tallest we offer. With about 6' clearance underneath, even most adults can move around very easily with enough headspace. Teens and college students enjoy the extra space for lounging, video gaming, studying, and storing.
Dorm Room Ideas for Shared Spaces with Bunk Beds
Trying to fit multiple teens in one space? You can't go wrong with bunk beds - especially larger sizes now available in XL & Queen for longer legs and arms. Queen Bunk Beds are perfect for teenagers. Need two different sizes? Try a Twin XL over Queen Bunk Bed, which is popular with tweens, teens and even adults! And, don't forget about another shared bedroom option. Corner bunk beds provide sleeping quarters for more than one child and you have dedicated space for study or relaxation.  
Queen Beds for High School Bedrooms, College & Dorm
Lucky enough to get a private dorm room or off-campus apartment? If sharing a space and privacy aren't concerns, we recommend a Queen bed with low panel footboards. Try a few different headboard styles out - curved, panel or slat - in your favorite finish - white, chestnut or natural - and create the perfect single bed look!
Save Room with College Furniture for Students
Maximize any Maxtrix configuration by adding under-bed storage or pullout trundle beds for friends. Stand alone desks are always nice, too! We have the perfect selection for older high school and college students with deep drawers that will hold the massive text books! Finish the space with coordinating bedside trays and magazine racks, dressers and nightstands for college students, dorms, apartments and homes.
Study Tips for Teens & College Students
Create a quiet space free from distraction- A dedicated work space helps keep students focused and centered. Quiet doesn't have to mean silent. Some teens work better with music playing while they study and do homework. Especially if they are in a particularly loud setting from other siblings or outside noises. Creating a space just for your child to focus on their work promotes consistency and builds good habits.

Stay Organized with the best setups- As teens grow, so does their workload in school. Give them the space to store all the supplies they need to be successful. Adding a hutch to a desk or a bookcase can help keep all your study materials within reach. Or, a long desk that has extra storage space for notepads, books and drawing utensils. 
Keep it personal and unique- Accessorize! Decorate and encourage your teenager to personalize their space. Creating a positive study environment is just as important as keeping it clean and organized. Hang good grades on the wall as reminders of how awesome your child did on that math test. Inspirational quotes are fun, and easy to find and print from Pinterest. See how one teen styled her Twin XL loft bed for college!
Design it with a pro. Want more help with high school furniture, school furniture for college, dorm room ideas, or setup information? Feel free to tap our design team standing by! They can help you create an entire custom college bedroom set or personalize with key pieces.