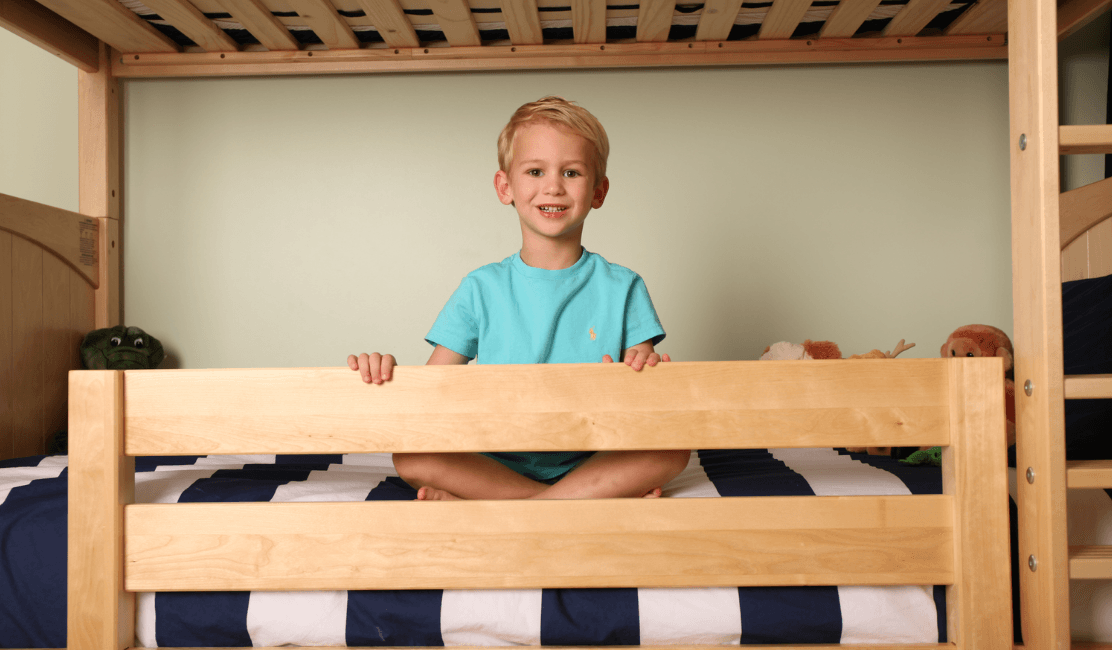 Meet Charlie. He's a fun-loving, energetic 5-year-old who HAD to have a bunk bed! ;) Like most young boys, Charlie loves to climb, play with friends, lounge and read his favorite comics. His Mom also loved the idea of a bunk bed longevity and future sleepovers, but she was equally interested in creating a safe and practical environment for her son. After shopping around, they both locked in on the Maxtrix Tall Bunk Bed!

Here's a great look at his brand new room featuring our Tall Bunk Bed!
Tall Bunk Bed Provides Headroom
Charlie is tall himself, and he and his mom wanted an ample amount of headroom for him when he sat on the bottom bunk. As two beds stacked on top of each other, the Tall Bunk Bed provides more headroom as a
Maxtrix high bunk
. The total height of the bed is 71" (180 com) with 41.75" (106cm) of headroom between the bottom bed and the top bed.
Charlie is even able to sit in his lounge chair on the bottom bunk with plenty of space so he doesn't bump his head on the top bunk.
Side Rail for Safety on Tall Bunk Bed
Since he is still young and rolling out of bed is concern (for the time being), his parents opted for an additional side rail. Charlie will sleep safely, avoiding falling out during the night. 
The side rail is optional for the bottom bunk and can easily be removed when Charlie is a little older. But, for now, his parents know he will transition smoothly into a Tall Bunk Bed.
Ladder Option on Tall Bunk Bed
Since Charlie is younger now, he will only sleep on the bottom bunk bed. We recommend children be at least six years old to sleep on an elevated bunk bed. So, his parents easily remove the ladder to the top bunk when needed so he does not climb on the top. (Read What Size Bunk Bed is Right for My Child?)
When Charlie is ready to climb, however, he will safely due so with grooved, anti-slip ladder steps. Find out more about Maxtrix Safety Standards.
Sleepover Success with Trundles
Knowing that Charlie loves to have friends over (and they are too young to sleep on the top bunk), his parents added a pullout under-bed trundle. This ensures his friends sleep low to the ground, but also keeps floor space open when unused.
Maxtrix trundle beds work with any Maxtrix traditional beds or bunk beds. Just like our Tall Bunk Bed (or any Maxtrix bed), trundles are available in three finishes - white, natural (seen here) and chestnut.
Our Best Selling Tall Bunk Bed
Charlie just happens to be sleeping now in one of our best selling high bunk beds - the Tall Bunk Bed. As a bunk with a straight ladder, it minimizes the amount of floor space needed to accommodate a bunk bed.

But, don't let the word "tall" throw you off. Even homes with 8' ceilings can accommodate a Tall Bunk Bed. With the usage of a low profile mattress at 5", there is still 37" of headroom space above the top bunk. Find out what bed size might be right for your child. Don't forget you can also get your Tall Bunk Bed with an angled ladder or staircase! Also, add a matching piece of furniture to complete the look!

There are so many options so consult our design team to create the perfect configuration for your space!