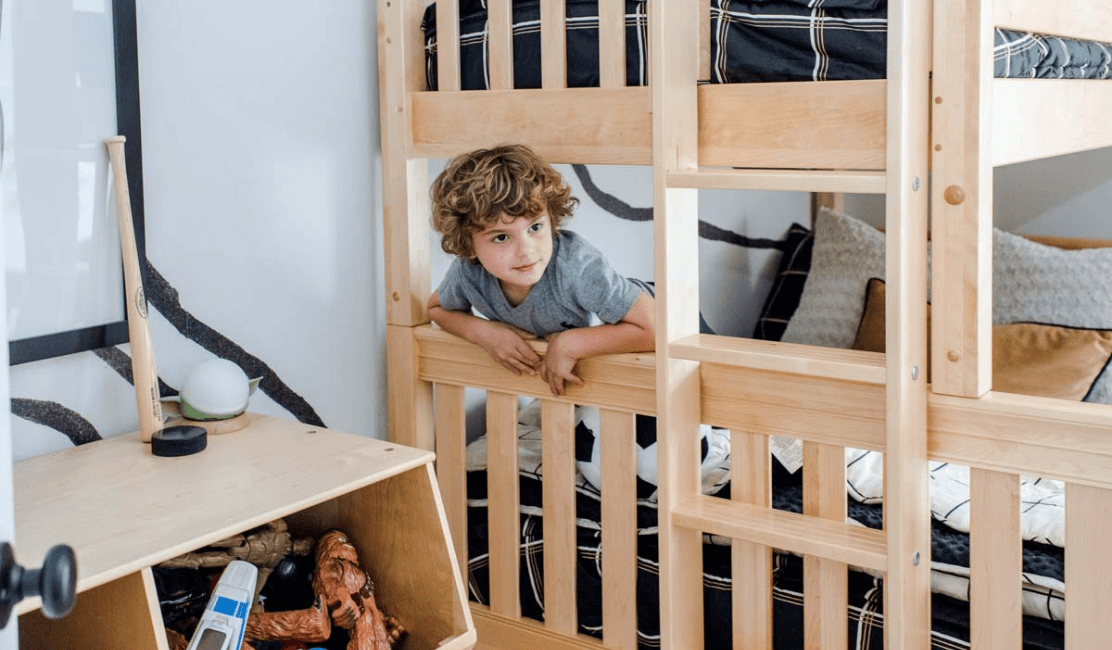 After sharing some great tips for selecting the right size kid's bed, we received some follow-up questions about bunk beds specifically, like how to choose the right bunk bed height. As the bunk experts, we welcomed the opportunity to share more and even have a new loft & bunk bed height guide with graphics and dimensions for more detailed information. Maxtrix Kids bunk beds are available in three different bunk bed heights - take a look at the differences below.
Low Bunk Bed Height
Younger children love bunk beds. In fact, they are often chosen as first "big kid" beds after toddler beds. If you started with a basic Maxtrix twin or full bed on the ground, it will easily convert to a low bunk bed simply by adding leg extenders and a second bed. If you are starting new with Maxtrix,
low bunk beds
are recommended for children around age six (but as a parent you know your child best!) Take a look at head room and bed height measurements below (assuming an 8' ceiling height):
Our basic low bunk bed with ladder is available as a twin or twin XL, and it's a wonderful starter bunk bed for younger kids. Try a straight ladder or angled ladder for safe climbing. This is our lowest bunk bed option, designed specifically for rooms with low ceilings or a child's first bunk bed.
If shopping low bunk beds, they are also fantastic as a base bed for extra play accessories like slides, underbed curtains and top tents - all of which can be removed when your child outgrows them. Slide safely out of our solid wood beds, and choose from many fabric color combinations for tents and curtains.
Mid Bunk Bed Height
Adding about five inches more to the height of the low bunk, the
Mid Bunk
is a great option for slightly older children around age eight. The ladder or staircase entry will have one more step, but there's still a lot of head room between the two beds and between the top bed and ceiling.
Medium Bunks
can also easily convert into play bunks with an extension piece added to the under-bed curtains, but we often advise against top tents unless your ceiling is higher than eight feet. Our mid bunks are some of our most popular designs with our best selling
Get It
 twin bunks with ladder, twin over full bunk beds 
Slope
and
Sumo
 with stairs. Move the ladder to the bed end on a mid height bunk bed and save space overall.
High Bunk Bed Height
Those with older kids around ten or rooms with higher ceilings have the option to go even higher with our
High Bunk Beds
. While this option gives you the most headroom between the two beds, your head space up top is a bit more limited. For this reason, we recommend a low profile mattress at five inches width, which will allow for ample sitting height.

Some of the most popular taller bunk beds are also wider. In fact, the queen size bunk bed is a top seller for kids, teens, and even adults!

Want to keep it simple and streamlined? The Tall is the way to go with a clean look. Kids climb safely up a straight ladder with stair grooves and hand rail.
Corner Bunk Beds in Medium & High Heights 
Sleepovers and shared rooms are very popular, so if you are looking to sleep several, you can also consider our mid and high corner bunk beds with three or even four beds. These unique configurations are perfect for shared rooms, vacation homes, beach homes or sleepovers!

Maxtrix Bunk Bed Options
Keep in mind that no matter the bunk bed height, you can choose from three different bed finishes (white, natural or chestnut), three entrance types (straight ladder, angled ladder or staircase), several mattress sizes (twin, full, twin XL, full XL or Queen), and finally three bed end styles (slat, curved or panel). Easily customize the right look for your chid's room! Our bunk bed ladders and slides are reversible - they can go on the right or left side of the bed's front or side... OR opt for a side entry!
Bunk Bed Shopping Assistance
Want more details? Consult a few of our guides:
bunk bed buying guide
,
what size bed is right for my child
or
how to measure your room for your child's bed
. Our
design team
is also here so tap us! We'll take your room measurements and help you figure out the right configuration for your space. As the 
best adjustable bed on the market, your bed height today can even easily change tomorrow. 
C
ustomize your bunk or loft bed with Maxtrix.