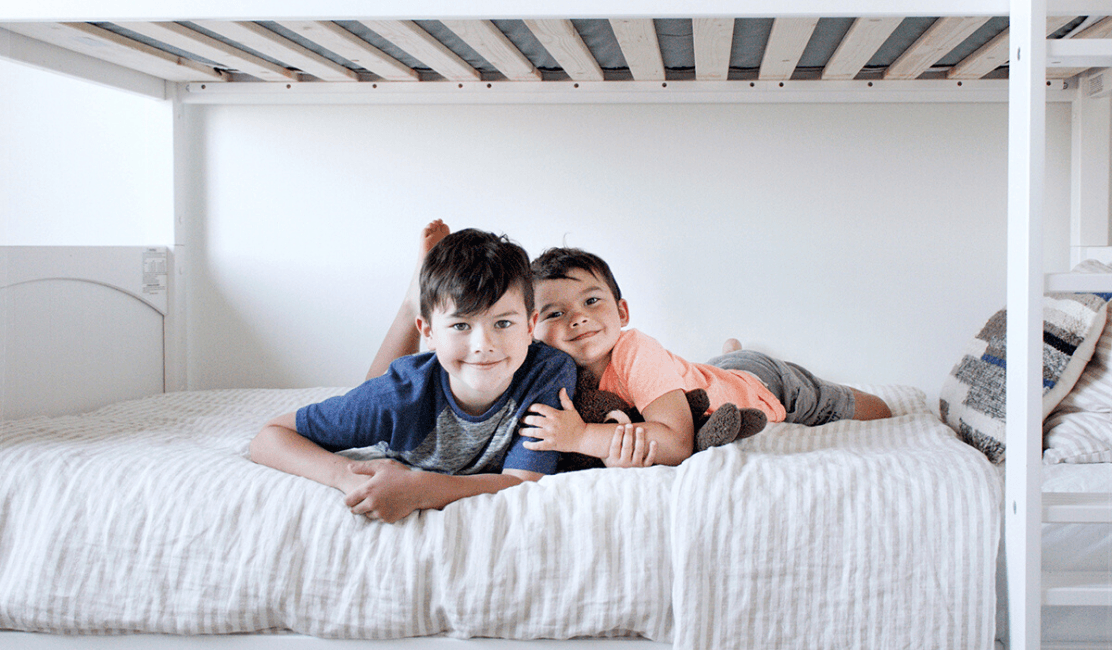 When a family moves, many take it as an opportunity to update furniture and decor to fit their new look and space. Kids rooms - no doubt - are typically at the top of the list. Why? Because kids need to feel comfortable and excited about entering new spaces. Particularly in the instances of shared bedrooms. As each room size and shape is different in each home, different beds suit different setups, and kids need their own individual areas for sleep and hanging out. It's a good thing classic beds like twin bunk beds fit almost any style and space. 
Meet Chelsey from @FrengPartyof6. As a Mom of three with another on the way, it was necessary for her kiddos to share rooms. And, when they moved into their new home, she knew it was time to give her two boys, Auden (6) and Alder (3) an upgraded look - shop Chelsey's Room Collection now. As a go-to for home decor inspiration on Instagram, it was important for her to get the space right for her boys and her followers. We were excited to join her in her journey of updating their room and introducing her to classic designs today that can change tomorrow! (Learn about the Maxtrix System)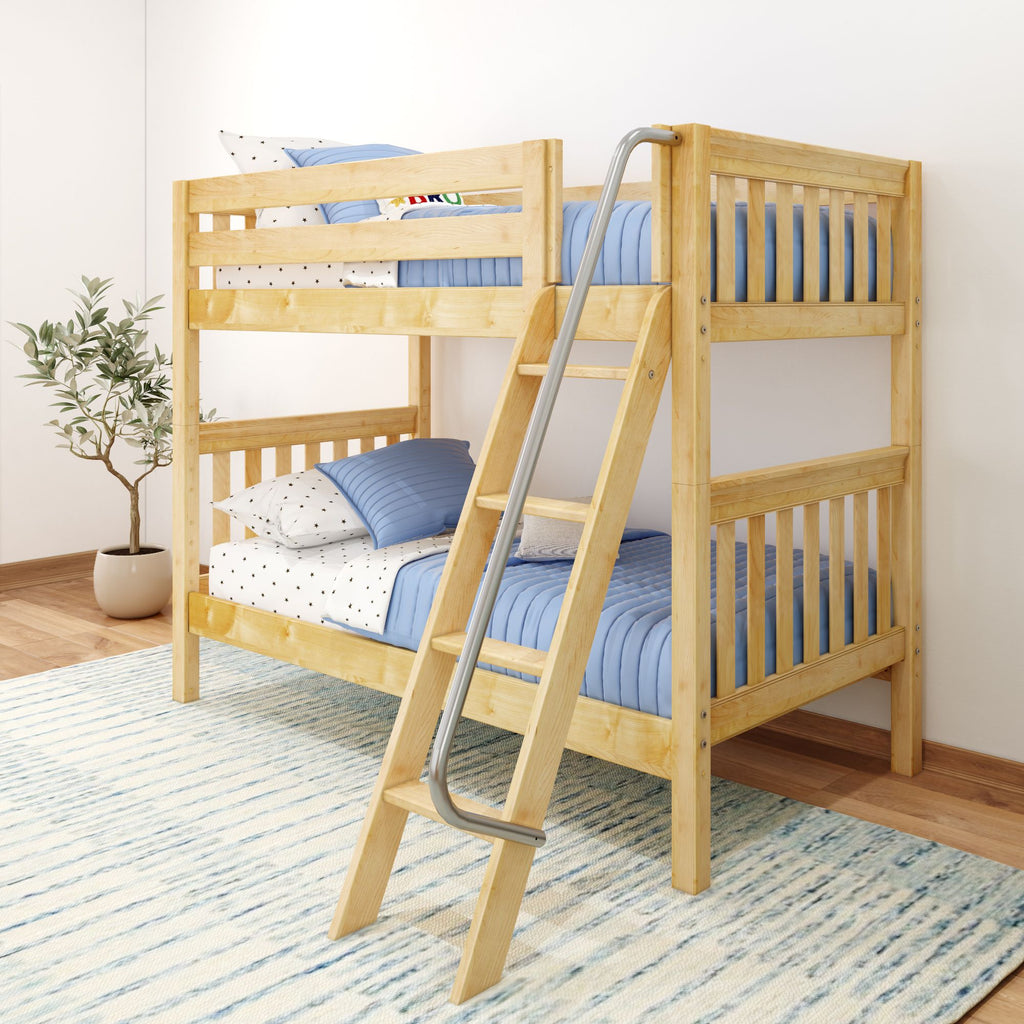 While the Maxtrix Design Team is always available to help with bed selection, sometimes our customers already know exactly what they want. We're still here to ensure the bed fits the space and have handy fit & measurement guides for quick referencing. Regardless of the space size, classic beds link medium bunk beds typically work in almost any room. 
That's exactly what Chelsey chose for her boys shared bedroom - white twin bunk beds with a straight ladder. We call it the "Get It" at Maxtrix, because let's face it, our customers always 'get it'. ;) 
Why? The Get It is a best selling bunk bed because of its medium height (66.25'), traditional design and space saving setup as a stacked bed. Straight ladders maximize space (bed depth is only 46.5"), and the boys won't have to climb very much to get to the top bunk (a win/win for parents concerned about bunk bed safety!) 
With classic designs sure to inspire many parents redecorating their boys rooms, you can take this bed and fit any room style. We love how Chelsey kept her design simple and crisp. White is a very popular bed finish and her choice of simple bedding plus a bold, dark ceiling and fun lighting fixture make a young yet sophisticated space for her boys to grow and have fun in. We love it!
Chelsey chose under-bed storage drawers to help maximize space. Why not add storage in a space that would otherwise serve as a collector of random toys and dust bunnies? Way to use every inch of your room to keep the boys' room looking clean and inviting, Chelsey. Plus, the boys have extra floor space to play on, afforded by the stacked bunk bed.
All in all, we are thrilled with how her room turned out. Get inspired with Chelsey's shared boys room featuring a classic twin bunk bed, and hear more from her about her bed selection. 
Chelsey Chooses Mid Size White Bunk Beds
Our two boys have always shared a room. We just recently moved and their new room is significantly smaller than our last home, so with two standard twin beds in their room, there wasn't a large enough area for them to play. Having bunk beds was the obvious choice for more room, and I loved the Get It twin bunk beds for their size. We would have loved to add a slide, but there just wasn't enough room.
I loved the simplistic look of Maxtrix bunk beds and that there were many different configuration/options to choose from. The great reviews are what really sold me because when searching for bunk beds, we wanted something that would last and have a higher weight limit for our growing boys. My favorite part has been the drawers under the bunk bed – perfect for toy storage!
My expectations were beyond met. We received the bed in a timely manner and being six months pregnant, it was easy for my husband and I to put the bed together one Saturday morning. The instructions were easy to read and once we put the bed together, I was surprised by the quality. The Get It twin bunk beds are very sturdy, and I love the fact that they hold up to 800 lbs. Our two boys love to jump around, and I think the quality of these beds will last a very long time.
We don't plan to reconfigure the bed in the near future as we are limited due to the room size, but it would be great to add a 3rd bunk with our growing family. I love that we have the option to add to our current bunk. Here's an example:
If you're interested in a bunk bed from Maxtrix, I would highly recommend investing in their bunks. The quality has exceeded my expectations, and you won't be disappointed. The price points for their beds varies for every budget and I love the fact that you can add on to the beds if you have a growing family.
Start with Maxtrix Best Sellers 
Thanks for sharing your space again, Chelsey! If you're inspired by Chelsey's room, we recommend taking a look at our Maxtrix Best Sellers, or shop her room directly.
As mentioned, our design team is also standing by to take room measurements and help select a bed for shared rooms.
Showing 6 of 55 products. See all the products in Best Sellers collection.