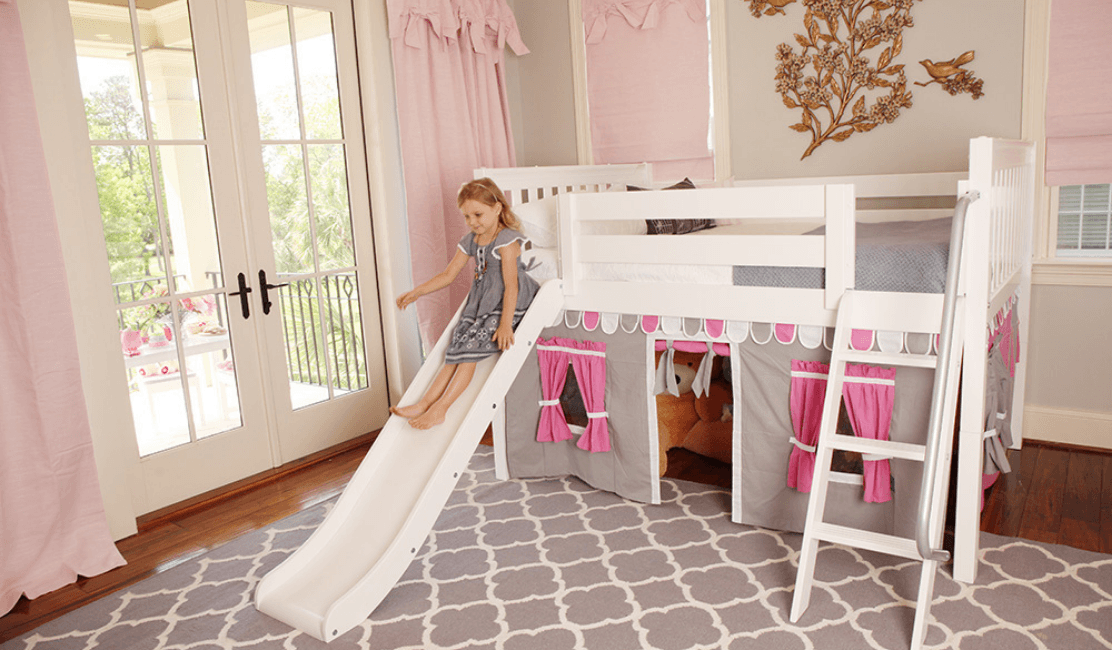 When kids set their eyes on beds with slides, they know they've discovered the ultimate option for sleep and play. And why not combine a bunk bed and slide into one design? Our hope is that your child will jump up and down with excitement when they see our kids loft beds with slides and bunk beds with slides. We want them to enjoy sliding out of bed for years to come. Bringing outdoor playground fun indoors means your child is safe in their own home. Plus, think about how great mornings will be when you don't have to beg them to get out of bed.
Let's take a look at some of the very best slide beds for kids! These kids' beds are popular, unique, and ready to help put big smiles on young faces. If you're worried about your child outgrowing a bed with slide, don't! Simply remove the slide and replace it with a new front guardrail when your child is ready. It's that easy with the Maxtrix System. Convertible bunk beds can become two separate beds and play lofts can transform into study lofts – the options are endless with these custom bunk beds and loft beds! Maxtrix slide beds grow up with your child.
Low Loft Bed with Slide
Our number one basic slide bed no doubt has the "Wow" factor. This low loft bed with slide is a staple for any small room or younger child. It sits at a low elevation with only three steps to climb - a win/win for parents and kids. The twin size is perfect for their first "big kid" bed after toddlerhood.
Low Loft Bed with Slide and Curtain
Like angled ladders? Climb safely with a nice handrail and grooved steps and slide back down with the slide for loft bed. We added underbed curtains to this fun play loft for a great space to play hide-and-seek! The fabrics are available in many color combinations. See all of your options for a low loft with slide and curtain.

Medium High Twin Bunk Bed with Slide
One of our most popular bunk slide beds EVER is the Jolly. It's based off our bestselling twin bunk bed with straight ladder design called the "GetIt". Once a fun slide is added, this bed was happily renamed the Jolly for obvious reasons.

High Bunk Bed with Slide Platform
Older children will enjoy the Poof, which is the first configuration we offered with our new release of the slide platform. The slide ladder doubles as an entry point to the slide but also continues to the top bunk. Our favorite element of this look is the ability to still include a pullout trundle bed or storage drawers under the bottom bunk.

Twin Over Full Bunk Bed with Slide
Want a little extra room on the bottom bunk? Consider a twin over full bunk bed with slide. Even adults can sleep comfortably on the bottom bunk. And, how about this real customer's room to tell the full story? We love to see room designs with our beds. Share yours with #MyMaxtrix.
FoxTrot - Twin over Full Bunk Bed with Stairs and Slide
Take the same look but change the ladder to a staircase entry and now you've got the best of both worlds - storage and fun! Our twin over full bunk bed with stairs and slide - the FoxTrot - is a bestseller for that exact reason.
The Beauty of Owning Maxtrix Slide Beds
Loving what you see but worried about your child outgrowing a bed with slide? We've got you covered! Slide today and easily convert your bunk bed or loft bed with slide to a different look tomorrow. Simply remove the slide and you're left with a nice-looking solid wood bed that will last for years to come. Contact our friendly customer care team if you have questions about our slide beds, but here are a few quick FAQ's:
Yes, you can move the slide to either side of the bed.
Our slides are offered on low or mid height loft beds and bunk beds.
Slide platforms are perfect for high lofts and bunks.
Replace the slide with a new front guardrail when your child is ready to convert the bed.
Our slide beds are available in white, natural or chestnut with curved, slat or panel bed ends.
Yes, we do ship nationwide, and all of our slide beds have free furniture delivery.
Assembly is offered in specific cities. Contact our team to find out if it's available near you.
Don't see exactly what you need? Have questions about bed heights? Wonder how far out the slide extends? Our team has answers. Contact our design team or use our live chat tool to get quick answers!