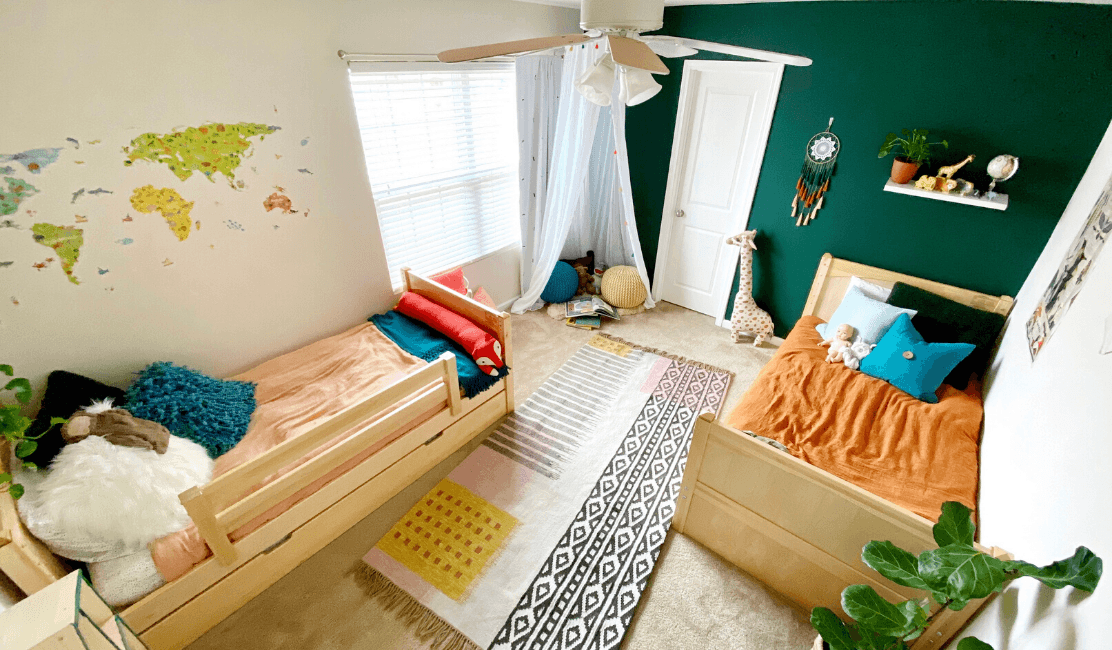 While two boys or two girls sharing a room is very common, boy and girl shared rooms are on the rise. Moms and Dads are having fun combining design elements for both kids in, typically, gender-neutral palettes. Almost any color pairs well with natural wood, which is why our natural finish is by far the most popular selection for unisex rooms. This is exactly where we started the room design process with our latest #MyMaxtrix Room Reveal collaborator - Alexie from RaisedKind. We had so much fun working with her to divide a small, shared kids' room (shop the collection now) for both her kids to enjoy for years to come using two toddler Twin XL beds in our natural finish. Here's Alexie and her kiddos: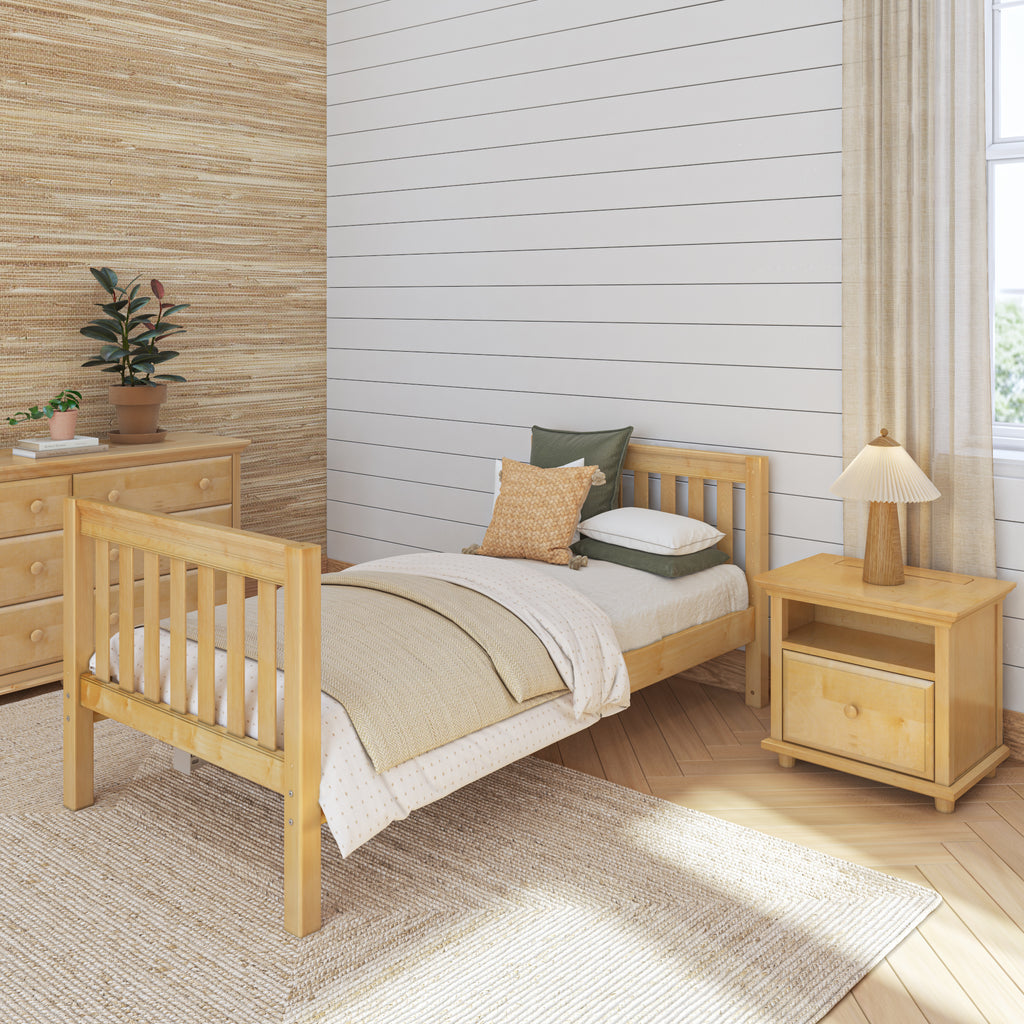 At age 4, her son, Hudson, was ready for a slightly bigger bed than his previous true toddler bed size. Here's a before pic of his room:
His younger sister, Presley, is only 2.5 years old. While she also warranted her own sleeping quarters, sharing a room with her older brother would also help her feel safe and comfortable. Luckily, Hudson's toddler bedroom had enough space for a second bed across from him:
Mom and Dad took extra considerations to also ensure they had space for nighttime snuggles - or sleepovers - and that each child slept safely and soundly in their own individually designed sides of the room. How cute are these two in their shared toddler bedroom?
Hear more from Alexie about her selection process and why she ultimately decided to work with Maxtrix specifically for ideas on how to divide a shared kids' room into a coed toddler bedroom. 
MyMaxtrix Story with RaisedKind
I started my search with a purpose to find beds that were made from the very best, natural materials. While updating their room now is the short-term goal, long-term we wanted beds that would last my kids from toddler to college. Maxtrix stands for everything that I care about! It is totally worth investing in something that you can use forever and is of the best quality.
Transitioning from Co-Sleeping to Toddler Room 
I've spoken openly on my Instagram about our decision to co-sleep with our kids. We ended up putting Hudson in his own bed around 9 months because neither of us was sleeping, and it was taking a serious toll on our lives. Presley, on the other hand, is now two, and she still makes her way to our room often. As we embarked on our journey to create a space for her to hopefully sleep through the night, we kept her sleep and comfort goals at the top of our criteria list. 
When we originally looked at beds, we assumed we would just get a twin size as it seemed a good jump from the toddler bed to the twin bed. However, when we saw the option for the Twin XL, it made way more sense! My husband and I can fit comfortably in bed with them for story time and late night snuggles. This will help Presley transition into sleep time more easily. Also, the extra four inches in the Twin XL means the beds will 'grow up' with the kids as they get taller and longer.  
Maxtrix Kids Room Design Process
Every aspect of ordering and getting our two Twin XL beds felt seamless. The quality far surpassed any other beds or frames we've had in the past and the staff not only helped us pick beds and designs that worked for our kids, but also helped us decide what would fit in our room.
The design team was very knowledgable about how to properly use the Maxtrix System. While they listened to our needs to design with two separate beds now, they also helped us pick the best beds that would last our kids over time!  Our ultimate goal is to bunk the two beds into a medium high bunk bed for a boy and girl shared room. The design team chose the right headboards and footboards so the conversion would be seamless down the road. 
Upon arrival, I put the toddler Twin XL beds together totally by myself with just an Allen key and a power drill! I had no problems understanding the instructions and assembling the beds alone! I am NOT a handy person, so the ease of it all seemed too good to be true! 
Coed Boys and Girls Neutral Toddler Room Reveal
We absolutely love the way their room turned out. Presley and Hudson have their individual sleeping quarters with plenty of space in between for playing together. 
They may share a small room, but these beds allow SO much flexibility for space and individualization! I'm sure we will be creating all kinds of new spaces as they grow and their interests and personalities change!
When the kids get a little bit older, we would love to turn the beds into bunk beds and maybe even loft beds so they can each have a desk underneath or their own little spaces!
If you're considering Maxtrix, STOP THINKING ABOUT IT AND DO IT! My mom always told me, buy once, cry once and I have found that advice to be so true. These beds are way more than just beds, they are an entire system that grows with your kids! Instead of buying a toddler bed, then a twin, then a bunk bed or queen, you have it all in one! 
Benefits of Twin XL Lengths 
As Alexie mentioned, while Twin Beds are very popular for younger kids, the XL length provides so many short and long-term benefits. As a toddler bed that sits low to the ground, younger kids transition fairly seamlessly from crib to Twin XL. If your child rolls a lot during their sleep or is on the younger side, we recommend safety guardrails on both sides of the toddler bed (or push the bed against the wall as shown here). 
Moms and Dads fully appreciate the extra four inches afforded in the Twin XL Length. Longer legs stretch out with plenty of room for adults and growing kids alike.
With solid wood construction, Maxtrix beds specifically are made to last. So, if you're jumping in the system during toddler years, you will truly maximize the longevity of the bed for years to come. Top quality wood and construction means Twin XL beds today easily become elevated Twin XL bunk beds or loft beds later. And while your kids may not need the XL length as toddlers, one day they will!
Under Bed Options for Twin XL Kids Beds
With Twin XL kids beds, the space underneath is fully functional, as trundle beds or under bed storage drawers fit perfectly underneath. Alexie chose one of each. Hudson has extra storage for all of his blankets and toys. And the drawers are soft close, which means little fingers are protected.
Presley's bed has a Twin size bed trundle underneath that easily glides out for Mom and Dad when Presley just needs them closer for the night. 
Shop this Collection
Love this look? Our natural finish looks amazing in Alexie's room. Each one of our beds in the Maxtrix System is also available in white or chestnut finishes. Get the look you need for your boys room, girls room, or shared room. Shop the collection.
Design Team Assistance 
If you'd like assistance from our design team with room measurements and bed selection, please use our online live chat tool or email us! We're happy to help you find the perfect look for your space!
$593.00
Showing 6 of 1 products. See all the products in Hudson & Presley's Room collection.