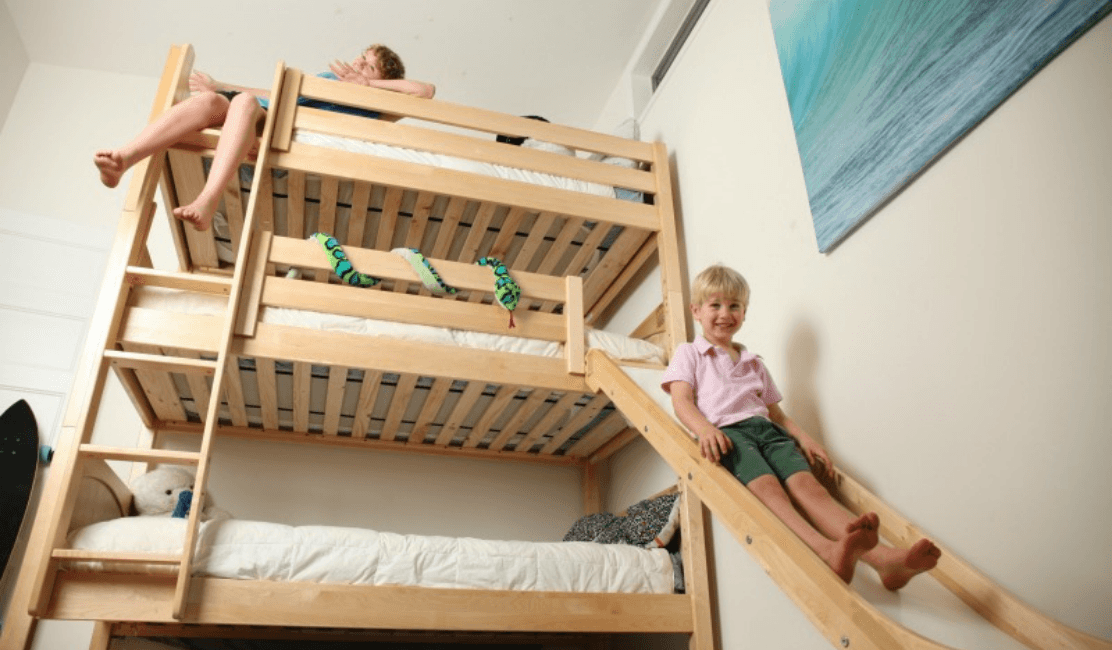 We've heard this scenario quite a few times... Your family was blessed with twins (or you already have two kids) and now you are expecting baby #3 or even #4! As you begin searching for triple beds to accommodate three kids or more in one shared room, you quickly realize there are few solutions to your space dilemma. Here are our favorite triple bunk bed options for shared spaces. Choose the style that best suits your room configuration and needs, and customize it with various entry options, finishes, bed end styles and more. Sleep three comfortably in a triple bed designed for kids, tweens, teens and even our triple bunk bed for adults!
Stacked Triple Bunk Beds for Rooms with High Ceilings
If you are looking for a bed suitable for twins, triplets, multiple children or even friend sleepovers, and need to also maximize the design of your boys or girls shared bedroom, the best solution is likely a stacked twin triple bunk bed, full triple bunk bed, or even a twin xl triple bunk bed. These three bunk beds are typically recommended for rooms with 10' ceilings. So, if you have the height, try a tall bunk. Your can even customize these three tier bunk beds to make a triple bunk bed with slide. If you'd like to customize your Maxtrix bed, consult our design team.
L Shaped Triple Bunk Bed for Small Kids Rooms
If you need to sleep three children in one room and you do not have the ceiling height for a triple decker bunk bed, there are plenty of other options. The most popular is a corner bed or l shaped triple bunk bed configuration that uses the corner of the room. This three person bunk bed is a good solution for rooms that are more squared. They also work in rooms with only 8' ceilings. Try a mid height corner bed option to optimize head space above the top bunk.
Choosing the Right Triple Bunk Beds for Sale
Not sure which three level bunk bed is right for your kids, room or needs? Grab some room inspiration from our favorite, recent Room Reveals! Or, take a look at all of our Unique Beds for kids rooms from triples and quads to corners and l-shaped beds that sleep many, we've got a solution that will work for your child's room. Remember, if you need space for three, four (or more), no problem! Discover great triple bunk bed and corner bunk beds for four ideas with Maxtrix. 
Consult our guide with tips on combining two or more beds, shop our top triple and quad bunk beds or corner beds for kids. The collections have many options to help you narrow down the right look. Contact our team for help designing the best solution.