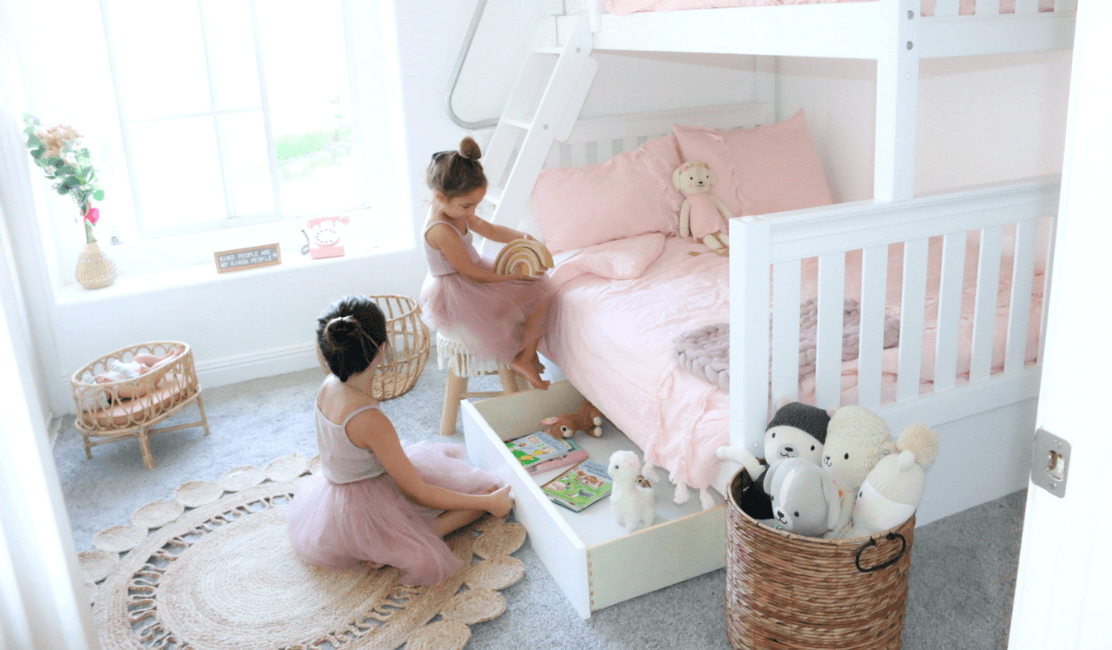 The Holidays are over and we're left now with a whirlwind of new items. Let's talk some quick tips to de-clutter your kid's room with storage for this new decade. Here are our top storage solutions with under bed storage, toy storage, bedside storage and convertible loft beds with storage for boys and girls rooms.



1.Take Inventory
Let's get messier before we get cleaner! Start by taking out all of your kid's items and putting them in "like" piles. Think books, toys, stuffed animals, puzzles/games, and the dreaded Legos! ;)


Take inventory of what you have and what types of furniture you may need to store it neatly. It could be something as simple as a versatile toy box or an extra bookcase.


2. Acknowledge Space Constraints
Take measurements of your room and make sure the dimensions of any product you are looking to purchase will actually work - both from a functionality and scale perspective. You'll be able to then recognize a lack of space for the types of furniture you think you may need and may decide to choose something else!

If you are limited on wall space, stack your storage up!


3. Consider Reconfiguring
Maybe you have a small bedroom or a shared kids room and the bed takes up the majority of the square footage. This is when you may want to consider a bed with storage underneath. Loft beds are perfect for this scenario as you can slide dressers, desks, toy chests and bookcases right under the elevated bed. This is true maximization of space.
Sleeping two? Corner lofts are the way to go with two children sleeping in elevated beds and using the space under each bed for individual storage needs. Corner lofts are available in low, mid and high variations so you can choose the bed based on your ceiling height and age of your children. Then, add your storage, whether it's a desk, dresser or nightstand.




If you love the idea of using space under the bed but have a daybed, toddler bed or bunk beds, opt for underbed storage drawers. They are the perfect addition to complete the look of the bed with so much added functionality. 
4. Look for Versatility
Invest in furniture that can easily be changed later on in life. What works today may not work tomorrow as needs change and personalities develop. Making changes with versatile furniture is key, and that's made possible when you start with configurable pieces furniture. 
What do we mean by that? Maybe you need toy storage today but know your kids will outgrow toys in a few years. Toy boxes like the ones from Maxtrix can be used for so much more! Take our stackable toy boxes to your entry or closet! Or, move it to the playroom and continue to store video games and electronics!
Or add it to a loft bed configuration and use it for storing far more than toys! Puzzles, Legos, study books and materials... you get the idea!
5. Don't Forget the Small Accessories
You may not need more than a few pieces of furniture but some smaller room accessories could really help to tidy up a space. My son sleeps with 10 books at night while my other likes to take his water bottle to bed. Try bedside magazine racks and trays to stay organized in bed!



Or, opt for a few Maxpacks for soft furnishings for small stuffed animals. :)

 

Need more ideas? Consult some of our storage articles or contact our friendly customer care team who can help you design and select the perfect storage pieces for your child's room!

How to Create the Perfect Kid's Storage Bed Configuration
Organize It: Solutions for Kid's Clutter
The Best Kid's Toy Storage Solutions
New Toy Storage - Mix & Match for your Bedroom or Playroom