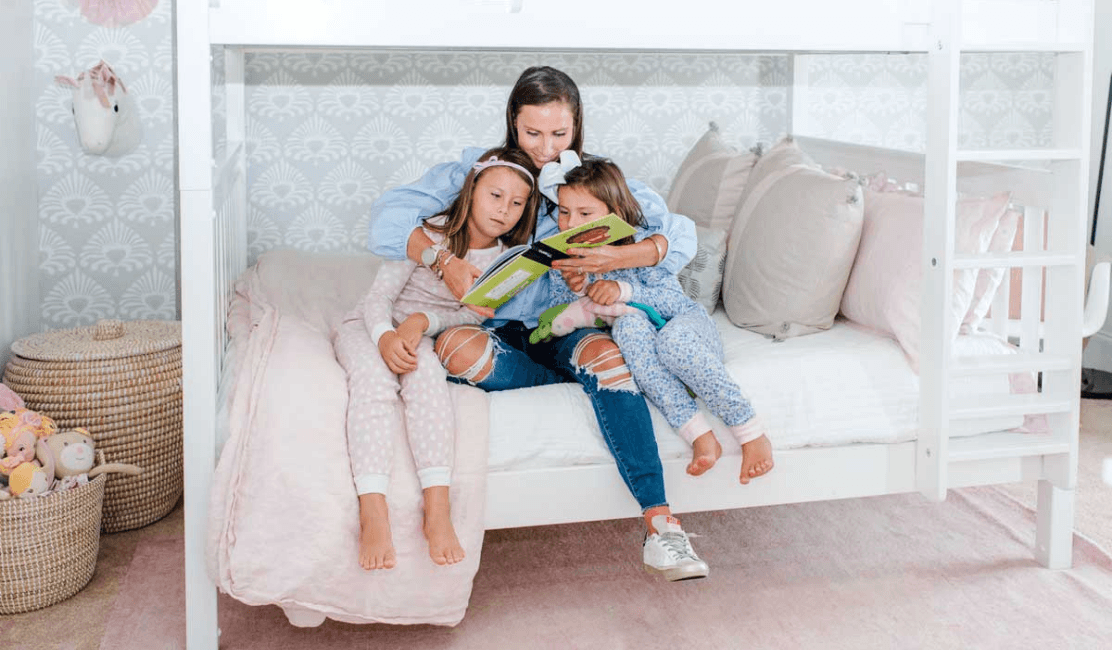 You found us! This is a fantastic place to get inspired when you are redoing your child's room. From
bunk beds
,
loft beds
, slides, fun fabrics and tents, Maxtrix Kids Furniture has a huge selection. In fact, you can create more than 22,000 combinations with our range of components and accessories! So, how did we create and grow to the world's largest
kid's furniture system
? Meet our owners - Stephen and Anne Jensen - and find out the story behind Maxtrix!
How did Maxtrix Kids Furniture begin?
When we started the company, we were expecting our first child and we knew we wanted to call him Max - so Maxtrix is a play-on-words for "all the tricks that Max can do". :)

We had worked in the furniture industry for a long time, and we saw so many products that were not well made, and did not have the versatility we knew we wanted for our child. Also, we loved the idea of making the kind of furniture we wish we had when we were kids. What a fun business to start!
Our product started as a quality loft bed system. Crafted from solid hardwood, and built to last, we wanted our customers to have the option to create almost any bed configuration that they could imagine with simple extension kits and the ability to re-use components. As our business evolved, our top priority remained the same - to create great quality, safe products with a huge fun factor. With more than 12 years in business, we now have a deep expertise in how to do that right.
Where is your furniture made?
Every piece is designed right here in our headquarters in beautiful Charleston, SC by our in-house design team. We source high quality, sustainably harvested hardwoods from the USA, Canada and Europe & beyond, and manufacture in our dedicated factory in Vietnam, where over 200 skilled craftsmen and women are working on delivering quality products every day. From cutting, sanding to lacquering, polishing and packing, it's a labor intensive process! All products are shipped from our warehouse in Lexington, NC all over the continental USA and Canada. Shipping times are usually fast, ranging between 10 – 15 business days.
How is Maxtrix Solid Wood Furniture different?
We'll help you pick the right type of product that works for you and your space, while also providing functionality. We know the smallest place in the home is usually the child's room and it is often shared. So, how do you work with the small space? How do you manage sleepovers or shared rooms? We help figure out the solution with some unique, well designed quality products!

People often approach Maxtrix thinking they just want a bunk bed, but then they meet our company and say, "wow" look at all of these options! For instance, the space underneath your lofted bed can be used for so many things - extra room for play, storage or study. It's the little things many have not thought about, and we're excited to help them explore their possibilities.
Interior designers love Maxtrix because they can equip a bedroom that needs to sleep four, or include a twin over full, full over full, equip an odd corner or ceiling... there are so many options that are possible. Our products have very clean lines and they are intentionally designed that way. Maxtrix needs to grow with your child, so the design needs to stand the design test of time. You can choose from three classic colors – white, chestnut or natural and 3 headboard styles – curved, slatted and paneled. You can create timeless styles and then add decorative finials, fabrics and accessories. And with matching dressers, night stands, toy storage, bookshelves and more, you can create your child's perfect room for now and years to come.
Describe what a "furniture system" really means.
Maxtrix is the world's largest kids furniture system. It works a little bit like Lego's. Start with a low loft or basic kids bed as a core building block and add more pieces as you "grow" that very same bed up literally all the way to collage. So, if you can't decide on how to furnish your kids' room? Just don't! You can reconfigure it over and over again with very simple leg extensions and take advantage of this incredibly versatile product to changes with your individual needs.
From Corner Lofts to Quadruple Bunks, we have solutions for any room, no matter how low the ceiling or funky the corners. Check out our very popular Corner Bunks and Lofts, Triple and even Quadruple Bunk Beds and L-shaped or Parallel Bunk Beds.
Need to sleep lots of kids in one room? We have solutions to get every inch out of the space you have available. No space for storage? Check out our wide selection of Storage Lofts and Lofts with Desks.
Why is solid hardwood important?
Solid hardwood is our material of choice at Maxwood Furniture, the parent company of Maxtrix. We have a dedicated factory that only makes our product, using solid hardwood like maple, aspen or birch. The materials are important because you are buying into a furniture system. So if you think about it - if you are purchasing a bed that grows up with your child, it better stand the test of time!

Also, we hate the plastic throw-away culture that has encroached into kids rooms nowadays – we believe in quality products you can re-use over and over again. Also, consider the wear and tear kids put on their things – low quality furniture won't hold up well in that environment. Solid hardwood is perfect as it does not easily scratch or ding, even after the toughest pillow fights.

So at Maxwood, we believe in using top quality hardwoods - we don't use soft woods like rubberwood or pine - it's a source of pride for us!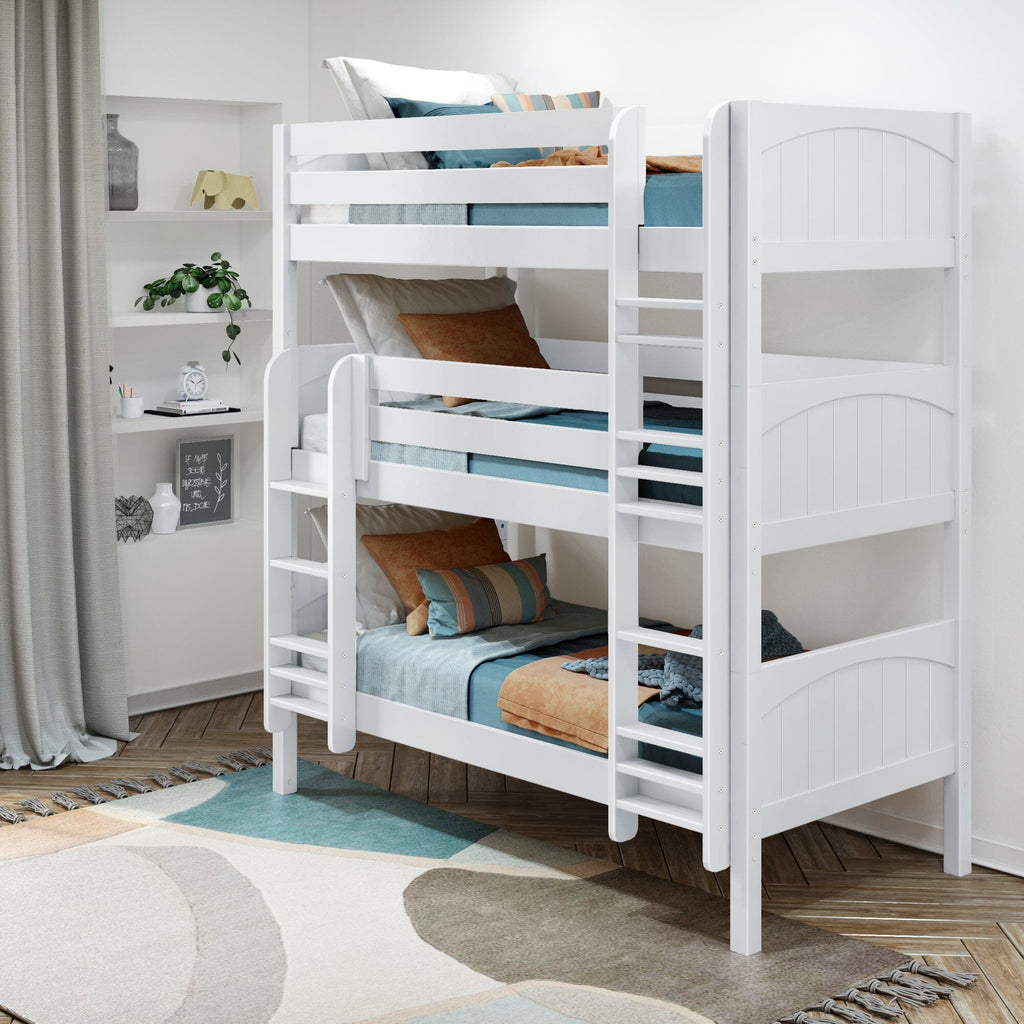 How many possibilities are there with the Maxtrix System?
The answer is simple - Endless! You can re-configure your Maxtrix® Beds in many different ways. All of our beds can be separated into their original components and re-configured to create a new setup. Just consider how much your child's needs are likely to change over time as they grow from toddler to elementary school to tween and all the way through their teenage years.
How likely is it you will move them to a different room in the house, or you will move to a new home? It's clear that the furniture that fits your child perfectly today will almost certainly not work well in a few year's time. That's why a furniture system is such a popular idea. Since we have launched the Maxtrix® system over 12 years ago, we have had countless customers convert their beds, often multiple times.
No matter if you purchased your Maxtrix® bed 5 years ago or yesterday, we guarantee that extension pieces will be compatible and work with your bed. Each piece is precision engineered to work together so you can create the perfect bedroom for your child as his or her needs change. We use a patented "Rock Lock" mechanism to connect leg extensions to the beds. 2 pieces of wood get compressed together to form a rock solid connection, creating a connection that is stronger than naturally grown wood. So no matter how often you re-configure your Maxtrix bed it will always be rock solid.
How have customers changed their room looks?
There are a few popular makeovers we often see people make:
Take a bunk bed apart into separate twin beds. You can use them as they are, or you could add loft legs and raise them into separate Low, Medium or High Loft beds.
Start with a Cute Toddler Bed and transform it into a play-castle complete with slide and tents.
Add space-saving storage to your Low Loft Bed by sliding dressers or bookshelves right underneath the bedside rails.
Create the perfect study spot for your tween by raising her Low Loft Bed to a High Loft, and adding a desk under it.
Combine 2 Maxtrix® Lofts into a Corner High Loft for their new shared room. Make a triple or quad corner that sleeps 3 or 4!
How do you shop Maxtrix Kids?
We are a family owned business headquartered in Charleston, SC, where we just opened our first Maxtrix Rooms retail store.

Most of our products are sold through 150 retailers around the country, and also Canada, Asia, Middle East - we are truly a global business. You can purchase maxtrix through a retailer near you - they can often offer great additional services like in-home design services and setup. You can also chose to shop directly at maxtrixkids.com - it is your choice!
Will your team help with the configuration and design?
We are here to help! We know there is a lot to consider and you will have questions as you make your selection. Our friendly customer service team is here to help! Chat with us online or fill out our design form to get started! Need a replacement part? Don't know what extension kit to order? No problem! Just let us know what you need help with and we are happy to assist.