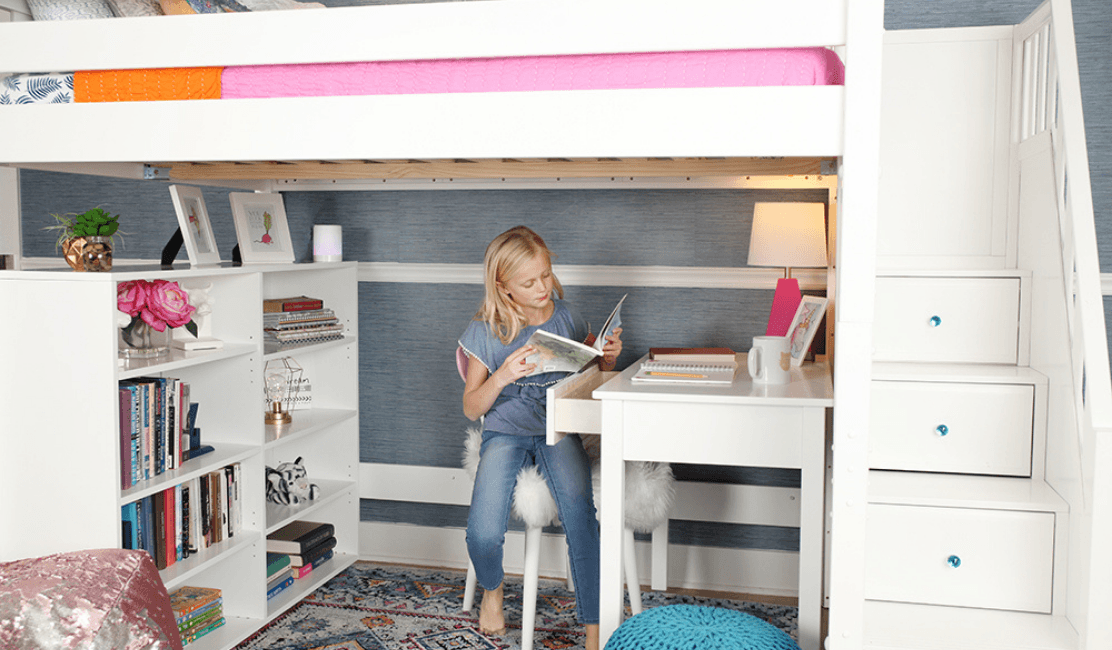 Are you looking at our kid's storage bed options and wondering how to select the best setup for your girl or boy's room? There are several different ways to configure your Maxtrix kids bed with storage, so we want to make that process a little easier for you. Follow these steps, and build the perfect loft bed with storage for your child while saving valuable bedroom floor space.

Create a Maxtrix Kids Storage Bed in Four Simple Steps
1 - Choose Your Base Bed. We have three loft bed heights - low, mid or high. Consider your child's age and his/her needs. The low loft is great for rooms with low ceilings or households with young children. The mid loft is probably our most popular storage bed as it provides a bit more space for case goods underneath. Finally, the high loft is great for tweens, teens, or college students who can really sleep high and maximize storage space underneath. So, pick your bed height, first.

2 - Select Your Style. Think about your finish color, bed end style and type of entrance. Let's start with color. We offer all of our beds in three finishes - natural, chestnut and white. Your choice! The bed frame also has three options - curved, panel or slat.
Then, consider your entrance preference. We provide staircases, angled ladders and straight ladders for our loft beds. A tip: staircase loft beds give you even more storage as each step is a drawer (fully functioning). Here's a quick read at the pro's and con's of each.

Once you know the bed height, finish color, bed end style and entrance type, you pretty much have your base bed! Now, let's talk case goods!
3. Determine the Amount of Storage Needed. Do you have a school aged child? Whether he or she is in K-12 or college, you can create lots of study space with a desk. Think low lofts for elementary and middle and mid or high loft for high school and college!
Do you have an avid reader or a young one who enjoys story time? Try a bookcase with open shelves for all the books!
Our new library lofts offer pre-packaged setups with the ultimate amount of bookcases. Try low, mid or high heights!
Need lots of room for play or dress-up clothes? Dresser drawers are available in many arrangements like 3-drawer (low loft), 4-drawer (mid loft) or 5-drawer (high loft) depending on the bed height. More storage space is provided by a full size bed as shown here, but we also offer twin size. The difference in size is about the width of the 3-shelf bookcase.


The Maxtrix® system is designed so all of our case-goods fit exactly underneath the beds - creating a great looking storage cube with lots of capacity. Just choose the type of storage your child needs, and don't be afraid to pick two! How about a dresser AND bookcase? :) Read our Desk & Storage Bed Fit Guide.
Tip: All of our storage units can be pulled out from underneath the bed, and you can add a crown and base to create free-standing units out of them!
4. Consider Accessories. This is the fun part. Any storage bed can also become a play bed... just add a slide, top tent or under-bed curtains. We see this more often with our low loft configuration for younger children.

But, if you're not in the market for a play bed, you can also search through our large selection of bedside storage (especially ideal for the high loft so your child can set books, drinks, snacks and more right beside them without climbing down). We have large flower boxes, bedside trays, magazine racks, beverage holders and our unique Maxpack available.
Build Your Kids Storage Bed!
Now, it's time to build your storage loft bed configuration. Use our filtering options with your selections to find a great set of options to choose from or create your own custom look!

And, remember, all of our lofts are built with the same core Maxtrix bed, so they can easily be converted into another combination by simply taking elements away and adding new Maxtrix components. As your child gets older, you can easily change the configuration! That's the beauty of the Maxtrix System!
Still need assistance? It's a great thing we are just a chat or call away. Just click the chat button, and our friendly customer service staff will be there to assist you!