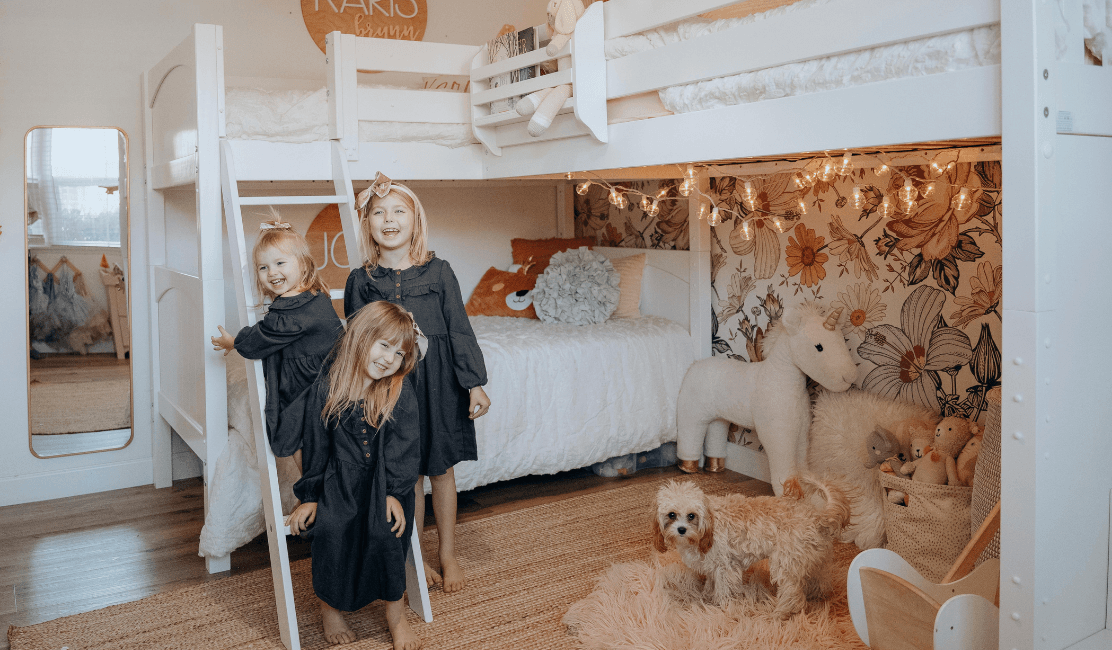 We get so excited when we are approached about shared bedrooms... particularly when the kids room will accommodate more than two! Creating the ultimate bunk bed room for all siblings to enjoy - while fitting in usually smaller kids room sizes - is a fun and challenging task! And, we love it. That's why we have designed so many triple bunk bed, quadruple bunk bed and corner bunk bed configurations. When Mom, Ashley McFarland, approached us about a bunk room for her three young girls, we gladly accepted. 
Ashley had plans to transition her youngest into a room shared by her two older sisters. The girls - Karis (6), Bexley (4) and Jovie (2) - were excited about a new room for the three to share, and Ashley was ready to find the perfect sleeping solution. Her original room had two separate twin beds:
Her eyes turned to our triple corner beds as a solution which would sleep all three. Ashley chose the Tertiary triple corner bunk bed with stairs. She planned to have her 2-year-old sleep on the bottom and her 4 and 6-year-olds sleep up top. Her 4-year-old would take the side with the stairs for safe climbing. The girls are super thrilled with their new Room Reveal (shop the full collection):
The Tertiary is a medium-height bunk bed so it sits a little lower to the ground than Maxtrix high bunks and lofts. This worked better for Ashley and her girls since they are younger (fewer steps to climb), and the girls were left with more headroom above the top bunks. 
Even though these beds seem massive, they actually make rooms feel bigger once installed as every square foot saved with an elevated bed is valuable when accommodating many. 
Stairs always make good investments when in doubt. Because they are also dresser drawers, Ashley and the girls can store some of their favorite items in the stair steps for easy access. Many use them for play/dress up clothes, stuffed animals and even toys! Parents love steps for easier access to the top bed (think changing sheets). 
Ashley chose a magazine rack for the top bunks. This is an easy way for them to grab their favorite story time books next to where they sleep.
We absolutely love the way Ashley's room turned out. This is a beautifully designed shared girls room with sleep, play and hangout space for all three to enjoy. Ashley has an amazing eye for design, and we can't wait to see how much the girls enjoy living in their new space moving forward.
Why Ashley Noel Chose a Maxtrix Triple Corner Bunk Bed
I really wanted all three girls to share a room, and I new that putting three beds in the space would take up any room to play. When I saw the triple corner bunk bed by Maxtrix, I knew the girls would LOVE it, and it would fit our needs perfectly!
This specific design stood out for a couple of reasons. I loved the loft concept of raising the bed up and giving space underneath for a desk, toys, and play. This was such a great idea that the "L" shaped bed provided.
I also loved the steps for my clumsy four year old. They gave her extra stability while she climbs, and I love the extra storage the stairs give. What a great idea to double the steps as dresser drawers also.
The set up was pretty simple. The step-by-step instructions made it easy and manageable for my husband and me to tackle together!
My product expectations were definitely met. They truly were!! The quality of the Tertiary triple bunk bed it amazing! It looks very high end; so nice in the space!
We do not plan to reconfigure our Maxtrix triple bunk bed any time soon, but I love that it is a possibility as the girls get older! I think this bed is an amazing investment, and the kiddos will love it so much! It makes the room like a 'child's dream come true.'
Design Your Unique Triple Bunk Bed 
Thank you, Ashley, for sharing your #MyMaxtrix Story. Shop her room collection, or see more Rooms We Love with collections of our favorite Room Reveals. Since our beds are configurable, contact our design team to create a unique look for your child's room. We're here to help you create a triple, quadruple or even bigger solution for many kids! Shop all triple & quad beds.