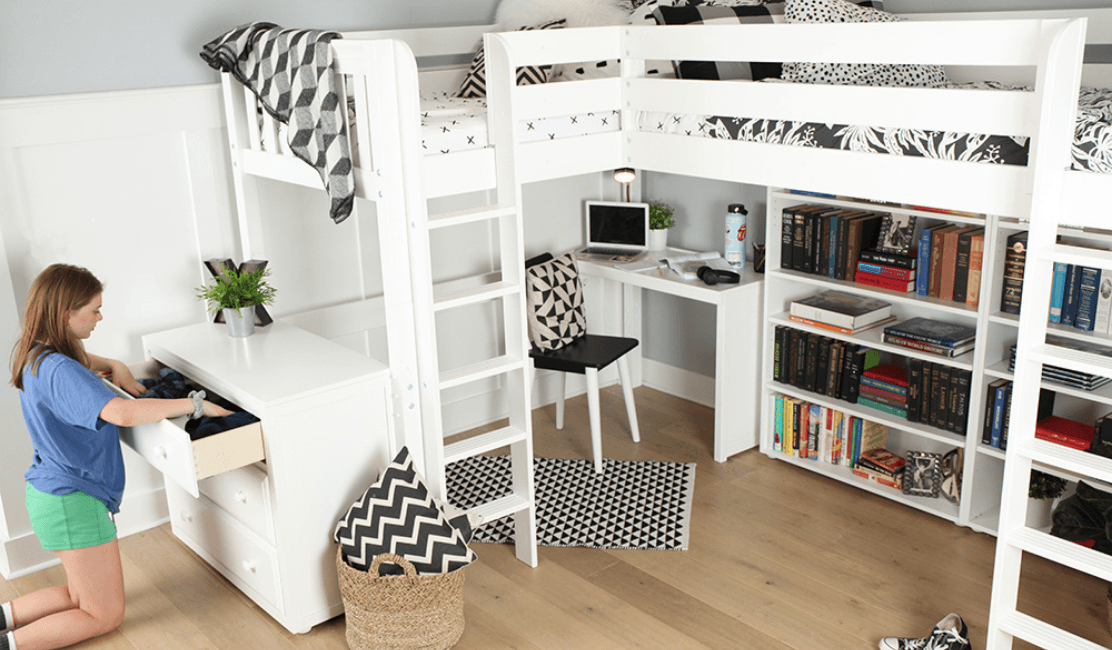 Short on square footage? Wondering how you're going to create an effective room layout for your kiddos without cluttering the space? As our kids get older, needs change. If you ever find yourself in a small kid's bedroom quandary, just take a look at some of our best solutions for low ceilings and small spaces that maximize every area of the room. These bed configurations pack a lot of punch with sleeping, studying and storing solutions. Here are a few great examples.
Low Lofts for One
Maxtrix lofts are likely the best option for anyone looking to change a child's room over time. The space underneath can hold dressers, bookcases, a desk or any combination thereof. We really like the
staircase loft option
(but our lofts also come with angled or straight ladders) for safety and storage.
The Great
1 - Our
staircase lofts
- whether low, mid or high - provide storage for clothing or toys as each step is a deep drawer! Depending on the height of your room and the age of your child, you can go from a
low loft
with three drawers all the way up to a
high loft
with five. So, choose what's right for your child.
2 -
Bookcases
are almost essential for bedtime reading and storytelling. Young children and older teenagers have the versatility of adding books or storage bins to the open deep shelves. Plus, everything is easily accessible.
3 - Slide-out
student desks
work so well in this configuration as you can keep limited bedroom space open when your child isn't studying or doing homework. Simply slide the desk underneath the bed or slide it out for craft time and studying.
The Box
1 - Our
two-drawer student desk
has really deep drawers for writing utensils, books, craft supplies and more. Even better, this desk slides right underneath the bed when unused, which really helps to maximize floor space when your child is not using it.
2 - Books are so easy to organize - and your child stays safe - when items are within reach. As a part of this bed configuration today, the bookcase can slide out tomorrow and act as a stand alone piece of furniture tomorrow. Just add a crown and base kit to dress it up! You'll also see deep cubbies next to the desk. Think how tidy your child's room can stay with so much storage in one bed setup!
3 - Straight ladders really help to open up the space. WIthout extending in front of the bed, the straight ladder is the cleanest and simplest setup for a kid's room. Your child will only take three steps to reach the top loft bed, so safety concerns are really eliminated.
The Wow
1 - A slide! Why not add "fun" to practicality? A
loft bed with slide
is a fantastic time to encourage your kiddos to get up in the morning. ;) Plus, play dates just got so much more fun. Imagine the extra play hours spent indoors when it's it raining or too hot/cold outside.
2 - Adding
toy storage
under this play bed helps to contain all of the excitement in one place. The open cubbies make grabbing toys and putting them away easy and fun. Since they don't sit up too high, your child will be able to participate at-large during clean-up time. Notice there is also space under the front side of the bed for a pullout study desk and chair. You can rearrange this look by interchanging these components or adding other ideas like storage cubes / dressers. It's your bed to configure.
3 - Angled Ladders with a handrail are great for young feet. The grooves on the ladder help the child climb safely as the handrail provides support and helps him or her balance. Need stairs? Simply change it out:
High Corner Lofts for Two or Three
Need to sleep two in a room? Shared bedrooms can be challenging to design - particularly as your kids become tweens or teens! Girls and boys alike want individual spaces to thrive. Here's two of our favorite shared bedrooms that pack a lot of punch!
The High Rise


1 - Corner lofts are so versatile and they work primary residences, vacation homes, dorms and playrooms. By elevating two beds, you've completely freed up all of the rooms square footage. Our corner lofts are sold in two sizes - low or high. Plus, you can choose a low corner loft and then raise it to a high corner loft later if you wish.

2 - Corner desks help to maximize the space underneath this "High Rise" corner loft. This freed up an area for a five-drawer dresser (because we know girls love their clothes!) ;)


3 - A second desk can be added on the other side of the loft so both girls or boys have a space to study independently. Distractions are limited with this setup. And, when it's time for bed, each child has his or her own ladder, which helps to limit waking up siblings.
The Triathlon


1 - Yes, you're seeing that correctly. That's two beds up high just like the High Rise featured above. What makes this bed different, however, is that we've added a staircase entry to one side and an angled ladder on the other. This is ideal for a room that will accommodate the extra width for the staircase, but you're adding all that extra storage with each step's pullout drawer.

2 - The Triathlon features a full sized bottom bunk on one size. This creates extra space on the bottom bed - perfect for a sleepover, nighttime snuggles or bedtime stories with Mom and Dad. We've added under-bed storage drawers for more storage space here, but you could also opt for a trundle bed to sleep child number FOUR! ;)

3 - There is STILL space under one of the top beds for a piece of furniture like a student desk. This is so ideal independent study and creative time.




What do you think? Stay connected with Maxtrix and shop all of or Unique Solutions. We hope they provide some inspirations for your small kids rooms.