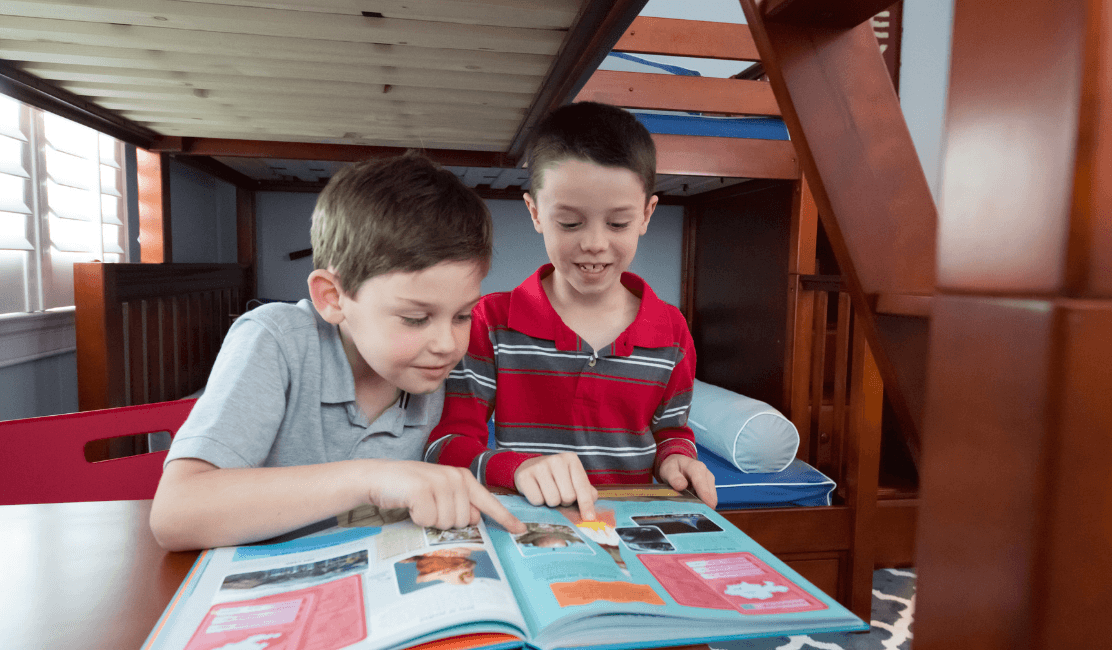 Is your child starting kindergarten? Returning to elementary school (K-5) or middle school (Grades 6-8)? It's a new world for them; particularly during back to school, school from home, virtual learning and homeschooling season. Let's transition them easily with a new room setup! Here you'll find all the kids bedroom furniture they'll need to study, learn and grow. Check out some of our favorite elementary and middle school bedroom furniture that is sure to turn your kid's rooms and tween rooms into functional spaces.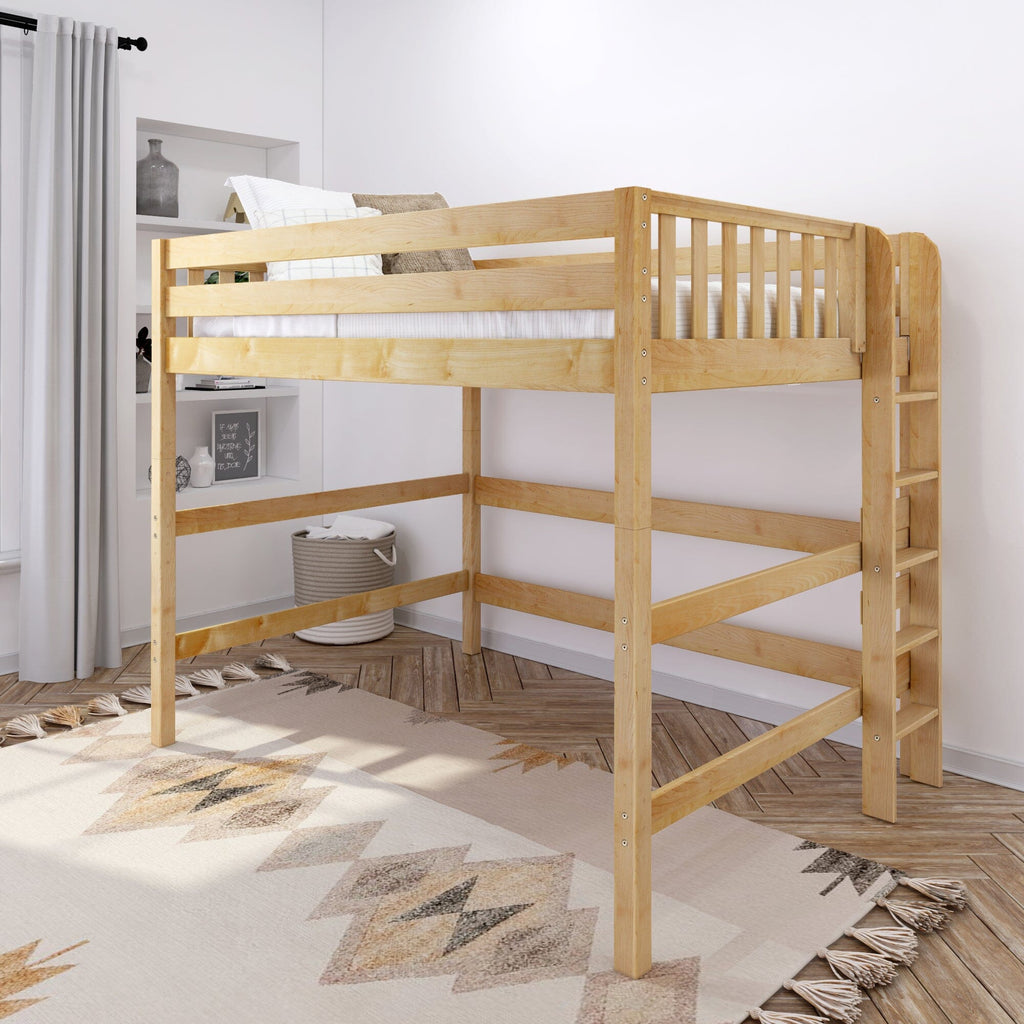 Elementary School Aged Kids Beds
Elevated beds like bunk beds and loft beds are very popular with children ages 6-12. They love the idea of climbing to sleep! New to Maxtrix? Start fresh with one of our solid wood beds! All of our kids beds, bunk bed with desk and loft bed with desk options are available in Twin, Full, Twin XL and Queen sizes. Select your color finish and end style to customize it further. Choose your type of desk to go underneath and you've got a bed with desk underneath, twin loft bed with desk, full size loft bed with desk or queen size loft bed.
Concerned about ladder safety?? Help them climb safely with our staircase beds (with extra wide steps... and each is a pullout drawer!), or opt for an angled or straight ladder if there are space limitations. Find out the pros and cons of stairs vs. ladders. And, with Maxtrix, you can change the configuration many times over. So, if you start with a younger slide bed, you can reconfigure to a study bed tomorrow. Maxtrix beds are customizable and changeable, which is great for growing kids!
If you already have a toddler bed from Maxtrix, you can use leg extenders to elevate your bed to a low loft or mid loft (perfect for this age group), and perhaps add another bed underneath to make bunk beds or beside it to make a corner loft bed. Add an optional trundle bed underneath for guests or sleepovers. For example, if you have a twin bed or full bed for 10 year old today, it can become a twin loft bed with desk or full size loft bed with desk tomorrow!
Elementary & Middle School Desks & Storage
Homework and homeschooling can be a battle at this age. It's important to set your kids up for a successful study time with a space that helps them focus... away from siblings and distractions. Desks help create ergonomically correct setups for kids to use stationary computers and learn how to function in a real "work" environment (because we're not ALWAYS on the go!) Investing in a versatile piece of kids furniture affords you the option to place the desk in your kid's room or in another designated area of the home. Maxtrix desks look great next to 'adult' furniture and stand the test of time.
Children also collect many books during this age range. Their reading interests escalate and they need a great spot like our kids bookcases to store their favorite reads! Help your kids learn storage organization with Maxtrix bookcases or storage cubes. All of our furniture (dressers, desks, storage cubes, toy bins and bookcases) slide underneath our loft beds - creating a storage or study loft bed - which can also be reconfigured at a later date. Here are some of our most popular pieces of kids furniture for elementary and middle school aged kids:
If you see a design that you're unable to find, or brainstorm a custom design, contact our customer care team for assistance. They will help you recreate the look with the right desks, storage and beds. And, don't forget the add-ons like bedside magazine racks & trays or under-bed dressers or drawers to keep the room tidy.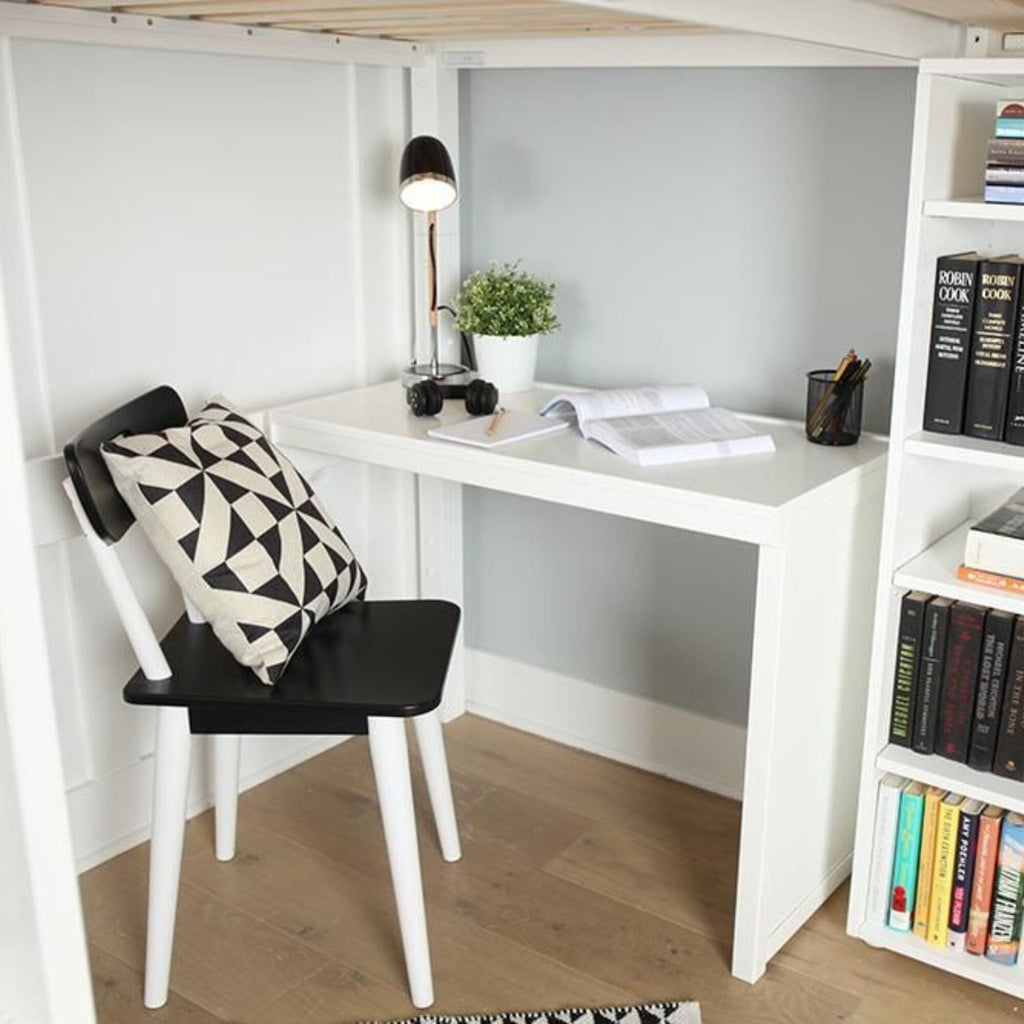 There's Something for Everyone!
After you're finished looking at our top designs for elementary and middle school rooms, consider their siblings! Does your elementary or middle schooler have younger siblings? We've got you covered with our preschool bedroom ideas! If you're ready to transition to a teen room, we've got some room inspirations for you. Go ahead and take a look at our High School & College Buying Guide.