adult bunk beds
Decathlon Triple Corner Bunk Bed with Stairs for Tweens & Adults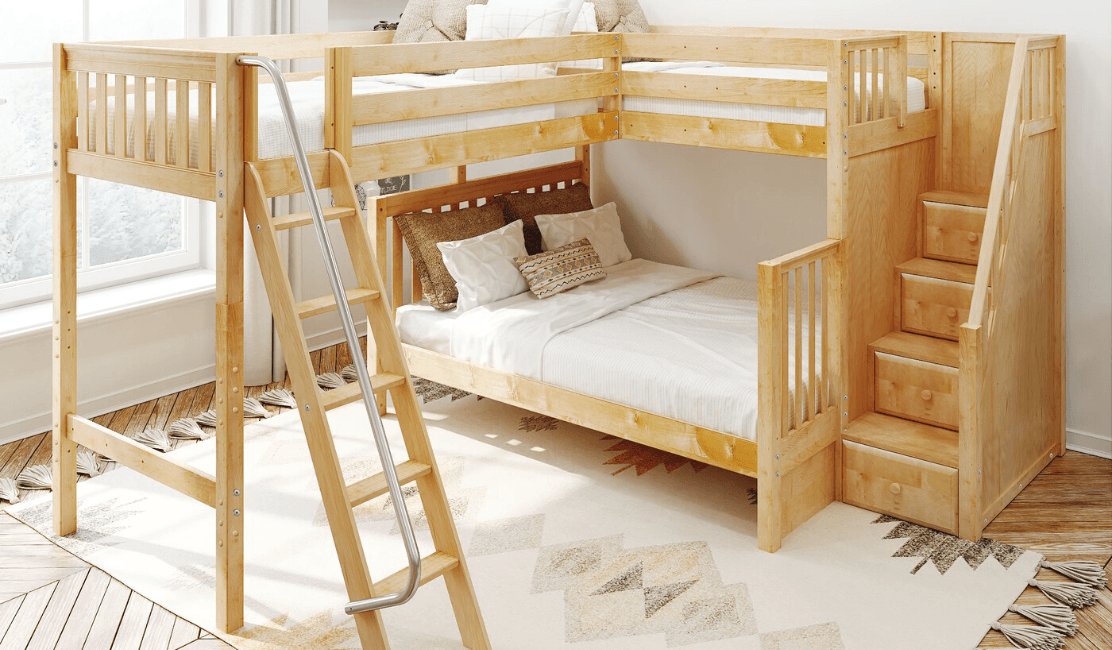 There are a lot of options to consider for shared bedrooms, but when looking for tween room bunk beds, individual spaces are key! We all know kids and tweens like boundaries - especially as it pertains to sleeping and lounging quarters. Our favorite solution for this age group is a twin xl corner loft bed so square footage is efficiently used while individual spaces are clearly defined. 
The Decathlon is a twin xl over queen triple bunk bed with stairs... and it's a sturdy design, adequately sleeping three comfortably in one room. But, the three biggest reasons why the Decathlon is a "triple threat" - size, safety and storage. Take a look or shop all triple and quad bunk beds for tweens and teens. 
Size is Right: Twin XL Corner Loft Beds
Kids rooms are generally on the smaller size, and when they are shared by more than one child, the square footage seems to shrink considerably. Elevating beds off the ground nearly doubles your living quarters. The room underneath the lofted beds can be used for additional sleeping or hanging out. With a triple corner bed, you can accomplish both. 
The L-Shaped configuration allows corners to be used effectively. This is a great solution for a room that maybe has one wall without a window. Sleep two up high and keep boundaries with the bed ends separating the two spaces. 
The side of the Decathlon with two beds stacked - otherwise known as a bunk bed - is a twin over full bed. The full size bed gives more room for longer arms and legs and is often preferred by growing kids, tweens, teens and adults. Even two tweens can bunk together on the bottom bed.
With it's high bed height, the Decathlon provides ample headroom between bunked beds and over 4 ft of clearance beneath the loft. The ideal ceiling height for a "high" bunk bed is 10'. Check out our Fit & Measurement Guide for more details.
Safety Top Priority: Sturdy Triple Bunk Beds
Quality and safety generally go hand-in-hand with kids furniture. When sleeping up high, safety is an even greater priority, and parents often look for sturdy solutions that they know will hold up well over time. The Decathlon is a durable triple corner bunk bed with features that showcase top safety standards. Its solid, knot-free premium hardwood construction has a non-toxic, low VOC finish.
Take a look at guardrails for instance with industry-Leading 16" tall guardrails. Coupled with low profile mattresses, kids have more guardrails exposed to keep them safe while sleeping. Even as an older kid or tween, safety is a priority when climbing up to the top beds. Ladder grooves and handrails assist to make it an easy climb while the staircase on one side provides the most stable surface. 
Storage Solutions in Big Beds: Staircase Dresser Steps 
The multi-purpose staircase on the Decathlon doubles as sturdy storage drawers. We all know by the time our kids are tweens, they've accumulated a multitude of personal belongings. Why not use every inch possible to keep the space looking half way tidy? ;) With four deep, pullout storage drawers, tweens have easy access to their favorite books, journals, gaming devices and technology. Or, use the drawers for clothes and shoes. Every teen has his/her collection of their favorite items. 
The Decathlon is featured in white here, but it is also available in natural and chestnut finishes. Regardless of the color chosen, there are dressers, nightstands and desks that all coordinate with Maxtrix triple bunk beds. Use the space under the loft bed as a hangout space, study station or storage central. Want to keep the space open? Move matching furniture pieces out, but keep them close by for easy access. 
Need to sleep a fourth kid or want additional storage space? The area under the full size bunk bed can also be used as storage. Try underbed dressers or trundles to maximize the space. 
Space Saving Designs with Triple Bunk Beds 
The bottom line is that the Decathlon and other triple corner bunk beds work for so many families and homes. Whether you're furnishing a kids room, tween room, vacation home or searching for shared bedroom ideas for triplets, maximize sleeping quarters with our space-saving ways to sleep 3, 4 or more. Maxtrix offers lots of Unique Bed Solutions, so you're sure to find one that fits your room. Customize & style by choosing the size, finish, bed end, and entrance that works for your space. And, if you need assistance, contact our Design Team for support. They love working with triple bed designs.