back to school
Sleep, Play & Study with one Corner Loft Bed: Daily Mom Room Reveal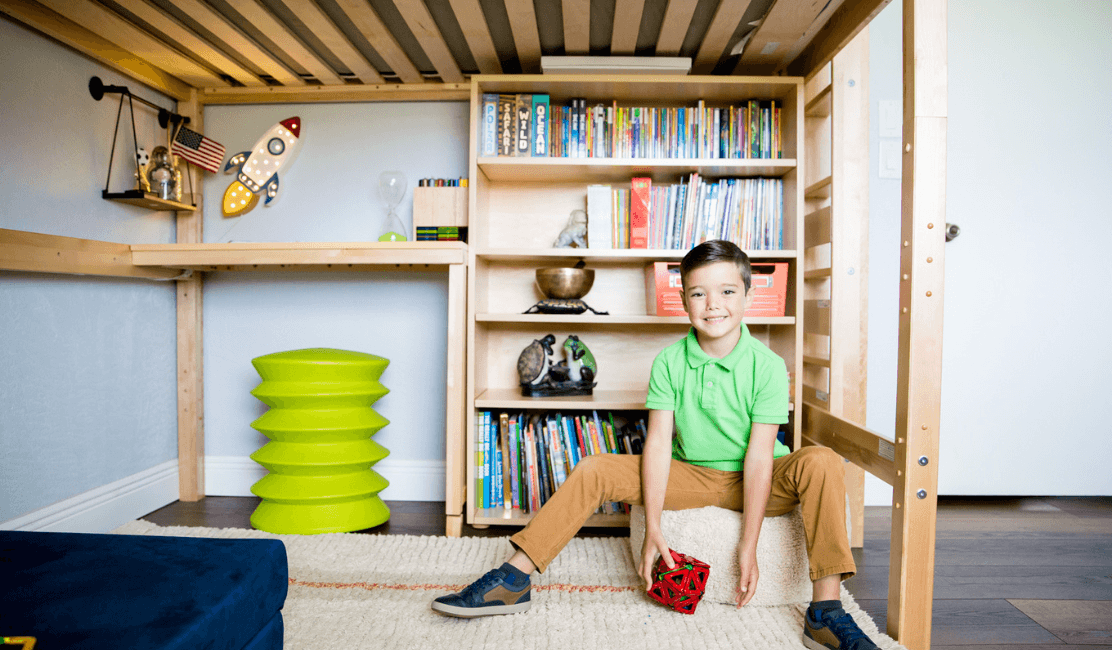 When you're a Mom of multiple kids, you sort of expect your younger kids to want what their older siblings have, right? Kristin dePaula from Daily Mom previously designed her older sons' bedroom with a Maxtrix queen size bunk bed and coordinating furniture. See Zane & Rhett's room. Of course, younger brothers, Jake (7) & Luke (5), wanted a Maxtrix sturdy bed for two, also! The three chose a high loft bed with plenty of space underneath for play, study and storage called the HighRise 1. This do-it-all design maximizes space for the boys' shared room - they sleep "up high" and use the space underneath the l-shaped loft bed for video games, homework, reading and lounging. Shop this loft room.
Both of Kristin's Maxtrix bed designs can be reconfigured at any time. Because of this option, any of her kids can enjoy the beds for years to come. With the ability to create different setups later, her kids are set from toddler to teen. This was a huge selling point for their growing family with many kids. Find out more about the Maxtrix System and how it works. 
High Rise Study Loft Bed with Desk and Storage
As a best-selling design, the High Rise is a bed that fits perfectly in the corner of the room, leaving plenty of walking space below and in front of the loft bed. Kristin chose to place her ladders on the end of the bed to leave the bottom even more open. The ladders have grooves for safe climbing, which is important for any Mom!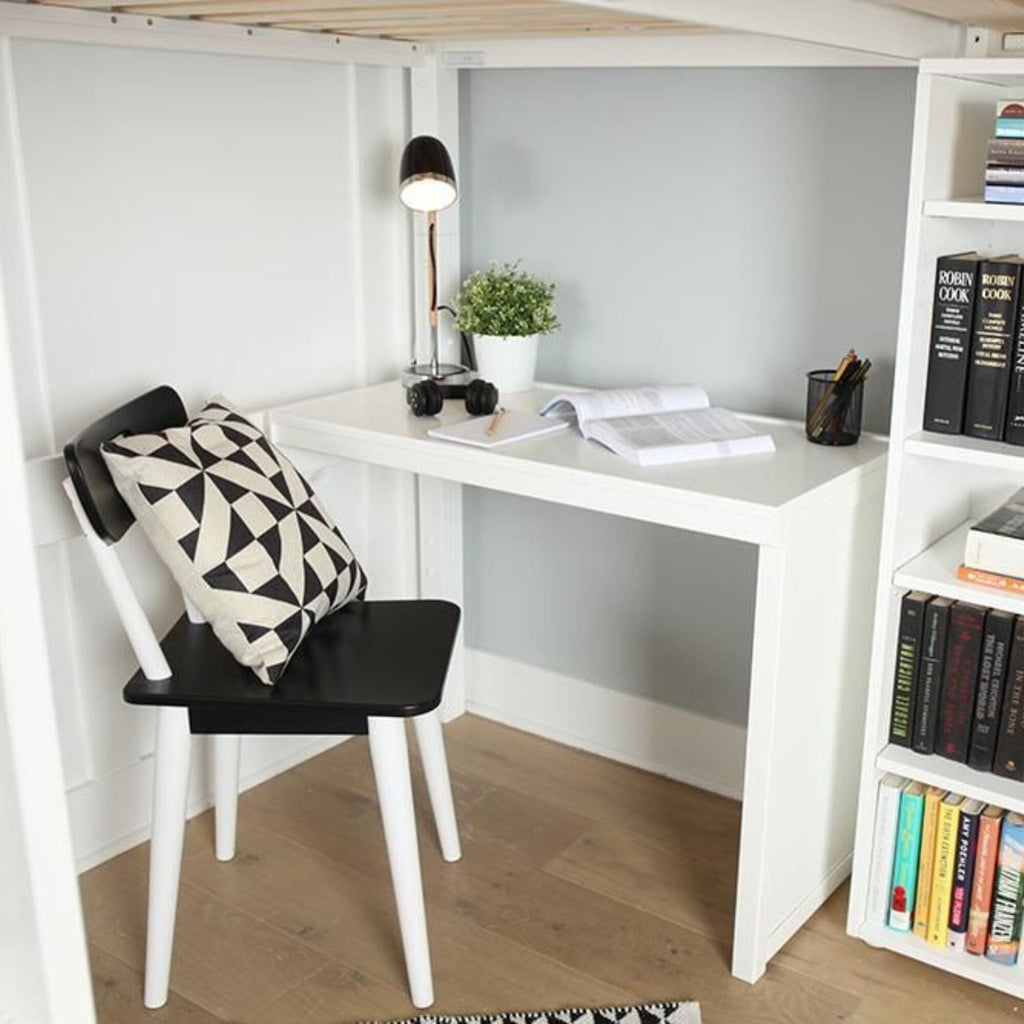 Underneath the bed, Kristin chose a corner desk - a minimalistic approach that still provides a lot of functionality. Use the desk space for homework or crafting. Store supplies in the bookcases located right beside it! In this design, she fit a five-shelf bookcase perfectly underneath the height. The bookcase can always slide out later as a stand alone piece of furniture. Look at just how much they were able to store on these shelves!
The other side of the loft was left open for many different setups. For these boys, they already using it for many different types of activities! Easily trade out small furniture, cushions and pillows to accommodate the mood of the month. 
Kristin added a bedside tray up top so the boys could access their drinks without climbing down. This is a great addition to any raised bed design. Simply add it or any of other bedside items to complete the look and functionality up high. We also have magazine racks, larger trays and MaxPacks. 
Lastly, the family chose our larger six drawer dresser to accommodate both kids' wardrobes. This dresser is also in natural and coordinates very nicely with the loft bed, desk and bookcase. Because the rest of the furniture resides under the loft bed, the room is now more open with additional walking room.
Before...
After...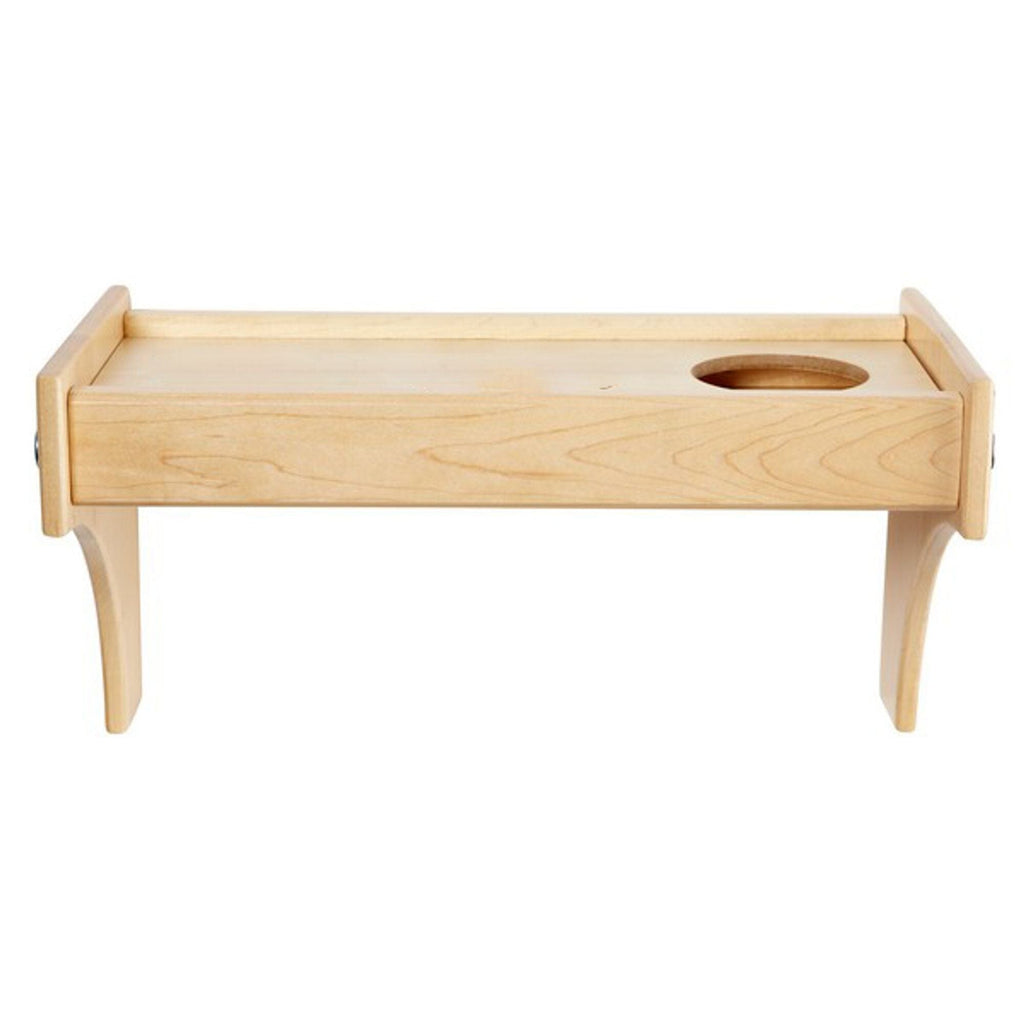 It's time to hear from Kristin regarding this study loft room. Find out why they chose the HighRise and their future plans for the boys room design. To recreate this look, shop Kristin's collection now. For design assistance, work with our team to space out the right setup for your room. We're here to help you customize the perfect design for your space and needs. 
Daily Mom Kristin dePaula Chooses L-Shaped High Loft for Boys Room
I wanted an area where my two younger boys can grow, sleep, play and study. They love to read, so we definitely needed the bookshelf. Together with the space provided, it gives them a great quiet space to rest, relax and read. Additionally, since they are in school now and have homework, we wanted an area where they could get their homework done without the distractions of the dining room table/kitchen area.
Maxtrix provides fast shipping with easy to put together pieces and instructions. Additionally, their staff is great to work with if you need help designing the bedroom of your dreams. With all they have to offer you can literally design out any room with all the necessary furniture pieces, large or small. And, they love it! We hung dimmer market lights under the loft beds to make it simple to read, and then they simply climb up to sleep at night. Similarly, the area underneath gives the boys a quiet space to play together or alone without the hustle and bustle of the rest of the house (and two big brothers) bugging them.
The six drawer dresser was also a must because with two boys sharing the room it provides plenty of space for both of their clothing with the top still available for all of the trinkets and treasures (rocks, stick, and shells) they love to collect.
Maxtrix offers durable, versatile furniture that will stand up to my house full of boys. These beds are so sturdy and safe. I also love the look of the twin high corner loft and the additional space it offers in the boys bedroom since we have small rooms in our older home near the beach. 
I plan to keep the beds in the current configuration for many years to come. At a later date, I would possibly separate them and lower them to have two twin beds, but to be honest, I doubt that as I love both the loft look and the storage it provides. Even IF they were to tall to fit underneath, I would likely fit the space with additional bookshelves or dressers for more storage and still keep the beds at their current height once the boys don't necessarily need the floor space to play.
I have recommended Maxtrix to SO many moms! I think Maxtrix creates the ideal sleep solutions for families, no matter how many kids they have. The various configurations and bed sizes make it easy to design your room and the durability/safety is incredible. Most bunk beds make me nervous as they move/shake or even only have few slats holding up the mattresses; Maxtrix's beds are SO secure! They do not move (even if my husband or I climb up to say goodnight), the slats underneath roll out to cover the entire bottom of the bed so there is no space where a mattress will even dip through, and they are heavy duty enough to hold big kids comfortably and securely!
Shop this Room Collection
This setup is one of many that work for the Back to School season. See many other loft beds with desks and other bedroom designs for preschool, elementary/middle, high/college in our Back to School collection. Or, shop Kristin's room now. Thanks for sharing, Kristin! We love having families return and find solutions for all of their kids.