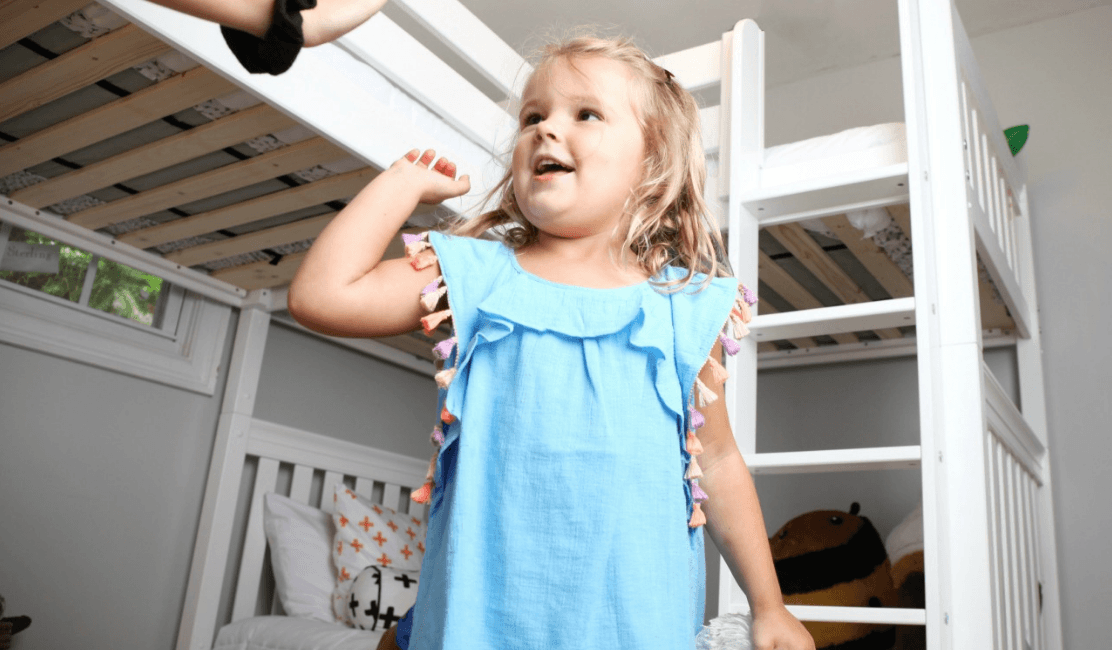 *Guest post by Adore Them - bunk bed shopping tips from real parents!
Purchasing new bunk beds and designing a new space for kids is a lot of fun! But, it can also be a little overwhelming if you don't know where to start. In today's market, there are a lot of different kids bunk bed options to choose from, which is why we'll walk you through each step of the process. Here are 10 tips to consider when shopping for the perfect bunk bed to fit everyone's needs! 
1.  Consider Your Room
One of the most important things to take into consideration is your room. Take the extra time to measure out the space (see how to measure your room for a kids bed or use the Maxtrix Fit & Measurement Guide). Look at the windows, doors, closets, etc., and figure out where the best place is for a bunk bed. Ideally you want it along a bare wall not blocking anything like windows or doors. Sometimes the bed can fit horizontal which often allows for more floor space. Or, perhaps it would go best in the corner of your room; consider corner bunk beds if so.
Many like the look of a "T" bunk bed design, meaning the headboard would sit against the wall on the bottom bunk and the footboard in the middle of the room. This works when there is enough floor space. However, most opt for a traditional twin bunk bed to maximize walking room.
As you consider your options also keep in mind other bed factors - like do you need safety rails on both sides of the bed? Do you need to go with a straight ladder, or would a bunk bed with stairs fit? Before you jump into making too many decisions just yet, first you need to know how much space you have to work with.
Write down your room dimensions - width, depth, and height. Low bunk beds sit 61.5" in height, whereas stacked triple bunk beds measure 92" tall, and there are many options in between! So make sure you know what kind of head room you have to work with. A lot of bunk bed listings will indicate the perfect ceiling height for that specific bed, so knowing this information ahead of time will help. 
2.  What Is The Bed's Purpose?
With so many wonderful options, beds can now serve more than just the purpose of sleeping. Some offer extra storage, workspaces, or an extra bed for guests. Some can even double as a play space, like bunk beds with slides or playhouse bunk beds... so figure out what your needs are as a bed can be more than just sleeping quarters.
A wonderful option that Maxtrix Kid's Furniture offers is their growing furniture system - their beds can be added on to or you can change them over time. Which means you can start now with a twin or full bunk bed, and later separate them into two separate kids beds. Or want to add a third bed and make it a corner bunk bed or triple bunk bed? They can do that too! In fact, they have so many incredible options that allow you to turn your bed into something completely custom later on! As your family's needs continue to grow and change, your furniture will be able to adjust as well.
3.  Who Is This For?
How many kids will be sleeping on the bunk beds - One? Four? You will be amazed how far bunk beds have come along, and really, the sky is the limit! Especially if you work with a custom kids bed manufacturer like Maxtrix Kids, they can design anything to fit your needs! Also, consider who you are buying for - how old is your child? Are they ready for a high bunk bed or do they need to start closer to the ground? Do they need larger steps as entry as provided with a bunk bed with stairs (where each step is a pullout storage drawer), or can they safely climb on a straight or angled ladder? Figure you the right design that is appropriate for your child (or children). 
4.  What Size?
No longer do bunk beds only come in twin size, they now are offered in full, XL and even Queen sizes! Keep your child's age in mind when selecting your bed size, but also consider whether this piece of furniture will be used in a room to sleep as many kids as possible, or maybe even adults? Now you have the option to up-size if needed to accommodate kids, teens and adults with XL & Queen beds, and Twin over Queen Bunk Beds. 
5.  Consider Your Safety Options
One of the biggest fears that parents have when ordering bunk beds is that they sleep and play safe and sound. But, safety guidelines have come a long way! Maxtrix produces furniture that is made out of solid wood, and uses strong components, which are key for safety. They also offer many standards to choose from including side bed rails, handrails, staircase steps seen below, or even slanted ladders. To go along with the point in number three, consider who you are buying the bed for, and you will immediately know what precautions you might want to take for your child. Learn more about Maxtrix safety standards here. (Photo by MotivoHome)
6.  Make it Fun
Purchasing a bunk bed should actually be a lot of fun! And again, going with a company like Maxtrix Kids who offers endless options will allow you to make your new piece of furniture more than just a bed to sleep in! Did you know that you can add themed bed tents? Not only does this help to keep your child feeling secure, but it can also add to the theme of their room! Want a princess castle, or a cozy hide-out fort? What about a bunk bed with slide to get out of bed in the morning? You can honestly turn a bunk bed into something fun that your kids will want to play in all day, and sleep in all night! 
7.  What Goes Underneath?
If you are using the bed to sleep one person, but want an option for guests, a bed with a pull out trundle bed might be a great option! Does your child need extra storage space? You can now incorporate a dresser or drawers into the design with under-bed storage dresser drawers. If you need extra accommodations for occasional sleepovers, consider the pullout trundle bed option. 
8.  Picking The Right Mattress
This is just as important as your room measurements! Make sure you are ordering a mattress that actually fits your bed (see bunk bed mattress buying guide). Just because it is a twin or full, doesn't mean just any twin or full mattress will do! Depending on the height of your side rails and the amount of space between your beds and the ceiling or top bunk, you may want to consider a low profile kids mattress for bunk beds, which is  5" thick. This maximizes space and ensures your child gets more safety protection and headroom.  
9. What Is Your Style?
Bunk beds are often found in many different colors and shades. We recommend a classic finish like white, natural or chestnut, which will stand the test of trends and time. Then, how do you want your headboards and footboards to look? Do you prefer slats, solid panels or curved bed ends?  Whether your home is more traditional, contemporary, coastal, victorian, or something completely eclectic; Maxtrix Kids Furniture allows you to design the perfect bunk bed to fit your style, personality, and needs.
10. Consider the Future
To go along with tip number 2, what purpose will this bed serve now, and what purpose will it serve in 5-10 years from now? Maxtrix offers a growing furniture system that allows you to overtime adjust the bed and convert it into something totally different later on! Start with twin bunk beds, and eventually you could end up with a triple bunk bed that comes with a slide and staircase... with LOTS of options in between! The pieces are like Lego blocks that allow you to build, customize and create exactly what you need.
The wonderful thing is that you do not need to decide all of this right now. Instead, consider purchasing a Maxtrix bed now. Then eventually if you want to add onto it you can. This way as your family grows and changes, your furniture will too!
Expert parenting advice and resources from Adore Them