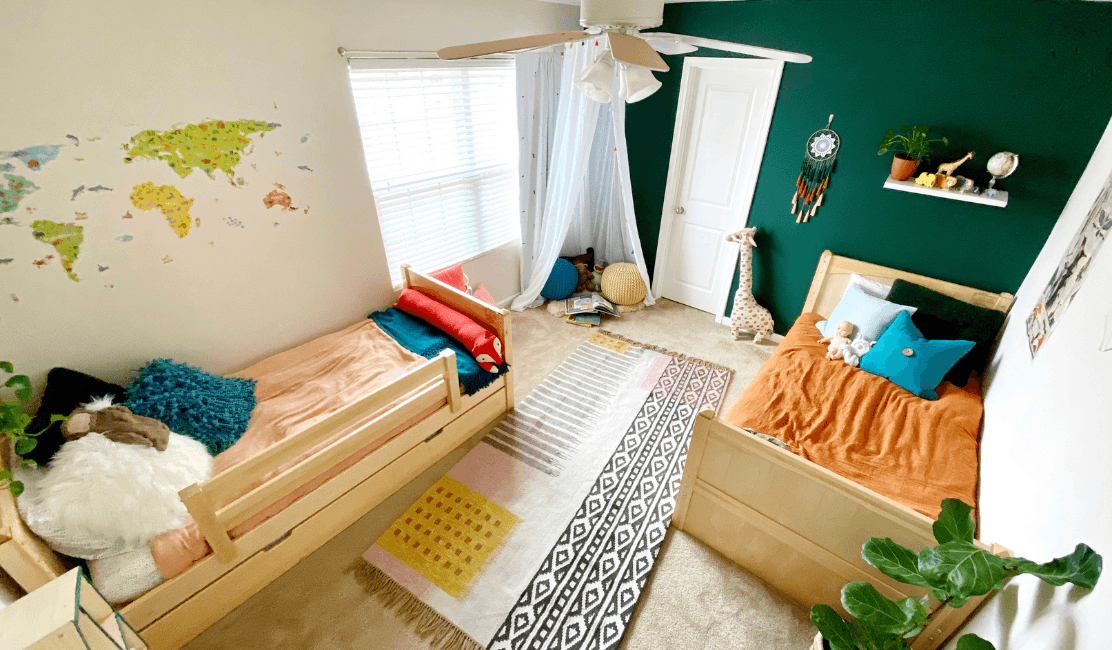 So you found the perfect kids bed – but will it fit your child's room? Knowing the size of the room is a great first step, but it's not as easy as just knowing the length and depth. Let's walk through how to get the most out of your space. Consult and kids room fit and measurement guide for selecting the right size bed.
Step 1: Room Dimensions
First, measure the size of the area you would like to place your bed and furniture within the room - length, width and height. This will help you make your initial decision as well as plan for potential future changes. Our bed lengths range from 80" to 84" (twin, full, XL and Queen sizes). You'll also want a few feet of walking space around the bed. Be sure to consider ceiling fan blades and open doors to ensure there is enough clearance when in use.
Step 2: Plan Long-Term
With the Maxtrix Furniture System, you can change the room configuration over time - like elevating or bunking your bed, separating your bunk into two individual beds or adding a slide. If you plan one or two steps ahead today, you can make sure that you won't run into space constraints later.
Thinking about a play bed? Make sure you have enough room around the bed for a slide and above the bed for a top tent or tower. Our slides extend out 52"-64.5" depending on the configuration, and our top tent sits 20.75" above the top of the bed. So, a high bunk with top tent, as an example, would be 91.75" tall.
For loft beds with storage, you'll need space in front of the dresser for drawers to pull out. Staircase entry units also require extra space left or right of the loft, adding 20.75" to the length. Our design team can help you identify the dimensions to consider for any of these options.
Step 3: Outline the Furniture
We provide furniture specifications on each product page (or look through our product overview catalog). Take blue painters tape or a piece of newspaper and outline the dimensions of the piece you are interested in on the floor and walls. This will help you visualize how big the piece will be in the space you have chosen.
Remember that you can "Go XL" with Maxtrix - so if you have some room to spare it may be a good idea to add 4 inches in length to your bed, ensuring your growing child has plenty of space.
Step 4: Walk Thru Your Kids Room
Open doors, walk through walkways and consider how far drawers will come out. Make sure possible obstructions are considered before you make your decision. If you realize you need to reverse the ladder or place drawers or shelves in a different position – no problem at all! With Maxtrix you can set up any bed "mirror image" which means that all ladders are reversible and bookshelves or dressers can be swapped on whatever side is suitable for your particular needs.
Step 5: Consider Ceiling Height
We often get questions about recommendations for ceiling height for our lofts and bunks - know how to choose the right kids bed height. An average child probably needs 20-24" of space above the mattress to be able to sit up in bed comfortably. The great news is that even a tall loft or bunk fits into a room with a standard 8 foot ceiling. If your ceilings are lower, we can help! Maxtrix Bunks come in 3 different heights so the low bunk could be a good solution.

What about windows? Many people hesitate to place bunks or Lofts in front of windows, but we have found that elevated beds work very well with a window backdrop. Study spaces underneath lofts benefit from natural light as well. Just ensure upper windows are well secured and not accessible if small children are able to reach the top bunk.
Step 6: Know Your Child's Size
Measure your child's standing and sitting height. This will help you determine choices like bunk or loft heights and if you should consider an XL size bed. If you're not quite sure what height to purchase - low, mid, high or ultra high - consult our guidelines for choosing the right size bed height for your child. Take a look with graphics and specifications with measurements outlined:
Also consider low profile mattresses to maximize head height for top and bottom bunks. You'll be amazed how much more space you can create by choosing a quality low profile mattress like MaxMattress.
Still not sure? Let our design team double check your measurements. Just snap a picture of your room dimensions and send it to us. We can help you every step of the way. And, if you think you need to go custom,  Maxtrix - the furniture that grows with your children - is a modular build system. Imagine every piece is a building block that can be added - or taken away - to create your perfect kids bed. We can customize your perfect solution without adding unnecessary cost. Let's get started and configure the right size bed for your child's room.