boys beds
Boys Twin Bed Converts to Low Loft with Storage then Bunk Beds
When Preston outgrew his nursery, mom, Shila, chose a Maxtrix sturdy toddler bed that she knew could grow with her son. A year later, Preston was ready for an even bigger bed! And as an older preschooler who had accumulated more things, Preston equally needed more storage. Shila decided to lift Preston's twin toddler bed off the ground and add under-bed dressers. The result was our best kids low loft bed with storage - the Box! Now, Shila easily keeps his room organized while Preston enjoys climbing up to his new reconfigured bed design. Shop Preston's Room Collection.
Take a look back at Preston's original toddler room. As twin bed, Shila's main goal was to invest in more than just a kids bed. She researched and knew she wanted a furniture system that could change over time like building blocks. Preston thoroughly enjoyed his twin toddler bed and felt safe and secure with the guardrail. 
Hear why Shila decided to transition Preston's bed to a low loft and how she plans to continue to reconfigure this same Maxtrix twin bed next year!
Kids Toddler Bed Changes to Low Loft with Storage 
After months of research, we decided to go with a Maxtrix bed last year because I saw how easy it was to modify them. My husband is not a handyman, but he put the bed together without any problem and was very grateful that the instructions were very clear. And above all, the craftsmanship and the quality of the products are amazing. Not to mention, they also look great.  
We assembled most of the new bed components with the exception of the dressers that came pre-assembled, which saved us a lot of time. The quality is impeccable, and we absolutely love the design and how easily we can modify the bed parts to be positioned in different sides of the room.
Parent Tip: I highly recommend that you decide which part of the room you are planning to put the bed in before assembly so you install the ladder on the correct side of the bed. We chose the left side for spacial reasons.
As for the staff, I am so pleased with all the help I have received throughout this entire process. If you are shopping for a kids bed, Maxtrix has a design team ready to help you select the right look for your space.
This low loft bed is the perfect model for what we need right now until we modify the bed to a bunk bed later on. Yes, we plan to keep reusing this bed!


I love the dressers that easily 

move 

in and out from under the bed. I am very 

organized - especially when it comes to 

my kid's clothing and toys - all 

of 

the storage that came with this

 

model was exactly what we needed for them.


UPDATE: Low Loft Now Converted to Bunk Beds with Stairs
One year later, Preston was ready for another room change... and little brother was ready to move in! See how they changed their low loft into a bunk bed with stairs AND added their original trundle bed from the toddler room design back underneath the bunk bed.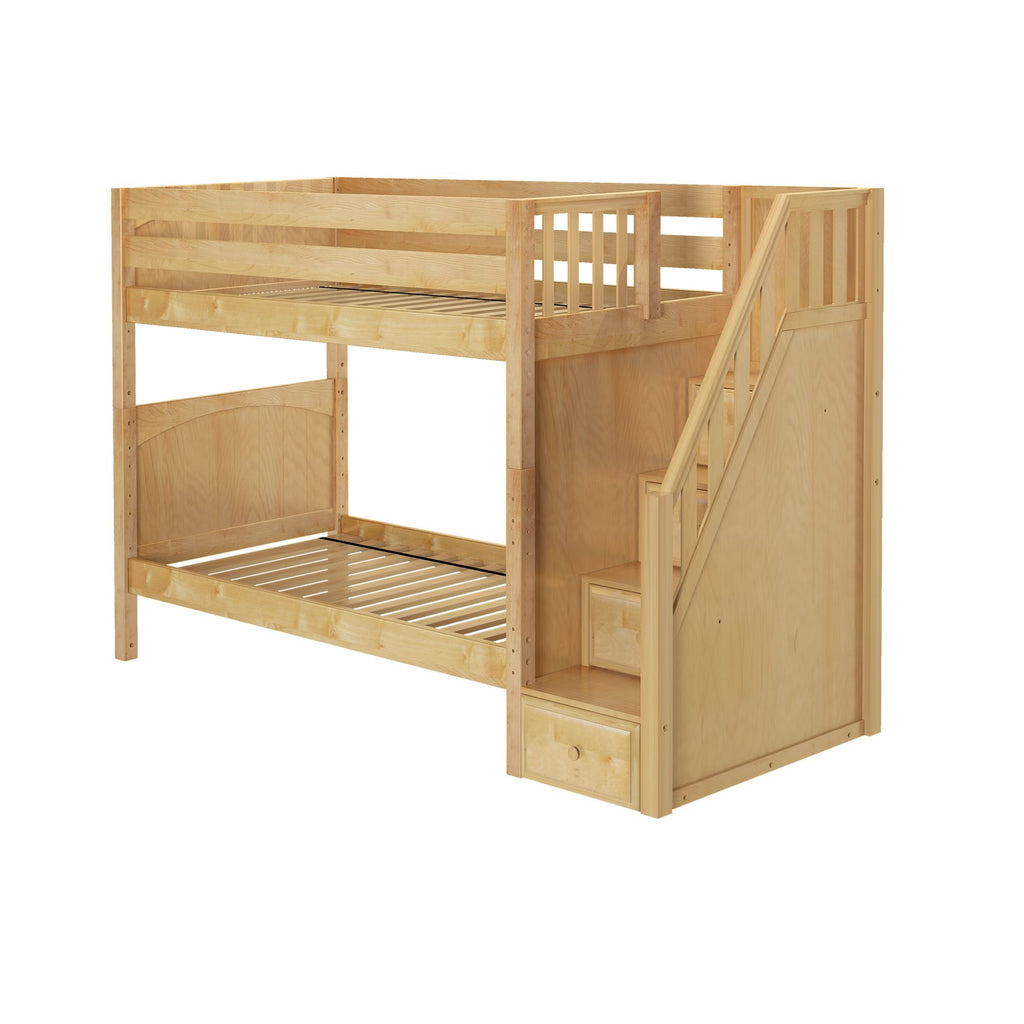 Preston has thoroughly enjoyed both of his Maxtrix beds, but we knew, ultimately, our two boys would share a room. After showing them all the options my older son chose to convert his low loft into the bunk bed with stairs. It was so much fun having him involved in choosing the big boy bed to share with his younger brother.   
I, too, personally preferred the stairs because of the extra storage provided and the steps looked safe for my 2.5-year-old to go up and down easily.
After two conversions, surprisingly all of the bed components have held up very well. I have two boys, and we all know how they can be with all things white. I was very nervous, essentially, but as you can see from the photos, we are almost two years in, and everything looks great!
The dresser previously under the low loft bed was moved to the side of the bunk bed and the boys use them as a stand for books, baskets, and night light. So, all pieces of furniture were reused. 
We definitely plan to reconfigure the bed for a fourth time in the future, but we're not sure which configuration yet. I know that we need a study corner for my older son. Once the boys are ready to have their own rooms, we will revisit our options.
Going with Maxtrix was the best decision we made. We have gone through three reconfigurations, and everything looks brand new and so well made. You cannot go wrong. I love that Maxtrix has so many options to choose from for different types of rooms.
The Maxtrix System - Kids Beds that Grow
Interested in learning more about how a kids bed can change over time? The Maxtrix System explains it all. Start with a basic bed, and with different bed components, it can be changed into dozens of new designs. It's simply the most economical and environmentally sustainable method to furnish your child's room by reusing bed components. 
Showing 6 of 6 products. See all the products in Preston's Room collection.