big boy beds
Preston's Room Reveal Starring a Toddler Bed for Boys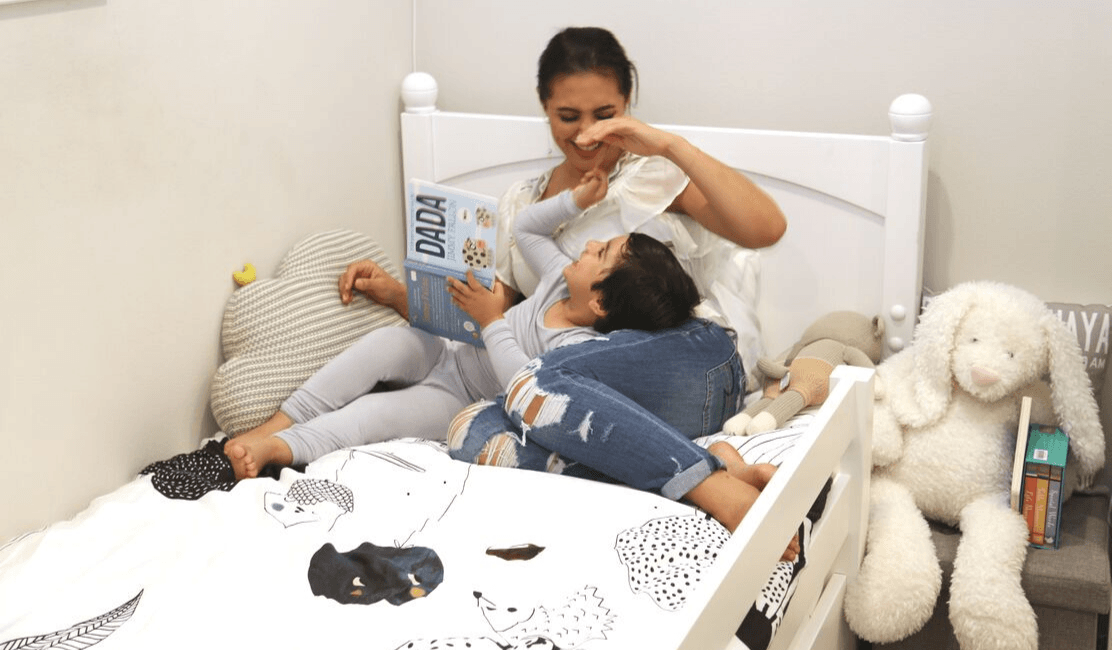 It's time to move out of the crib and into his first
big boy toddler bed
! Mom - fashion & mommy blogger/influencer - Shila wanted something practical, safe and ready to grow with her soon-to-be 3-year-old for years to come. Many parents navigate their way to Maxtrix at this stage and discover safe and fun ways to transition from crib to their toddler's first "big boy" or "big girl" bed. Preston, Shila's active, fun-loving, and book-reading son, is ready to start his Maxtrix journey! Here from Shila about their experience & toddler bed design decisions. 
Originally, Preston's room was set up with a crib, which he is growing out of, and now I have a 6-week-old that is keeping me from sleeping. 😴 Since Preston is turning 3 soon, we decided it was time to pass his crib down to his little brother to enjoy and move into his first big brother bed. 
Since the boys aren't old enough for
bunk beds
, I looked for alternative ways to create the look
later
.... and that's how I came across Matrix Kids. I can start with a different, toddler bed today and bunk it with a second bed when they are both older. 
Beyond functionality, Maxtrix had the clean and chic style I was looking for, and I love that I can use an optional trundle for sleep overs. I found this Maxtrix twin bed, and this image served as was my design inspiration: 

Toddler Room Design & Assembly
I loved that the Maxtrix design team was available to help me redesign the room and give me ideas about where to put the bed. We started with the room dimensions to make sure the bed we selected fit the space well, and it did!
Once the bed arrived, assembly was fairly easy. I moved all the parts to the room, and we put it together right there.
Toddler Boy Room Reveal
And now the reveal!! We love the design of this
toddler bed
. The quality and the layout is one of the best we have seen in the market for kid's beds.
I like the twin bed because it is a perfect size for him and the room. The guardrail  keeps him safe from rolling out of the bed at night, which helps us sleep better, too. I like that the guardrail is centered in the middle of the bed.
As for the friendliness of the staff, I am so grateful to everyone for going above and beyond to answer all my questions and help me pick the right design for the kids and the room that was my style.
From what I have learned during this experience, you need to look for a bed that fits the room in mind perfectly. Structure and ease of assembly are key, however, you also want it to be safe and of great quality hardwood like Maxtrix. 
Toddler Bed Converts to Low Loft
Update: One year later, Shila was ready for a toddler bed transformation. Preston reconfigured his basic bed to a "Box" low loft with storage. See his updated room!
Shop Preston's Room Collection
Love what you see? We've rounded up all of Shila's furniture as well as some suggested coordinating pieces in a new shoppable collection.
Want help from our design team? Every kid's room is different and needs special considerations. Feel free to shop our most popular toddler beds or tap us with your room dimensions and we'll help you design the best custom kids bed for your space.