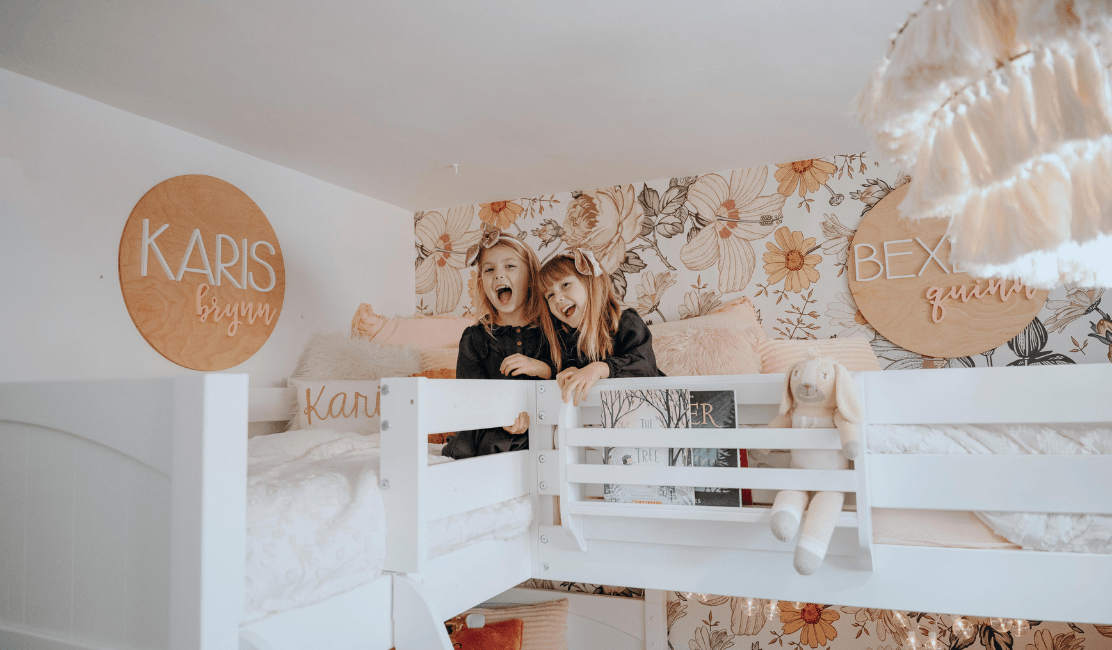 Welcome to Maxtrix Kids - the world's largest kid's furniture system! Wow, that can be overwhelming to think about, right? While the choices and configuration options are practically endless, it's actually quite easy to create the perfect kid's bed. And, of course, we will do our part to make the process simple and very rewarding!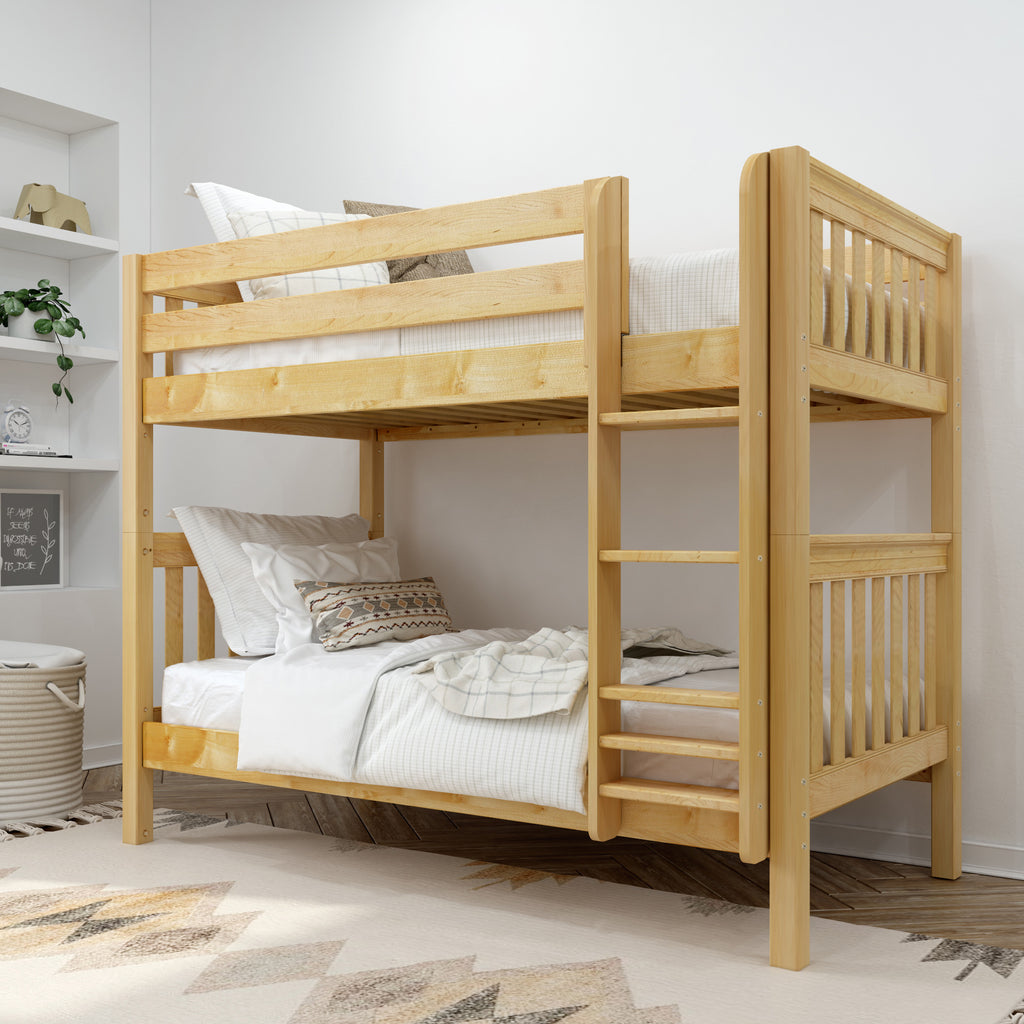 Maxtrix Kids is a furniture system - so everything we sell is based on components that can be configured (and re-configured) any way you would like. See something you like but want to change the ladder? No problem with Maxtrix Kids - everything is modular.
Want the play bed today but worried she may grow out of it quickly? That's exactly why we have created this system. You can re-use components and create the perfect environment for your child not just once, but many times over. It's simply the most economical and environmentally sustainable method to furnish your child's room. 


Quality Points to Consider when Shopping Maxtrix Kids
1. Our furniture is excellent quality. Because Maxtrix is a system, we build our beds to last. Our furniture is made of real hardwood, which translates into durability and safety. We accept no knots or finger joints in our wood, making for an extremely solid structure. We use extra durable hardware (8mm bolts) and have developed our one patented rock lock bolt (take a look at our Rock Lock system) to ensure safe and solid connections.

Every bed comes with a sturdy slat roll - made from 14 solid wood slats - so each bed can withstand in excess of 400 lbs. Take a look and compare simple measurements like safety rail height or how deep the ladder steps are, and you will see that Maxtrix Kids is at the very top end of quality available on the market.



2. We have thousands of products. Our top sellers are Bunk Beds and Loft Beds, but we also sell case goods and storage.

3. With Maxtrix Kids you have a lot of design choices. Pick among three headboard styles, three popular timeless wood stains and lots of fabric accessories. We offer fresh new colors regularly so you can re-invent the look as often as you would like. Change your entry - ladders or staircase - add curtains, slides, or cute accents like crystal knobs.


The Best Way to Shop Maxtrix Kids Furniture
There are two ways to approach your search on our website. You can consider looking through our kids room inspiration collections or search by a specific product type. 

Girls | Boys | Bunk Beds | Loft Beds | Toddler Beds | Kids Furniture



shop boy's room ideas



shop girl's room ideas

We also post great bedroom inspiration photos regularly. Follow along and view real customer photos with #MyMaxtrix | Blog | Pinterest | Instagram | Facebook 


Pick Your Bed
First, choose the right kid' bed. We make singles, daybeds, lofts, bunks or speciality beds - corner beds, quadruples or triples.
Single Beds
Traditional single beds are typically
twin beds or full beds
that are classic low kid's beds with a headboard and optional footboard.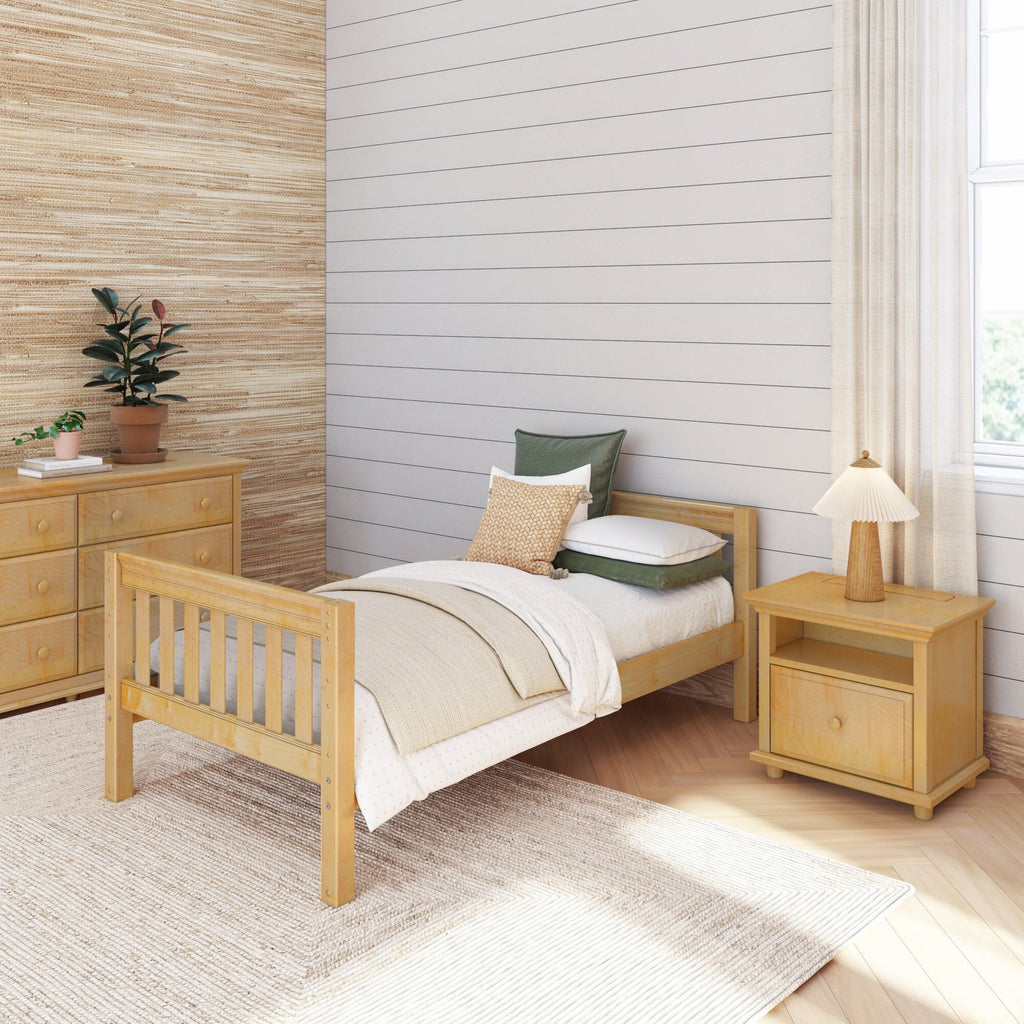 Daybeds
Daybeds
also sit low to the ground and come with back and optional front safety rails, which are perfect for toddlers. (Here's your
guide to selecting the best toddler bed
.)
Loft Beds
Loft Beds
are available in three heights, but all are elevated beds, providing either empty space below for play or storage. Our
low loft
is one of our most popular beds as it is a perfect base bed and the cornerstone of your kid's bedroom furniture. Consult our
loft bed buying guide
for more information.
Bunk Beds
Bunk Beds
are two or three beds stacked on top of each other. There isn't as much space underneath the bottom bunk, but you can still add underbed storage or a trundle for a third guest bed. Also, there are more options than the traditional bunk setup. You can also go with
l-shaped bunks
, 
twin over full bunks
 or many other sizes. Consult our
kid's bunk bed buying guide
.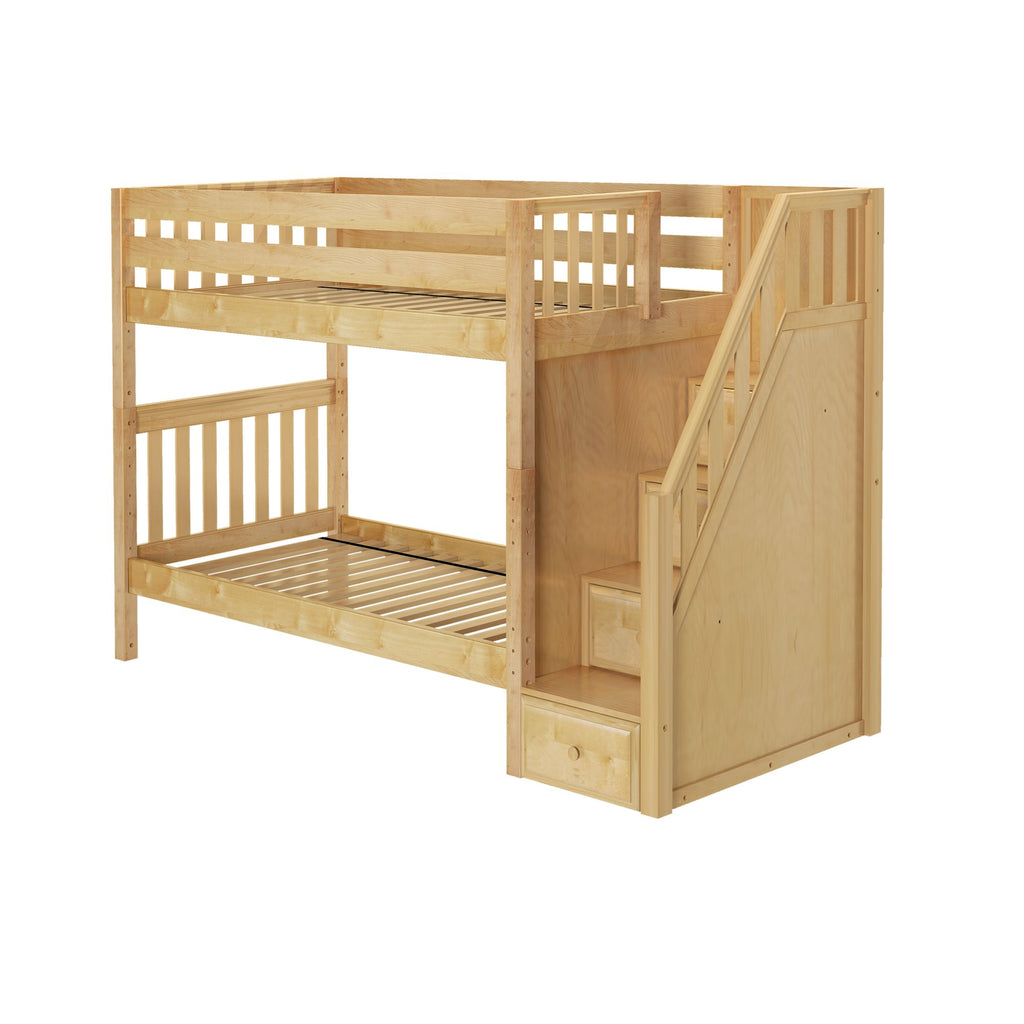 Corner Beds
Corner Beds are the perfect space saving solution for buyers who need to take advantage of a corner in a room. Corner beds have two heights and come in 2, 3 and 4 bed configurations. Here's a nifty buying guide for corner beds.
Triple & Quad Beds
Triple and quadruple also come in stacked configurations. Think three beds stacked on top of each other (as shown below) or two bunk beds beside each other forming a quad. Read more about triple bunk beds for your kid's shared bedroom.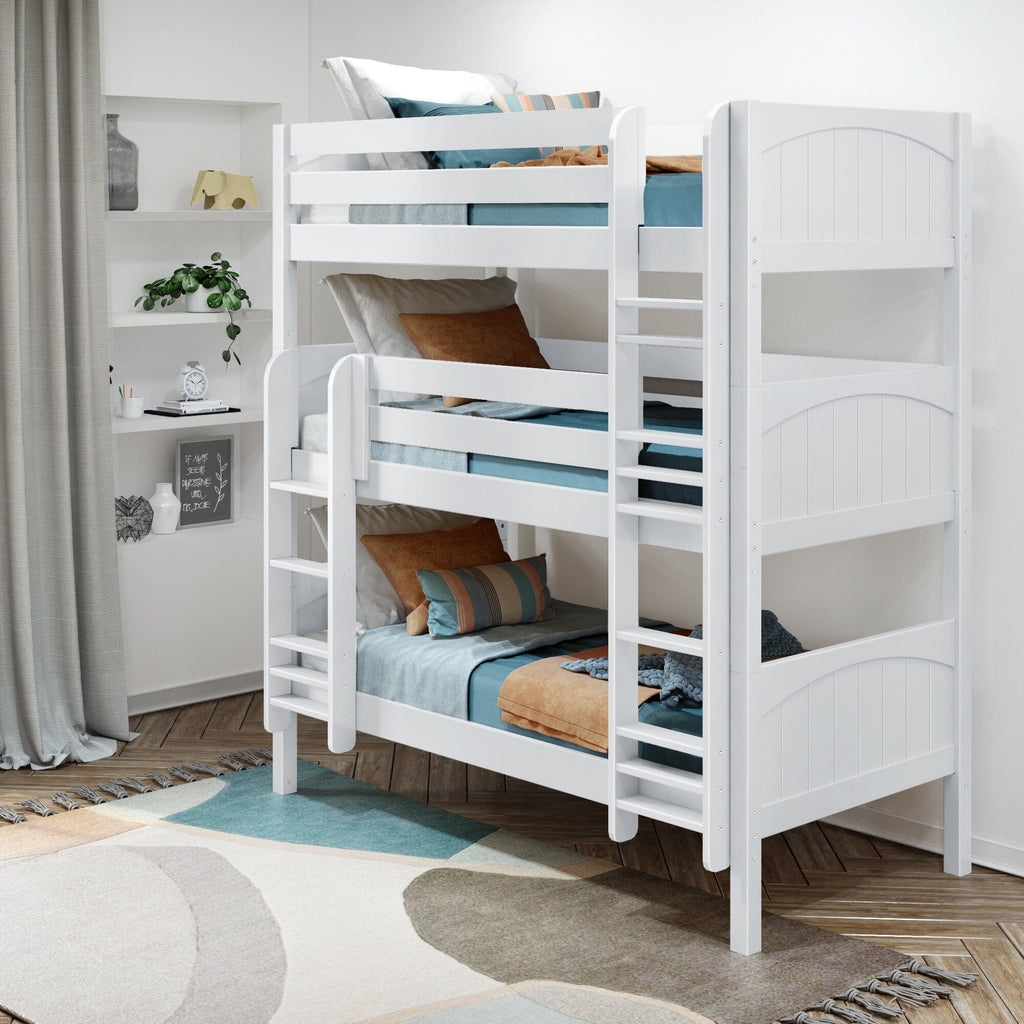 Create Your Configuration
Once you have your bed choice, it's time to use our filtering options available on the left side of the page to find the exact product you would like to purchase.
Here are the top parameters you may want to enter:
Number of beds. We have one bed, two bed, three bed and four bed options. The last two narrow your search down significantly (see triples and quads below), but if you are in the market for one or two beds, you have a few more options.
Bed height - low, mid or high. Consider your child's age in this decision by following this guide below, which will help you eliminate some of the bed options. If you chose a low bed, you'll want to look at daybeds, low lofts or low corners only. Mid = mid lofts. High = high lofts, bunk beds, high corner beds, high triple beds or high quad beds.
Bed size. Our lofts and bunks are available in twin, twin XL, full, full XL or Queen size. With the bunk option, you can also choose twin over full or twin XL over Queen. Complete the bed with a Maxtrix mattress - here are some reasons to stick with us.
Finish. Because we know want some color options, all of our beds are available in chestnut, natural or white.
Entrance type. If choosing a loft or bunk bed, there are a few different ways for you child to climb up. All of our lofts and bunks are available with angled ladders, straight ladders or staircases. Your other option is to move the ladder to the bed end. Here are the pro's and con's of each.
Shop Bunk Beds with Ladders on End
Bed end style. We offer three options - curved, panel or slat. 
Accessories. Make the bed your own now with a few fun customizations like tents, slides, curtains or canopies. Remember to measure your room height and check our specifications to ensure your bed will fit nicely and comfortably in your space. Here's our Fit & Measurement Guide.
Storage options. There are also case good additions - whether freestanding or under loft beds, our bedroom furniture will add the functionality you need to complete the space. We offer a variety of bookcases, desks, dressers, nightstands and toy boxes. Also, you can add under-bed storage options on single beds and bunks! If you're looking for a storage bed, specifically, hop over to our storage bed buying guide.
Hopefully you've now found the Maxtrix Kids products that you're looking for, but if you still need assistance, we're here for you. Take advantage of our online chat tool or
contact form
.
Showing 6 of 55 products. See all the products in Best Sellers collection.