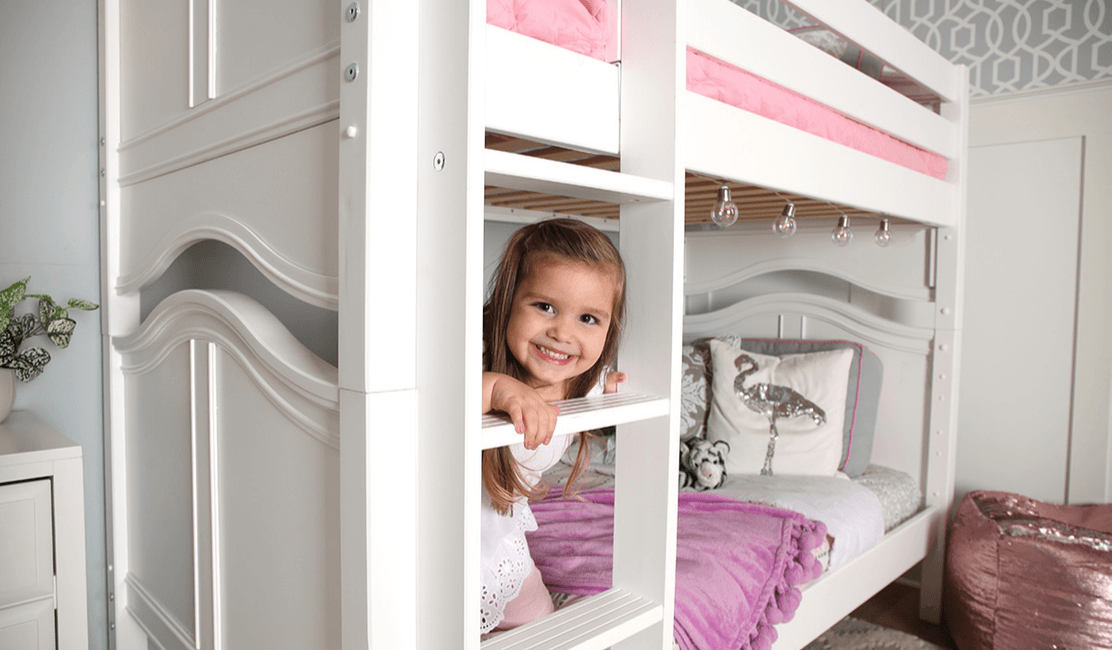 Bunks are a fun and space efficient way to create comfy sleeping quarters. Kids love sleeping in bunks; they get all the benefits of good company and the comfort and individual style of their own bed. While you begin your kids bunk beds search, know that there are quite a few things to consider before purchasing. Here are a few simple questions that may help you make the perfect choice.
Kids Bunk Beds Shopping Considerations
1. Is space a precious commodity?
Bunks are great space savers, and if the room is narrow or oddly shaped, they can really help you maximize square footage. If you are struggling to make a small space work, consider the following:
Go for a straight ladder, it will save you plenty of valuable floor space. 
Investigate corner bunk beds to accommodate even the strangest roof-lines and corners.
Stick to Twin size beds, and check if you have enough room for a pull out bed (trundle) or underbed storage drawers. You may even have enough ceiling height and floor space for a triple bunk – guests and slumber parties are almost guaranteed, and everybody loves to sleep in a bunk!
2. Do you love cuddling and reading before bed? Need some extra space for downtime?
If you cherish some quality time before bed, you may want to go for some extra space on the bottom bunk. Twin over Full Bunk Beds - or Twin over Queen Bunk Beds - give lots of space for parents to be comfy, too. Or, just add a few back and bolster pillows and turn the bottom bunk into a permanent couch, which is ideal for reading, homework or just chilling out. 
3. Want to Turn Your Kids Bunk Beds into Indoor Playgrounds?
A bed can be so much more than just a place to sleep – you can trick out your kids bunk beds with slides, curtains, towers and a top tent to create the ultimate indoor playground. A bed with so much fun value is serious competition to any playground! (Take a look at our new Fun Kids Beds collection.)
4. Need to sleep more than 2?
There are plenty of options for sleeping three and four with triple bunk beds and quadruple bunk beds. Put 3 beds on top of each other, link 2 bunks with a staircase for a sleek looking hex bunk, or consider a triple or quadruple L shape or corner bunk. And remember you can choose from lots of different ladder options to customize your perfect fit. Adding trundle beds to the mix – like the hex bunk – makes space for 8! The possibilities are endless.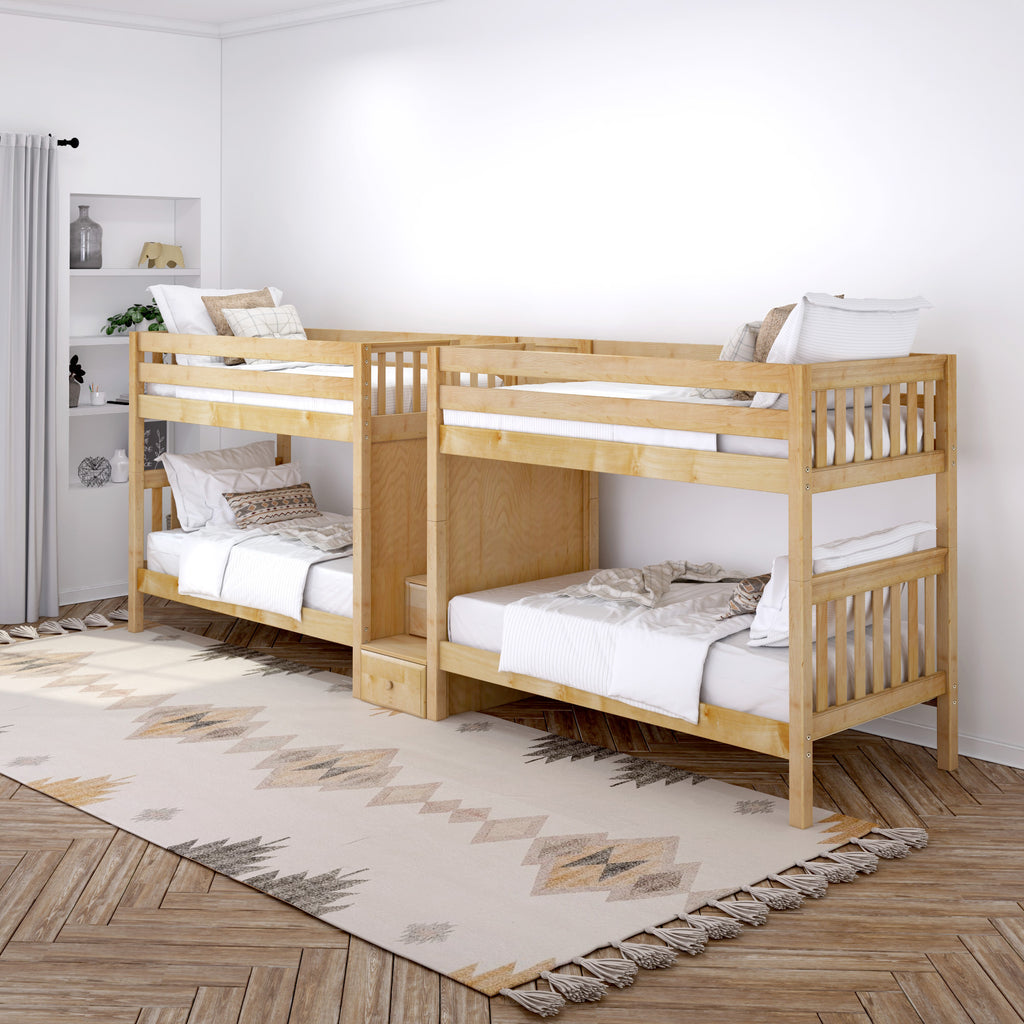 5. Is Safety a Concern with your Kids Bunk Beds?
Guard rails help to keep our children safe while playing and sleeping. Make sure the bed you purchase has the maximum possible guardrail height. Remember that even if you have a really tall guardrail, if you add a plush, thick mattress you reduce that safety rail height right down again. Try to go for the tallest rail and the slimmest – but high quality – mattress to get to the maximum height safety rail. (Read why low profile mattresses for bunk beds)

Opt for quality beds! Maxtrix bunk beds are made from solid hardwood, so even the strength of three boys isn't enough to make our Triathlon budge! ;)

Also, consider bunk beds with stairs for the safest entry. Designed for little feet with grooves for placement and support, you can't go wrong with this option.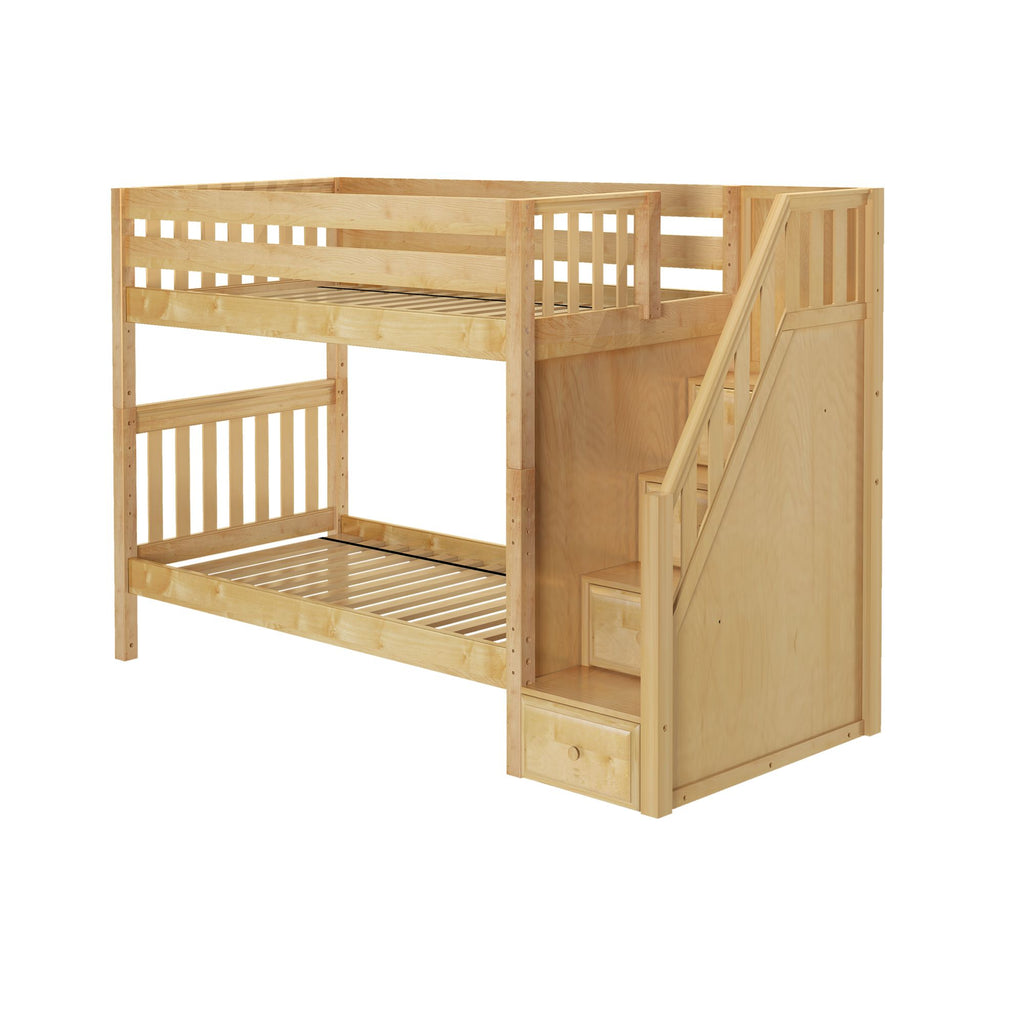 6. Want Extra Headspace or Leg Room?
Even if your room has a small footprint, there may be extra space above! Check if you can go taller and create some extra headroom for the person in the lower bunk. There are plenty of heights to choose from, and extra-long slides and tall accessories can help maximize the fun factor and storage options. So measure carefully, and make the optimal choice for your room! (Read: How to Measure Your Room for a Kids Bed - 6 Expert Tips)

Need to accommodate adults or growing kids? There are XL and Queen size bunk beds available that work really well for rooms that double as guest accommodations, older teens, beach or vacation homes.
We hope this little guide gave you some inspiration on the many bunks you can choose from. Please contact us for more information or to customize your solutions for you. Our design team is standing by ready to help you create the perfect bunk bed!