back to school
Making Space in a Small Kid's Room: The Box Low Loft with Desk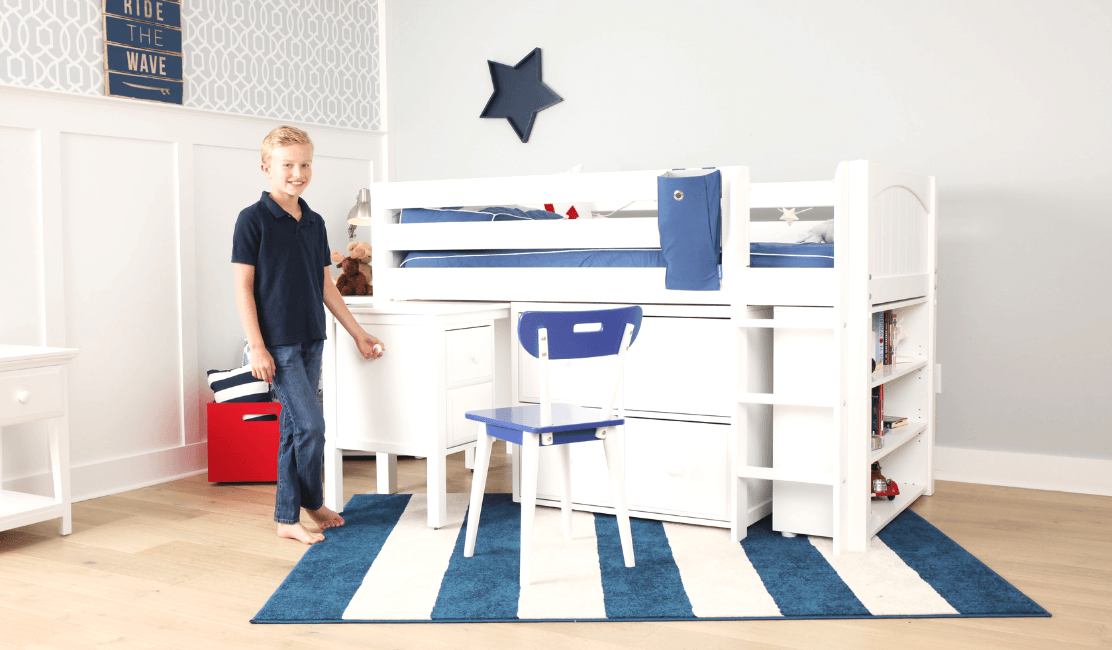 We know that, typically, kids have small rooms; particularly elementary school aged children. And, while that may seem like a disadvantage, Maxtrix offers solutions that make their square footage work and even seem bigger! Low loft beds for kids are ideal for this purpose. By elevating a kid's bed, you've freed up floor space and allowed for storage and study underneath the bed. This is where the "Box" twin low loft bed with storage comes in! We like to think it's a perfect kids bed with storage solution for small rooms. Here's why. (See all kids beds with storage)
Straight Ladders save floor space
While we love staircase and angled ladders as entrances for bunk beds and loft beds, straight ladders are the best option for small rooms. They do not take up extra space in front or to the left/right of the bed like alternative entrances. With their straight lines they create a modern, sleek look. Rest assured, parents, our straight ladders have solid wood construction with extra wide and grooved ladder steps for climbing safely.
Low Loft Bed - Safe Sleeping up High (but not too High:)
At a total height of 50.75" (129cm) and an under bed clearance of 33.5" (85cm), this Low Loft Bed doesn't sit far off the ground, so this is a great option for a child that wants a raised bed, but you don't want to go too far off the floor. (Your average High Loft bed is over 70 inches tall, and that can be quite a climb.) Also, low loft beds for kids are ideal for rooms with low ceilings. There is a lot of head space on the bed for moving around safely, but you still have the benefit of lots of additional storage space underneath your low loft bed.
Lots of Storage Space
You can customize your Maxtrix Low Loft Bed to fit your exact needs. Dressers, desks, bookcases and toy storage all work in our modular system. In this specific configuration shown, we love how well the cubed dresser fits exactly underneath the bed. This dresser is very popular because it offers extra deep drawers for clothes and jammies. Then, the bookcase on the end of the bed allows for books and toys to stack nicely!

Plus, you can design it today and rearrange your pieces tomorrow. All storage units are removable and can be placed into a different corner of the room.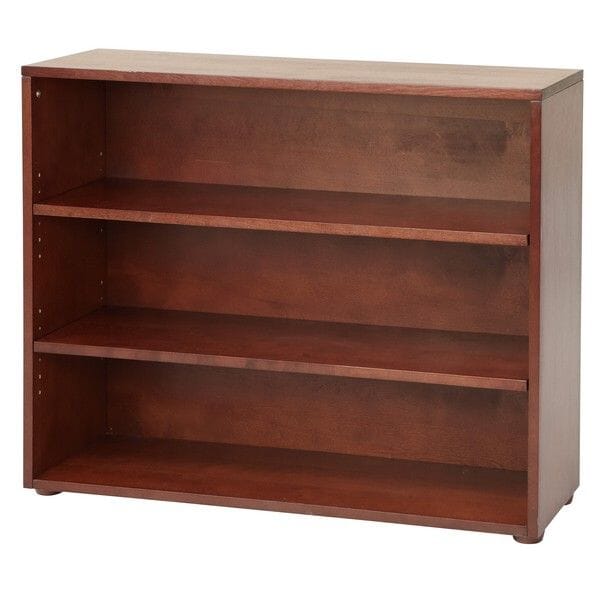 Room for Homework
The perfect addition to this setup is the desk! Now you have sleep, storage and study all in one place. And, if you are designing a space for Back to School, this just might be the right solution for your son or daughter. Our new two-drawer desk has so many fantastic features, including deep storage drawers and a side hook for hanging computer bags or book bags!
The beauty of this desk is that is slides easily under the bed when your child wants more floor space for playtime, and then he/she can safely pull it out when they have homework or it's time to study. When you are ready to move the desk to an independent location, it's just that simple!
Shop Low Loft Beds
There are so many more options if you are considering low lofts beds for kids - low lofts with storage, low lofts with desks, low lofts with slides. Here are a few more of our favorite looks. Don't forget to consult our Back to School shopping section for more great bed with desk options! 


Shop all Back to School Furniture
Whether school is in-person or at-home this year, create a dedicated space for your child to learn and thrive, while maximizing room with our Back to School Collection. Beds with desks are popular solutions! Take a look at all of your home furniture options for virtual school learning or homework studies.