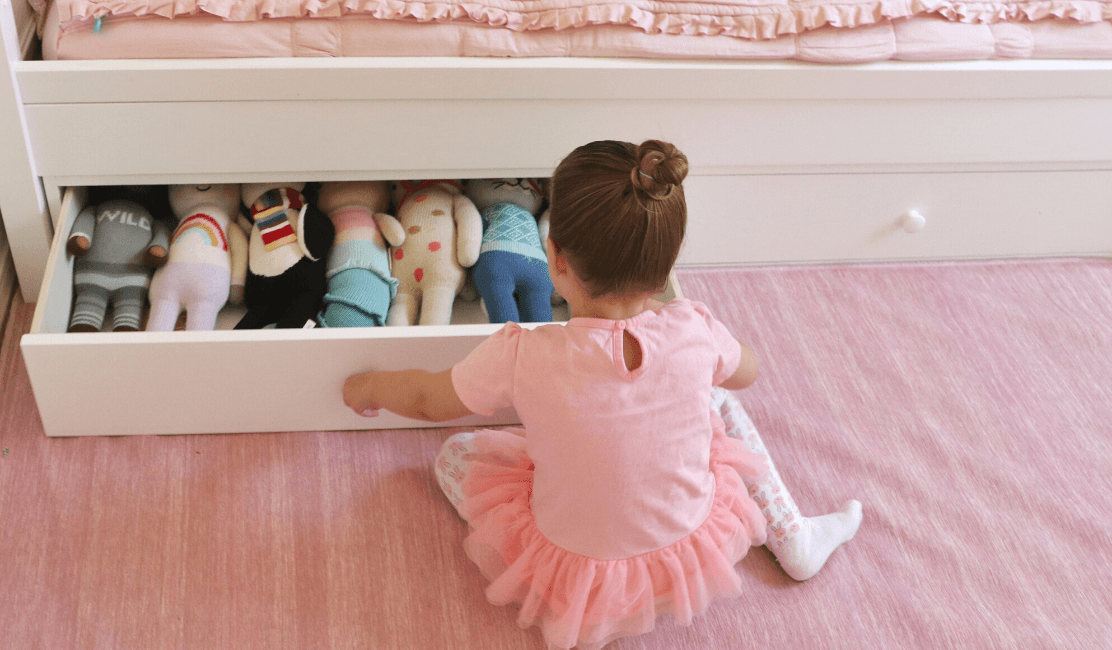 No matter what season you've just celebrated, while it was fun, you might be left with an abundance of kids' gifts. If you have little ones under 10, toy organization is likely top of mind. After birthdays and the holidays, new toys add a huge amount of clutter to children's bedrooms, playrooms and living spaces. Let's talk top kids toy storage solutions. On top of traditional items like toy storage bins, toy storage boxes, toy chests and toy benches, we've also come up with ideas for toy storage that you might not have considered. Stay organized with multi-functional furniture that works for toys in the toddler stage and clothes, bedding, books and beyond for the years thereafter! Here are five unique toy storage ideas to consider.
Dressers & Chests Double as Toy Storage
If you don't want to invest in a toy storage bin or box specifically, try storage furniture like a low dresser or wooden cube. These pieces of furniture are made-to-last and work as stand-alone furniture or under a Maxtrix loft bed (hint: more on this below!) All of our toy storage chests are safe for little hands - learn more about quality & safety - which is a MUST for young kids. Use kids dressers and cubes as toy storage today, and then reuse them in a few years for clothes. 
Little ones appreciate how quickly toy cleanup is with a low toy box, which doubles as a bench. Add a cozy cushion to turn it into a bench, or just use the solid surface for extra seating. To add a little charm to the toy storage box, swap the standard knobs for crystal knobs. And, don't forget the four-drawer cube unit as toy storage. Now that's a space-saving idea!
Need simple, open toy bins that sit on the ground for now? Try one of our free-standing toy bins. These are perfect for toddlers and small children. Toys are easily accessible without opening any boxes, and it's easy to put items back inside after playtime ends! Since they sit on castors, these toy bins easily slide across carpets and hardwood floors to move from one play area to another.
Connect to a Loft Bed to make a Storage Bed
Make any kind of configuration you want with storage loft beds as they can be custom designed to function according to your needs. Our toy boxes can be stacked or integrated into your child's loft bed for lots of storage options. Over time you can easily change your configuration. All loft beds with toy chests and boxes are available in three finishes - white, chestnut and natural. Select any combination of toy storage organizers like bookcases, cubes and dressers - and even add a desk with drawers. Design a custom bed with storage by contacting our design team or take a look at our best selling storage loft beds.
Access Favorite Stuffed Animals with Bedside Toy Storage Bins
We all know kids sleep better with their favorite stuffed animals nearby! Store their favorites right by their sleeping quarters with soft bedside bins provided by Maxpacks. With two sizes - large and medium - you can choose how many you want to store based on their number of favorites. 
Toddlers, preschoolers and young kids also love to access books, drinks and their favorite small toys next to where they sleep. If this is the case, try wooden bedside storage options that work on kids beds, daybeds, bunks and lofts.
Clean up without Standing up
Easily place or slide (mine will probably shove...) toys in without standing up by using the space under your kids bed. These versatile options allow for clean-up right on the floor. There are many options, but the most popular three are trundle storage drawers, dresser units and two-drawer storage drawers. Take a look at your options and add these toy storage ideas to your next Maxtrix kids bed or bunk bed. 
[productgallery handle="2-underbed-storage-drawer 2-drawer-under-bed-dresser-unit trundle-drawer"]
Climb and Store with Staircase Entries
Hidden drawers are built into Maxtrix staircase beds for nearby storage when sleeping. Each entry step double as a deep storage drawer, which means you can keep toys, books, pillows and stuffed animals close-by. Maxtrix loft beds and bunk beds have staircase options in low, medium and high heights. The low is recommended for younger children as it sits closer to the floor. 
Find the Right Toy Storage Organizers
Quick toy cleanup time means more play time for kids, so they'll appreciate our toy boxes just as much as you. Mix and match any combination of toy bins, two drawer units, dressers or more to create the perfect toy storage for your kid's room or playroom! Not sure how to incorporate toy storage into your Maxtrix custom kids bed configuration? Contact our design team for help!