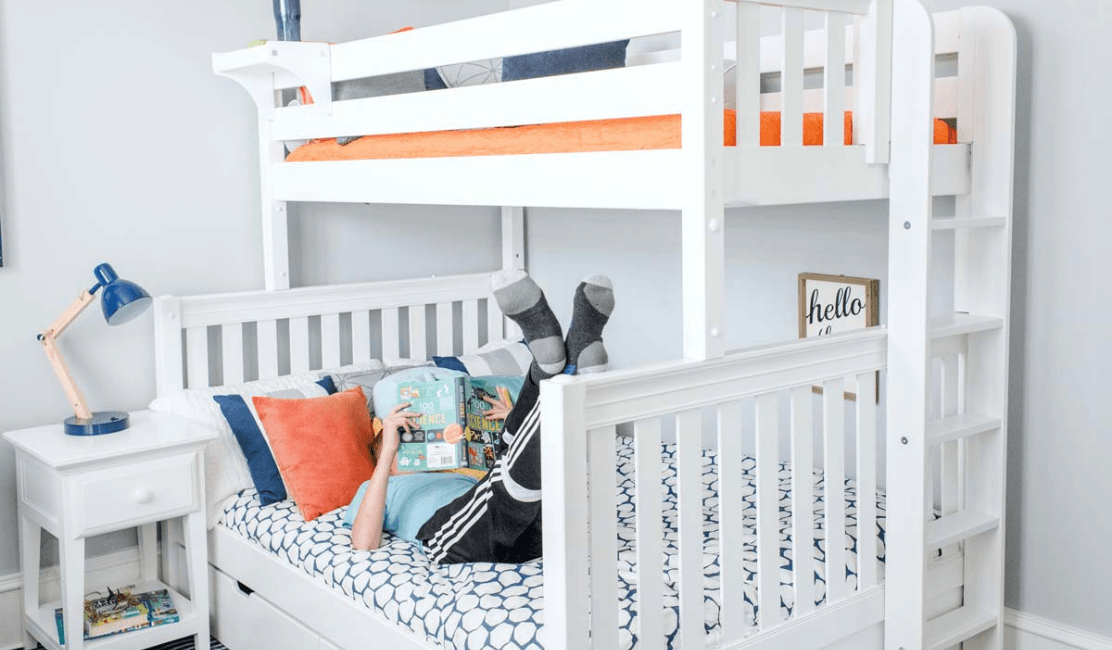 It's easy to love bunk beds, right? A bunk is a popular bed choice for any kid's room - whether you have one, two, three or more kids because they are fun AND practical. Your child may be entering the weekly sleepover phase and you need extra accommodations, or maybe you were blessed with multiple kids. Sharing a room is far more fun than sleeping alone! Twin over full bunk beds are very popular with parents and kids. The bottom bunk is larger, which allows for plenty of room for an extra child during sleepovers. Parents enjoy the extra space for snuggle time or nighttime reading with their kids. So, get comfortable and stretch out! :)
Tips for Selecting Your Twin over Full Bunk Bed
If you are searching for twin over full size bunk beds, here are a few tips. First, narrow down your bed configuration options. Start with the finish you would like to pair with your solid wood bunk bed - white, natural and chestnut - and then choose your bed end style - transparent slats or a solid panel. Here is the slat option shown on our "Slope":
Note that the full bed on the bottom can sit in two different directions. A traditional bunk bed has both beds stacked right on top of each other. You also have the option of turning the bottom full bed out, forming an "L-shape". Add a few more beds to make it a quadruple bunk bed! These designs are customizable, so contact the Maxtrix design team to build your twin over full bunk bed style. Here is an example with two L shaped loft beds with full size beds underneath.
Next, choose your entrance style - angled, straight ladder or staircase. Notice that on the L-shaped configuration your angled or straight ladder will touch the ground; whereas the ladder doesn't touch with our traditional, stacked bunk beds. Trundle beds or under-bed storage drawers can only be fully pulled out if there is no ladder in the way. The Twin Over Full Bunk Bed with Trundle is a popular design for quick, extra sleeping accommodations.
Did you know that you can add a slide to your bed? Even if you don't see it pictured here, there are so many fun options for your bunk bed. It's always worth asking our friendly customer service team for advice. So, go wild... add the slide or a top tent! Here is a popular twin over full bunk bed with stairs and slide.
Remove the slide at any time - as Maxtrix beds are always reconfigurable - and the base twin over full bunk bed with stairs is still a classic style with all of that extra storage hidden inside of each sturdy staircase step. 
Need to sleep three? You can also purchase a corner bunk bed configuration with two twin beds up high and one full size bed below. This configuration maximizes square footage and allows for storage or study space. 
Shop Popular Kid's Twin Over Full Bunk Beds from Maxtrix
Are you ready to shop? We have several different styles of
twin over full bunks
. Here are our two most popular bunks - the Slope and Sumo - with an angled ladder and staircase entry. Shop these two best-selling models and a few more of our favorites with this break-down:
Make it Bigger with Queen Size Bunk Beds 
Want an even longer or wider look? New to our line of staggered beds are a few different options - try a Twin over Queen or Full over Queen bunk bed. Keep the same aesthetic as the twin over full, but add extra inches of space to stretch out more on the top XL length sizes and the spacious bottom, adult-friendly Queen size bed.
Sleep Three with Twin Over Full Bunk Bed with Trundle
Need accommodations for three kids? It's possible with any of our Twin over Full bunk beds... just add a
trundle bed
, which slides out form under the bottom bunk. It can be stored away when unused to keep the space uncluttered.
triple bunk in a corner bed
configuration with our new (and very popular) Triathlon! It has two twin sized beds up top and then a full bed underneath. The corner bed look is ideal for larger, shared bedrooms, vacation properties or beach homes! There is a staircase entry on one side for storage and an angled ladder on the other side.
For assistance shopping our boy's or girl's twin over full beds, contact our staff! We can help you design the perfect look for your kid's room!