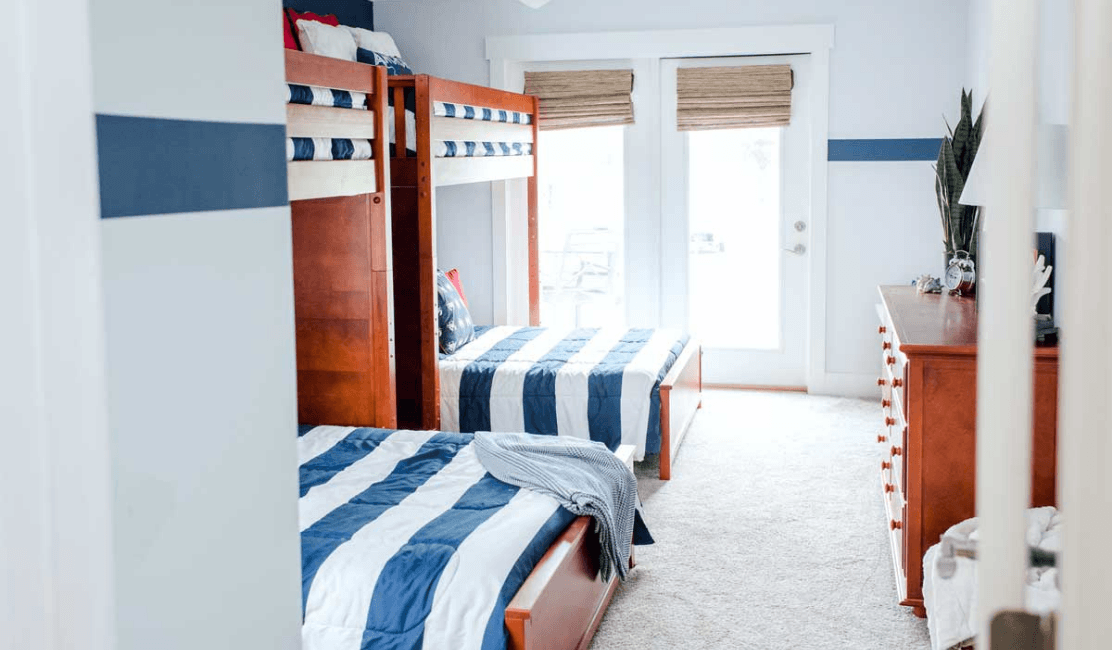 From their Mount Pleasant home to their Lake Marion house, one South Carolina family learned the value of owning Maxtrix by transforming a teen's twin over full bunk bed to a quadruple bunk bed for Lake guests using existing furniture components and adding on. As a complete home remodel, the Barber's had the opportunity to start fresh. They equally knew their narrow guest room would be challenging to design, so they opted for a unique setup that accommodated many. The end result is a space that sleeps at minimum four comfortably. Shop the full collection.
Two twin beds sit above two full size beds in an L-shaped design with a staircase in between for easy access to the top bunks. (Featured Products: Staircase High Loft | Full Platform Beds) With friends and family visiting regularly, this new quad bunk sleeps both kids and adults alike. Shop all Adult Bunk Beds.
Extra storage is provided in their staircase step drawers as well as in their matching 6-drawer separate dresser. The chestnut finish is sophisticated and adds a nice richness to their white and neutral walls and floors. 
The best part about this new bunk? It started as a twin over full bunk bed for the family's son who outgrew it. Because Maxtrix is a furniture system, the family was able to reuse it in their new lake home. What a sustainable way to approach design! Hear more from Dad as he discusses his decision to invest in Maxtrix.
Homeowner Reflects on Bed Transformation
I saw the displays in their store window while walking by in Mt. Pleasant, SC, where Maxtrix is headquartered. Once I learned about the way Maxtrix Furniture was made and its capability for growth, I was sold.
Maxtrix stood out because of the difference in quality, flexibility and look. Things need to look good, but for me, they need to work as well. We talked about being able to change the bed as our needs changed. I honestly thought I would never need that. I was able to climb on the display and the strength of the bed was obvious. It gave me confidence that my son would be safe and anyone that slept on his twin over full bunk bed would be as well. 
I bought a lake house in South Carolina, and the bedrooms were able to support the bunk bed configuration. Once the new room dimensions were confirmed, I worked with a Maxtrix designer to create this configuration. 
Before:
There were a myriad of ways to change the bed, but this particular design worked for the bedroom it was meant for. It's honestly my favorite room. 


After:

The new quadruple bunk bed is strong and capable of holding adults. For my purposes, it enables my now teenage children and their friends to stay comfortably. Also, if I ever rent the house, it will give the capability to have more people stay. 
Maxtrix and the staff have more than met any expectations that I may have had.  I did not know what I needed nor what was possible. Maxtrix made it possible for my son to have a unique bed while growing up and now has afforded us the opportunity to continue enjoying the bed for many more years to come. 

You never know what the future brings. I honestly did not think I would need to change the bed in the first place, but I am grateful I chose Maxtrix. I am confident I would not have been able to accomplish this look and have the strength and durability with anything else.

I would say to any parent or designer that this company and their attention to detail are head and shoulders above anyone else. I have yet to find anything comparable. Carmen Bills, who owns CB Designs, has helped in the process as well, and is completely sold on the Maxtrix System.
Solid Wood Quadruple Bunk Beds
There are many different ways to create a bunk bed for four. The Barber's are showing an amazing example of how to design for a narrow room. However, if space permits, quadruple beds can also be placed in the corner of a wider room. Here are some popular examples or see a detailed view of the Ultimate Quad Bunk that Sleeps Four.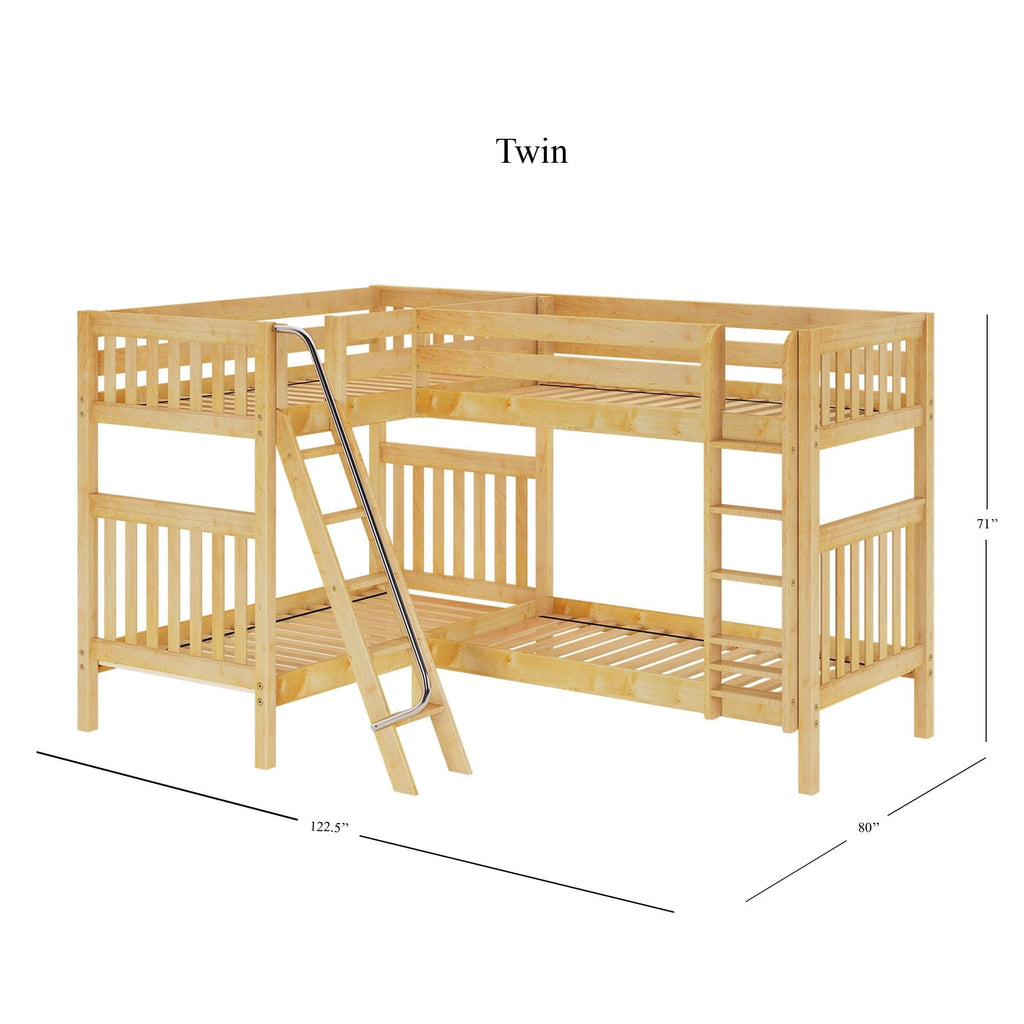 Design Assistance for Creating Unique Bunk Beds
The Barber's created a specific design for their space using their room dimensions - shop their design. To do the same, simply contact the Maxtrix design team to get started. Your options are endless with multiple bed sizes, layouts, entrances, bed end styles and accessories. Shop our most popular Unique Beds or start building a custom bed for vacation homes, lake houses, or your own home!