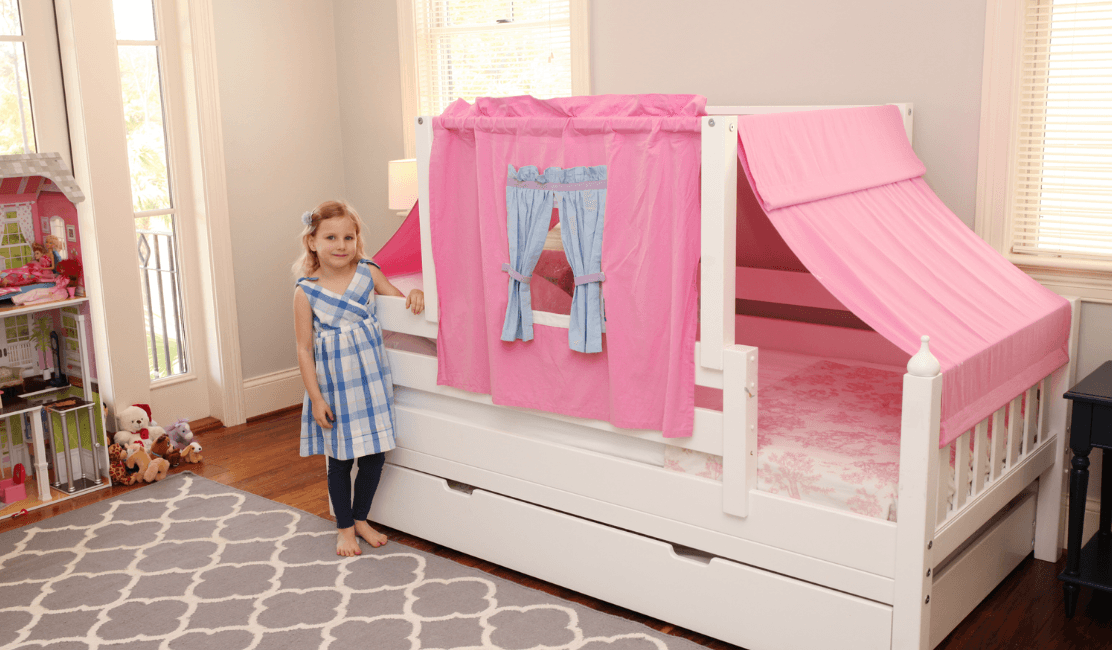 Welcome to Evelyn's room! She's an adorable five-year-old, who loves animals, talking, singing and playing dress-up. When she was three, her parents surprised her with her first "big girl" bed - a Maxtrix toddler bed with top tent and finials. It fit her personality just right - meet Eveyln!
Later, they added a pullout trundle bed so she could have friends over for sleepovers, which is common in their house. Here's how it looks with the trundle closed:
As a big sister, Evelyn wanted her "own" space, but also welcomes play time with her younger siblings. Collectively, they all agree the Yo Toddler Bed is a big hit in the home!
Top Tents Rule
Evelyn loves her top tent because it looks like a castle and makes her bed extra cozy. She usually has a size-able collection of stuffed animal friends, favorite dolls and lots of different blankets and pillows stashed in her bed. It's the perfect spot for hiding, sleeping and cuddling.

Sometimes she flips the side of her top tent upwards so she can easily see all of her buddies.
The curtains of her top tent open and close so she can set up her window as she likes it before she goes to bed.

Easily re-attach the top tent on this toddler bed for play time with siblings and friends! Note the extra tall guardrails for sleeping securely in her big girl bed. (And to keep her little brother and sister out.)

This ¾ guardrail design is possible with all Maxtrix beds, but traditionally we sell the "YO" with a ½ guardrail, so you have 2 entry points (one right, one left).
Uh-oh, looks like little brother found his way in... ;)
Sleep More with a Trundle Bed
The trundle bed easily slides in and out from underneath the "Yo", creating an extra sleeping space in no time. Just add a trundle mattress on top of the solid wood slat base and you have a great extra place for jumping – ahem – sleeping. ;)
This is the perfect setup for younger siblings, sleepovers or naps! (Just don't bring the graham crackers!)
This bed is particularly popular as a starter bed; it can become the top of a bunk or loft later. Leg extensions, a ladder and/or a second bed easily convert this toddler bed to an elevated loft or bunk.
Because Evelyn loves her bed so much this family is going to "grow up" her Maxtrix bed soon….so stay tuned for an updated on Evelyn's big girl bed in the coming weeks!
Design Your Toddler Bed
Want help designing your perfect toddler bed? We've got you covered! Get excited because our team is standing by to take your room dimensions and go over toddler bed with top tent sizes, bed end and color options! Just use our online live chat tool or contact us through our design form to get this simple process started!

Already own a Maxtrix toddler bed? Show us your style using #MyMaxtrix for a chance to be reposted! :)
Updated Reconfiguration
Update: Evelyn got a new bed design when her parents upgraded her toddler bed to a loft bed with curtain and slide. See her updated room and shop the look: