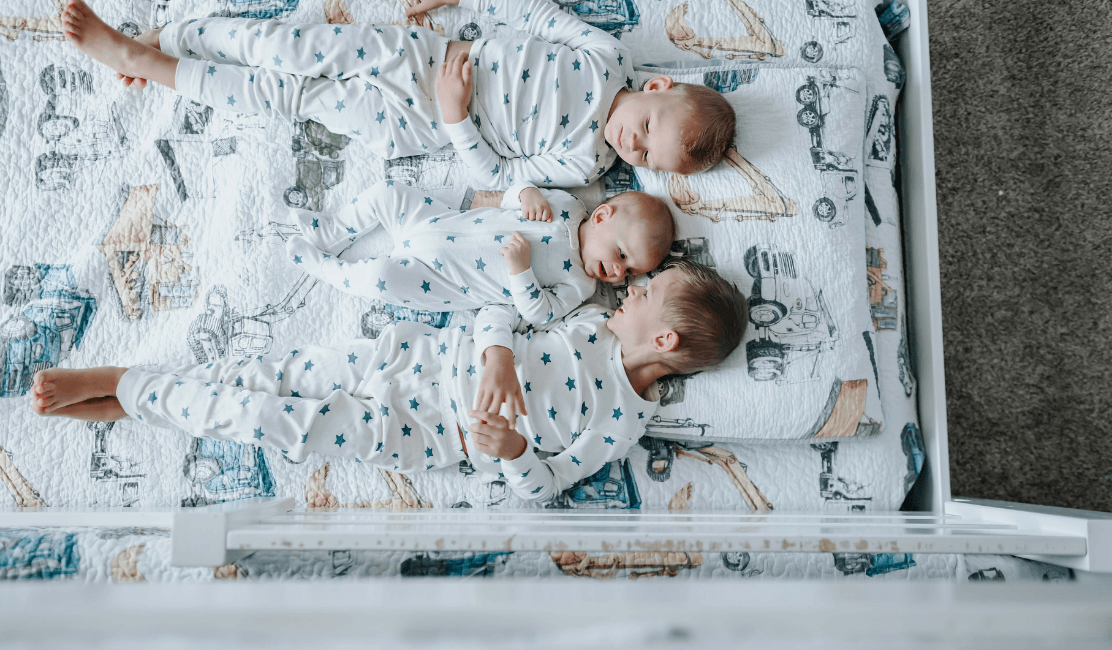 We love this time of year as it's about our two favorite things - family visits and food. We'll leave the cooking advice to others, but when it comes to organizing the sleeping quarters for all your visiting siblings, nephews/nieces and grandparents, we have a few ideas that may be helpful as you prepare for your guest invasion. Plan now and be prepared with plenty of time before the Holidays with our best guest accommodations.
Tip 1. Make sure nights are comfy, cozy and quiet!
There is enough excitement during the day. Plan sleeping arrangements early to make sure everyone has a great spot to rest. Kids that play together don't necessarily sleep well together. If you want to avoid a cranky bunch Thanksgiving morning, you may want to separate the little ones and let them sleep with their respective families. If you have older kids, and they are used to sleepovers, make sure everyone has his/her own separate spot so the occasional elbow in the nose wakes nobody up.
Here are some nice options for equipping the guest bedroom! Add a little extra space with a twin over full or Queen bunk beds. The bottom bed is plenty large enough for adults or pair up kiddos. You can even add extra accommodations with a pullout trundle. With this setup, an entire family can sleep comfortably.
And here are some simple ideas to add more sleeping spots in your child's room. Bunk beds with storage underneath keep rooms tidy when extra bags, toys and books make their way into your kid's room.
However, optional bunk bed trundles are great for family and friends. They can stay tucked away most of the year but serve as guest accommodations for the Holidays or sleepovers throughout the year.

If you want to make your guest quarters or kid's room even more fun for visiting family and friendly, try adding a slide. There simply isn't a more fun way to get out of bed in the morning... but your nieces, nephews and friends may never want to leave. ;)
Tip 2: Plan some quality time to for snuggling, storytelling and reading.
Bedtime won't be the same when visitors are in the house. As long as basic rules are not completely thrown out the window (brushing teeth, bed by a reasonable hour), switching up the routine a little can be lots of fun. Try bonding over a great story, or create individual hangout spots for tweens, teens and young aduls! You will need some comfy spots for all to enjoy the change of pace, so make sure you lay out plenty of pillows, blankets and create extra snuggle spots wherever you have space. Add great back support for reading! The top bunk or loft needs some comfy pillows, too!
Bedrooms can be about more than sleeping. With loft beds, you have the option to create a great spot to draw and read!

Tip 3: Use space in unexpected corners as guest accommodations.
Even the biggest house can be packed to capacity at holiday time, so making creative use of space can mean the difference between inviting Cousin Jimmy or having them stay over at a hotel. If you love having a full house, think about all the creative options you have to sleep just one more:
Trundle beds are a fabulous way to add an extra sleeping spot right under the bed. And when visitors are gone, you can easily take out the mattress and convert the trundle frame into a large storage drawer by simply adding a divider and base.
Bunk it! Adding another bed adds a sleeping spot, but can also turn into your favorite "hang out sofa" or hiding spot during times visitors are gone. Add a staircase or check out our L shaped Corner Loft Bunks – they look absolutely fabulous, and quite grown up – and become a great focal point in any room.
Use the hallway, the "piano room" or your basement or attic space to create additional sleeping spots. Even if the space is quirky and cut irregularly, there are lots of super flexible solutions available to make use of every little inch of space. Contact our friendly customer service staff with measurements and they will be happy to help create a solution that fits as if custom made for you like this quad bunk bed designed for a Lake Marion home:
Create some fun shared spaces, and surprise your guests this Holiday season with the most amazing sleeping quarters. But, watch out, they may be so pleased with your accommodations that they return each year!