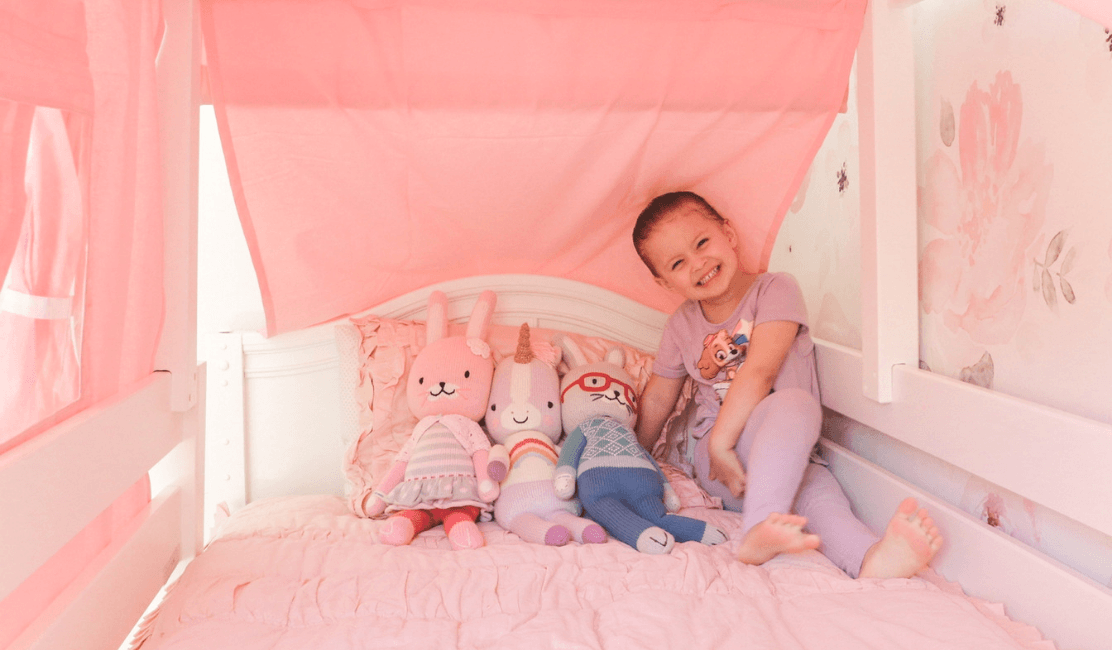 It's no secret that pink and white bedrooms are extremely popular as color selections for little girls rooms. The soft color palette appeals to young ballerinas and Princess lovers who love covering their rooms top to bottom with it. We were not surprised when Mom, Taylor Thoits, approached us about her daughter's Princess room and their search for a pink and white themed bed. Her daughter, Holly, was just old enough for her toddler room update and she needed the perfect centerpiece - a white toddler bed for girls!
But, first, meet Holly! She's a sweet and outgoing four-year-old who just began her second year of preschool. As a big sister to a younger brother, she also likes having a space to call her own. 
Holly began with a cute setup - floral wallpaper, pink upholstery chair and fluffy zip-up bedding. She just needed the perfect toddler bed! Hear more now from Mom, Taylor, who researched and found her Maxtrix bed & add-ons. (Skip ahead and shop her room collection)
Holly's Room Reveal with Toddler Bed
Holly got a new twin toddler bed with drawers + a rail from @maxtrixkidsfurniture. 🙌🏼 This girl likes to roll all over at night. 😂 She was so excited to see it when she got home from preschool she couldn't stop smiling! She then ran to me and gave me a hug saying "thank you mama!" 
I started my search for Holly's toddler bed a few months ago and immediately fell in love with this look by Maxtrix Kids. I thought it was the perfect bed to transition my daughter from her crib. It was not only a cute style, but it caught my eye as soon as I saw the toddler rail placed in the middle; especially since she likes to roll a lot while she sleeps. 
Holly's white toddler bed came with great instructions so the set up process was easy. 
I also loved the fact that when she's ready, we could easily take off the safety rail, turning it into a traditional daybed.   
This bed is a great investment for a little girl's room. If you get the under bed storage drawers, it's even better! Holly sure loves her cuddle+kind dolls.
Holly is super into princesses, so it was a bonus getting the top tent addition in pink and white! It added so much fun to the idea of sleeping in her own bed. The first night we put it up, she actually stayed in her bed all night. 
I love the Maxtrix quality and how cute it can be set up three different ways - as a daybed, toddler bed with guardrail and toddler bed with top tent. After having the bed for a few months we decided to take off the rail. I think we will keep it like this for a long time now. Holly is still very excited when we decide to put the top tent on for fun. It gives her a hangout spot for those 'idependent' moments. 
Holly is so happy with her bed and I'm glad I went with Maxtrix Kids.
Thank you for sharing, Taylor! We had such a great time watching her room transform. Her excitement is the very reason why we make children's furniture. 
Shop Holly's 

Collection

Taylor selected the perfect furniture for Holly's room. If you love what you see - shop Holly's furniture collection. Keep in mind that you can change the look of the bed finish, bed end style as well as the top tent fabric colors, creating unique toddler beds for boys and toddler beds for girls.
Shop All Toddler Beds for Girls & Toddler Beds for Boys
Excited about moving your child into a big boy or big girl bed? We've got you covered. Fit the style, size and functionality needs of your growing toddler. Start with a Maxtrix toddler bed that will grow with your child! Toddler beds easily change into toddler bunk beds or toddler loft beds tomorrow. Learn more about the Maxtrix System or contact our design team for help!
Showing 6 of 8 products. See all the products in Holly's Room collection.