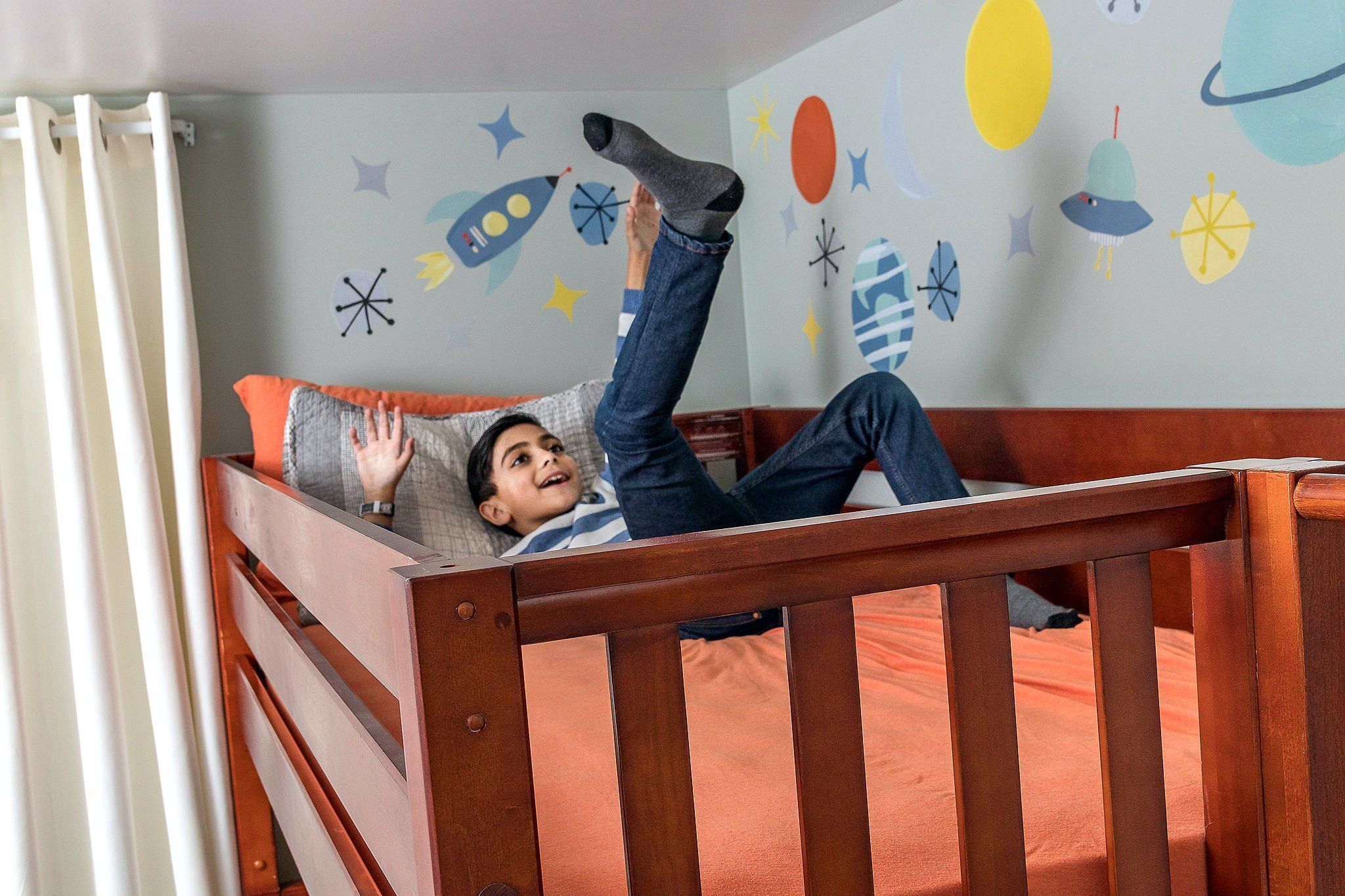 Remember Saleha and her son, Shayaan? He's loved his Maxtrix convertible bed for a couple of years now. Shayaan and his family recently moved, so Saleha used the opportunity to update his room and change the look of his bed. Shayaan outgrew the castle loft with play panels and wanted to make more room for friends and sleepovers. They chose to convert his existing Maxtrix loft bed to high, twin bunk beds with slide platform - the Poof!
Bed that Grows Up
Take a look at Shayaan's previous bed designs. He began with a high loft with slide platform and play panels called the Stadium. 
"At the moment we were looking at several loft slide beds and Maxtrix stadium stood out to us the most. Shayaan and I both loved the castle design & the slide. It also looked very sturdy and built nicely." 
Shayaan later needed more space for studying and less space for playing, so the family removed the front play panels to open up the space. This look is called the
Filiocus
. They also moved the
student desk
under the loft bed to save space.
The New Look - Bunk Bed with Slide
After the family moved, Saleha reached out to our design team to figure out the best next configuration change to meet Shayaan's growing needs. It's time for sleepovers and friends, so Shayaan requested a second bed, which converted a single bed loft to a Maxtrix twin bunk beds with slide platform called the Poof.
Our design team recommended under-bed drawers to finish out the look while also providing extra storage for Shayaan. This is great news for Saleha, as these drawers are easily accessible and help kids keep their rooms nice and tidy with quick cleanups. Saleha also chose a short guardrail in the front for safety and to prevent rolling out of bed.
With 8' ceilings, Shayaan still has plenty of head room on the top twin bunk to sit up and read or play. He often chooses it to sleep on, too.
Little sister and friends still love that he kept his slide platform. The hand bars and step grooves ensure everyone climbs safely and has fun!
Shayaan kept his student desk and just moved it to a different wall, creating a separate study environment for school work.
"It was actually super simple to change up the configuration.The Maxtrix customer service was amazing and very helpful. Since my husband put it together himself, we were able to call with any of our questions. Customer service was really helpful and helped us figure out any areas of confusion."
"When it was all built, it was the most amazing bed I've ever seen for a little boy. Everyone who saw it also loved it."
"We will probably reconfigure it yet again whenever Shayaan is ready. For anyone looking at Maxtrix, I say go for it. It is an investment, but you're paying for what you get - excellent quality furniture!"
Shop Shayaan's Room
Like any of his three room designs? We've compiled the Maxtrix products Saleha used in one collection to easily shop. Take a look. 
Kids Room Design Team Assistance
Ready to get started with a kid's bed that can change over time like Shayaan's? No matter what age you start with Maxtrix - toddler to teen - Maxtrix quality beds will work at every stage of your child's development. So have fun today and focus more on study and guest accommodations later!
Our kid's room designers are ready to help you select the first best look to fit your space and address functional needs. Tap them now, consult our handy Fit & Measurement Guide or get inspired with more MyMaxtrix looks. 
Showing 6 of 4 products. See all the products in Shayaan's Room collection.