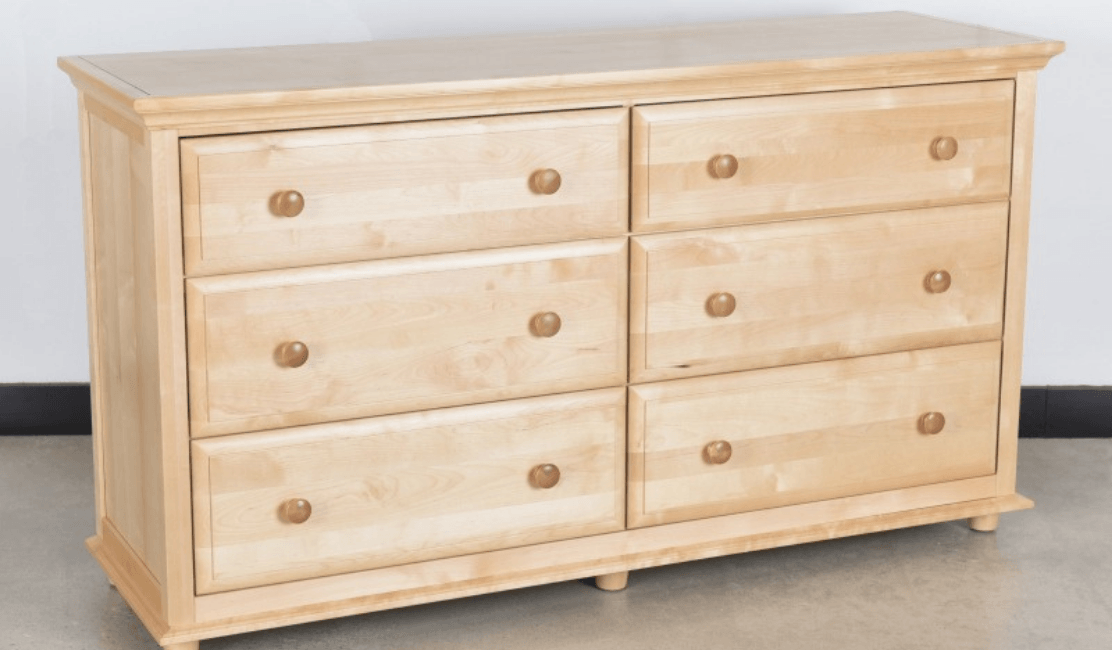 After beds, dressers are the most needed piece of bedroom furniture. We can't have kid's clothes scattered all over the room, now can we? You probably know that our beds are known for growing up with your child - you can raise, change and add onto them as your child ages toddler to teen. But, we'll let you in on a little secret... our quality kids dressers match perfectly with any of our kids beds, making a furniture set designed to last a lifetime. 
Here are five features about our solid wood kids dressers that will make you say, "hooray!"
Feature 1: Accessories add Character
As a stand alone piece, you can add a wooden crown and base kit for an elegant touch. Or, take a modern approach and leave them off, and maybe opt for a different hardware. We love how the crystal knobs really dresses up this white dresser.


Our dressers come in the classic Maxtrix design in 3 colors - chestnut, natural and white - without or without the crown and base. Our crown and base kits can easily be removed - leaving no damage to the furniture - if you change your mind or decide to slide your dresser under your child's loft bed.

You can also mix and match your furniture color options by using more than one finish. Opt for white AND natural for example:


Feature 2: Configurable with Beds
So, that brings us to the best part... as a modular system, all Maxtrix storage units like dressers, desks and bookshelves fit perfectly underneath our low, mid or high loft beds. You can switch it up as needs change.
Feature 3: Lots of Storage
Regardless of its placement, feel confident knowing you are investing in a solid wood dresser that has one of the widest and deepest drawers in the industry. You're going to be able to pack a lot of clothes in there! (This is great for a shared bedroom as well!) A drawer on this 5-drawer dresser is 32" wide and 14.75" deep!


Feature 4: Top Quality
All Maxtrix furniture is made to last. This is an investment you should only have to make once and not worry about the quality of your child's dresser as he or she does his or her best to destroy it. We use premium hardwood - Maple, Birch and aspen - with no knots. If you're shopping around, make sure you look at the makeup of the furniture before purchasing. 

Maxtrix kids dressers are durable and can hold a lot of weight. So, feel free to make one of those drawers a shoe drawer! The drawer fronts and sides are crafted with English dovetail joints, ensuring a long lasting connection. The drawer box is also made of solid wood. We're talking top quality here.
Feature 5: Safety
We know that when there are children present, accidents can happen. This is why we strongly recommend ALWAYS installing anchoring devices on any tall or heavy piece of furniture. This prevents furniture from tipping over, and avoids injuries! We want to help, so we supply FREE anti-tip kits for all dressers and bookcases 30" or higher. They are very easy to install, and stay secured to the wall to insure the safety of your child.

Kids can't handle dressers the way grown up do – and it can be quite dangerous when a heavy drawer gets pulled out too hard and lands on the floor! That's why we provide built-in drawer locks to prevent injury!


Ready to shop for your child's dresser? We have many different sizes to choose from in three finishes - white, chestnut and natural. If you're looking to pair your dresser with a Maxtrix loft, look for 3-drawer dressers for low lofts, 4-drawer for mid lofts and 5-drawer dressers for high lofts. Consult our fit and measurement guide for more information. 


A little more beauties before you go...

Like what you see? If you are ready to experience the quality difference of a Maxtrix® dresser for your child's room, playroom, guest room or any other place in the house – you can shop them right here! Shop all quality dressers. There's so many options that even double as nightstands.