High loft beds are a great option when it comes to storage. When you raise the bed off the ground, it creates all this extra space underneath that you can use to store all kinds of things. We're talking clothes, shoes, toys, even furniture like dressers or desks. And the best part is, many high loft beds come with built-in storage options like drawers or shelves in the steps of a ladder or stairs. It's like a hidden bonus storage! Not to mention, the height of the bed also makes it perfect to store things above it like a bedside tray or beverage holder. If you're trying to maximize storage space in a small room or apartment, a high loft bed is definitely worth considering.
What Makes a Good High Loft Bed?
First, let's talk about the loft bed itself. When looking for a high loft bed, it's important to find one that is sturdy and well-constructed. Look for a bed that is made of solid wood and has a high weight limit that can accommodate your needs. A good high loft bed will also have tall guardrails to keep you safe while you sleep. 
Maxtrix loft beds have 16" high guardrails - the highest in the industry. When paired with a low profile kids mattress, you'll have 11" of safety guard height (more than double the regulation requirement). Learn more about the benefits of choosing a low profile mattress for a high loft bed.
Maximize Storage Space with a High Loft Bed: Options and Solutions
Once you have the bed in place, it's time to start thinking about storage options. The area underneath the bed is the perfect spot for a dresser or chest of drawers. If you're looking for even more storage, consider adding a bookcase or desk to organize your books and homework with ease. Maxtrix loft beds are customizable, so you can choose from a variety of storage and study furniture that are designed to fit the frame of your bed. When in doubt, consult the storage and desk fit and measurement guide.
One effective solution to maximize storage with a high loft bed is to add a storage staircase. Each step includes a drawer that provides the perfect spot for your everyday items. It's important to make sure each drawer is soft close to keep everyone's fingers safe.
Another great storage option for a high loft bed is to add a bedside tray or beverage holder above the bed. This is a great spot to keep your snacks, books, and devices within easy reach. There are many types of bedside storage that accommodate high lofts. 
What Are the Best High Loft Beds with Storage?
There are many excellent choices for maximizing storage, but only a Maxtrix High Loft Bed allows you to customize it to your exact storage needs. Crafted from premium solid hardwood, our high loft beds are extra strong and sturdy with modular designs that make it easy to add on matching storage. And every Maxtrix High Loft Bed can be easily reconfigured when you kids' space or needs change.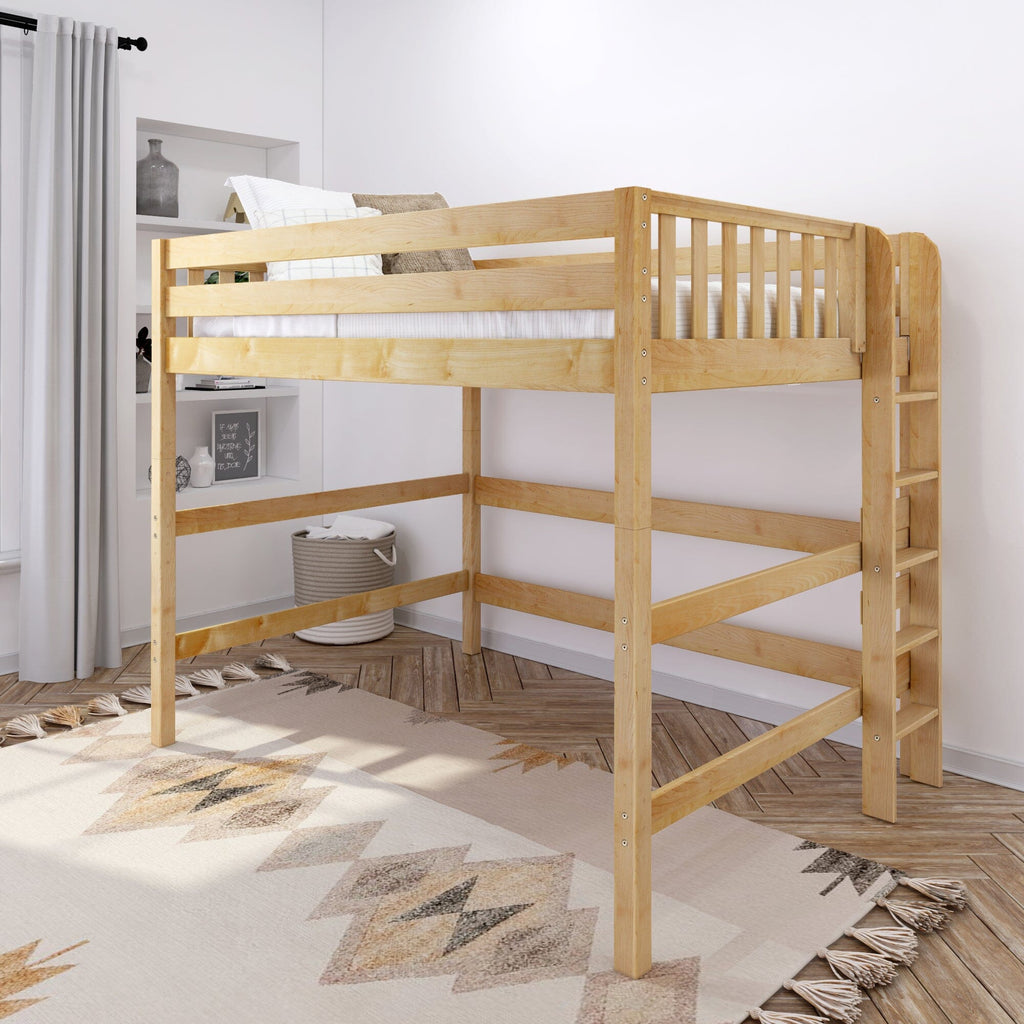 Design Services Available: Custom Storage Loft Beds
A high loft bed is a great solution for maximizing storage in a small bedroom. With a sturdy bed in place, you can add a desk or dresser underneath, bedside tray or beverage holder above the bed, and even a storage staircase. Want to start customizing your high loft bed with storage? Learn how to create your perfect storage bed, shop our loft bed collection, or get in touch with a member of our design team to get your stylish storage space underway. With the Maxtrix System, your loft today can transform to a new design tomorrow. Versatile loft beds are the way to go! 
Shop High Loft Beds | Shop Uber Loft Beds | Shop Dressers & Chests | Shop Bookcases | Shop Bedside Storage