best bunk beds
Cool Bunk Beds for Tweens Plus Best Selling PreTeen Beds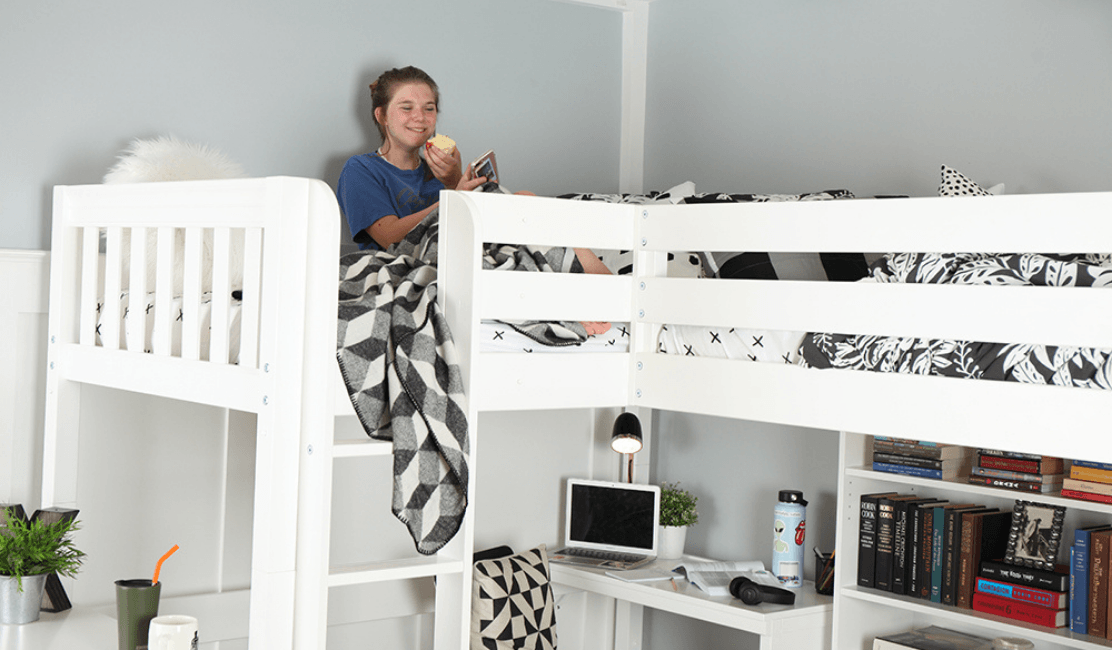 By the time the become a tween, they realize their room setups really do matter. Preteens appreciate independence from siblings and parents and want their rooms setup to enjoy their favorite pastimes like reading, video gaming, hanging out with friends, and relaxing in a comfortable tween bed. Because they spend so much time in their rooms, multi-functional setups are key. Here are some of our favorite preteen beds that real tweens chose for their room makeovers recently. Whether it's a twin or full bed for a 10 year old, or a high queen loft for the rising high schooler, the tween bed collection is the place to start your search!
Twin XL Loft Bed with Desk for PreTeens
First up is a shared room for tweens that features two Twin XL loft beds with long desk underneath. This mom figured out a way to sleep two in a room by dividing the space in half with mirroring beds. The functionality of a twin xl length with four more inches of room than a traditional twin bed means longer legs can continue to stretch out! Add a long desk for independent homework and study time. Tweens need to be able to focus and this look helps them achieve this goal.
Tweens Love Twin Bunks with Ladder on End  
Moving the ladder to the end of the bed gives bunk beds a sleek look, which tweens love. As they begin to take interest in how their rooms are decorated, you might be surprised that they've outgrown the flair and gravitated towards a more sophisticated look. Go simple with a twin bunk bed. The ladder on end adds a modern and older aesthetic so your tween feels like they've achieve cool bunk bed status. 
Twin Over Full Staggered Bunk Beds 
In 2020, staggered bunk beds rose to the top of all of our top bed designs as best sellers in every category. Tweens love how they take the classic look of a bunk but provide extra space on the bottom bed for every day usage. Keep the top bunk for sleepovers! The Slope twin over full bunk bed - as well as all of our Maxtrix bunks - is also available with the ladder on end option. See how one tween boy designed his room with this setup:
 Add under-bed storage drawers to help keep that preteen room looking tidy!
Super Size to Twin XL over Queen Bunk Beds
The Slope as a best sellers is a wonderful bed for small tween rooms, but if you have the square footage and you want your preteen to have even more space to stretch out, opt for the Plush or Lavish Twin XL over Queen. It's the same staggered design, but these cool bunk beds for tweens are perfect for the lounger.
Queen over Queen Bunk Beds
Need even more space? Go straight or our largest stacked bunks - Queen bunk beds. The ladder can be in the front or back plus a lot of under-bed space for storage. See how one tween mom designed her shared tween boys room.
Corner Loft that Sleeps Two PreTeens
More than one tween in the home? Corner bunks sleep two up high, leaving valuable living space underneath. This means you've essentially doubled your square footage by sleeping up high and studying and lounging below. Our HighRise corner loft is a best seller for its classic and sleek design. It optimizes corners in tween rooms, and as a high loft, there's room for desks, bookcases, dressers and any combination thereof. Use the space to create exactly what your tween needs and let him/her design it. 
Sleep Many with Triple Corner Bunks
Take the same idea as above but add a third bed for a room that sleeps multiples, upgrade to Twin XL and Queen sizes, and you get a super sized triple corner bunk bed - the Decathlon XL. This newer bed design has two twin XL beds up high and a queen underneath. These cool bunk beds for tweens also have staircase entries, which means several more unique places to store things. If space allows, go big with the Decathlon.
Custom Tween Room Collection
For those ten-thirteen year olds, there are so many options out there, but know that you can always reconfigure your Maxtrix bed as they enter high school and college. Maxtrix designs are like building blocks - you can recreate beds with furniture components. So, start with the high loft today and make it a corner loft tomorrow. Regardless, your teen's bed can be reused for years to come - even in college dorms or apartments. Contact our design team for assistance building the perfect preteen bed for your home.