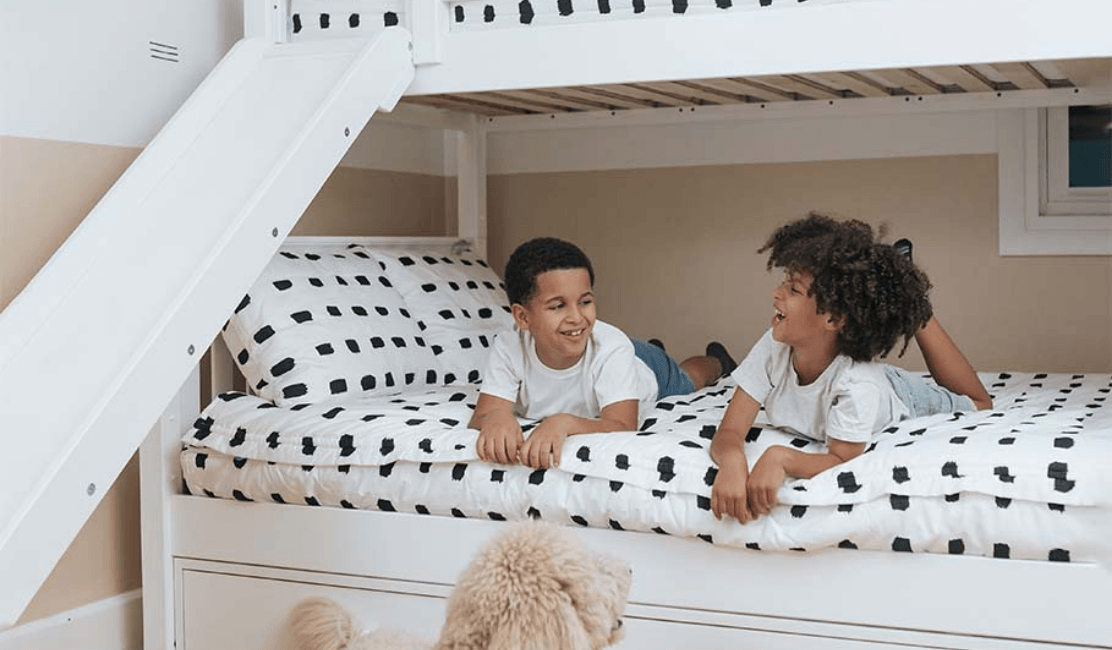 Life with three young boys is one full of adventure, energy and fun! When Mom, Kathlyn Celeste, approached us about helping with her sons' bedroom renovation, we were ready to help select the best bunk bed for her older two boys - Kayson & Avery. Kathlyn and her family recently purchased their first home, and they were excited about the idea of creating a new shared space for their boys. As a self-proclaimed Interior Designer and lover of home and lifestyle brands, we knew Kathlyn would do a great job with all of the finishing touches. Combining fun with storage and sleep, our best selling twin over full bunk bed with slide and stairs, the FoxTrot, was the clear winner for the space and needs. Meet Kathlyn and her boys! Shop their collection.
Of course, the slide was a big win for the boys - who wouldn't want to get out of bed by sliding out? It was one of their top "wish list" items, and with the quality and sturdiness of Maxtrix, both Mom and the boys could rest easily in this bunk bed with slide.
But, Kathlyn also needed to maximize room space. Here's a look at the layout of the room before renovations were completed:
Without a lot of space, they needed a solution that did it all! Making the most of the bed entrance and the space under the bed, this bed design is packed full of functionality. The FoxTrot has deep storage drawers as staircase steps. Since they serve dual purposes, the boys can climb up safely to the top bunk while also storing their favorite things nearby in the steps. 
When even more space is needed, the under-bed storage drawers utilized what is normally waisted square footage under a bunk bed - now they have two extra pullout storage dresser drawers for even more personal favorites!
An extra bedside storage tray gives the top bunk a place to keep drinks, books and small items close-by without having to exit the bunk.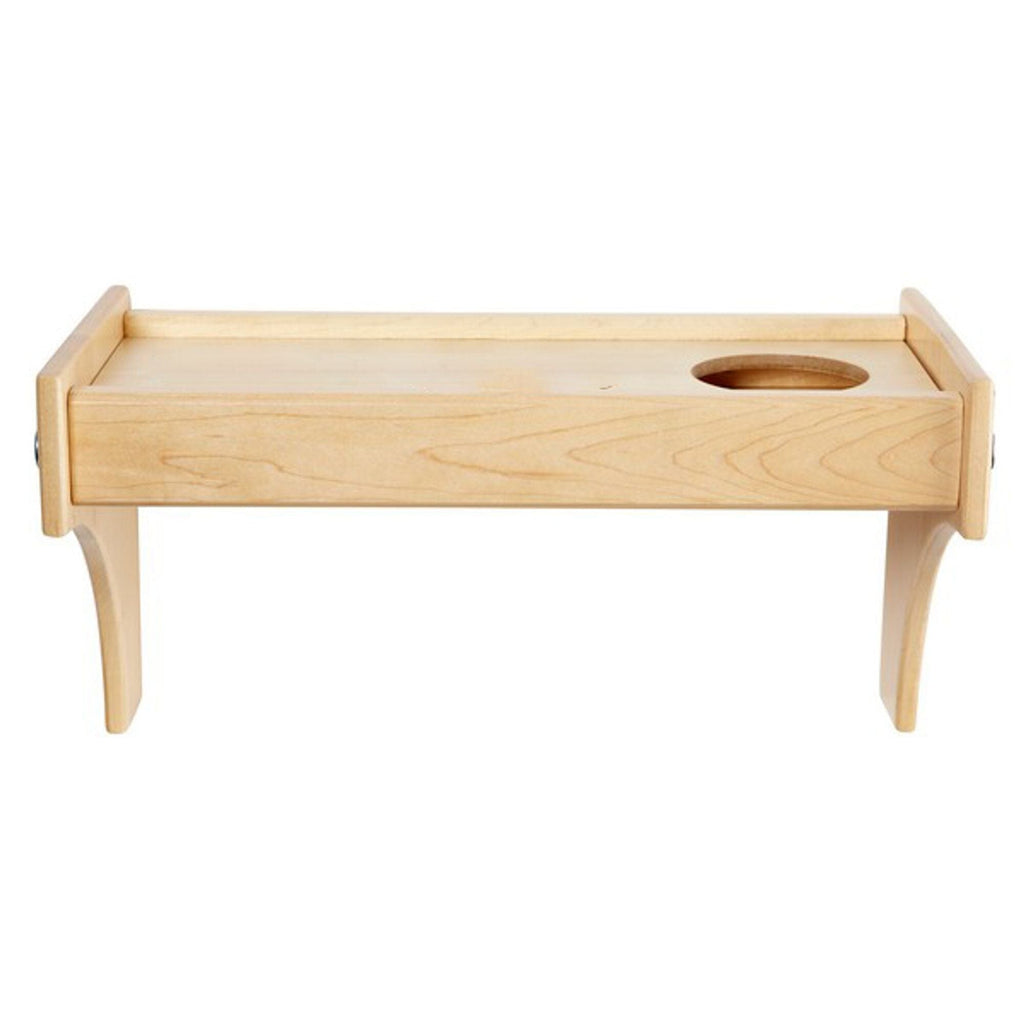 Kathlyn used the other side of the room for a study area and more storage! Very nicely designed.
The boys are now set! But, in addition to meeting their needs today, Kathlyn also knew she needed to plan for tomorrow. Meaning, one day all three boys could share a room. With the versatility of Maxtrix as a bed system, Kathlyn knew she had the option to reconfigure her bunk bed design from two beds to three beds in the future. A triple corner bunk bed is her ultimate goal when they were ready to remove the slide - something like this:
Hear more from Kathlyn, or shop the boys' room collection now. 
Kathlyn Chooses Slide Bunk with Storage 
My boys have been asking for a bunk bed with a slide for about two years so I did a lot of research to find the perfect bed that is also high quality. Maxtrix stood out because of their high quality, all the different configuration options you have, and all the add ons!
I wanted to make sure the bunk bed had a full size bed on the bottom bunk for sleepovers and when the boys want to sleep together because they're still at that age where they love cuddling together. And the slide was just a must have for them!
I love that we can maximize the space and have extra drawers under the bed and also on the stairs! Plus, as they grow, I can separate the beds when they decide they no longer want a bunk bed, or add on an additional bed for my youngest son so he can join them! The options really are endless.
It was VERY easy to assemble.I've put together a lot of beds in my adult life and the quality truly was amazing. Plus, it was a lot easier than expected!
Because it came in lots of boxes, I anticipated it would take us a couple of days but we finished it in less than 5 hours total. It's also very easy to move around when we have to clean behind or under the bed.
I definitely think we will reconfigure the bed again!
It's absolutely worth it! It'll grow with your kids as they do, can be reconfigured into different bed options and is such high quality.