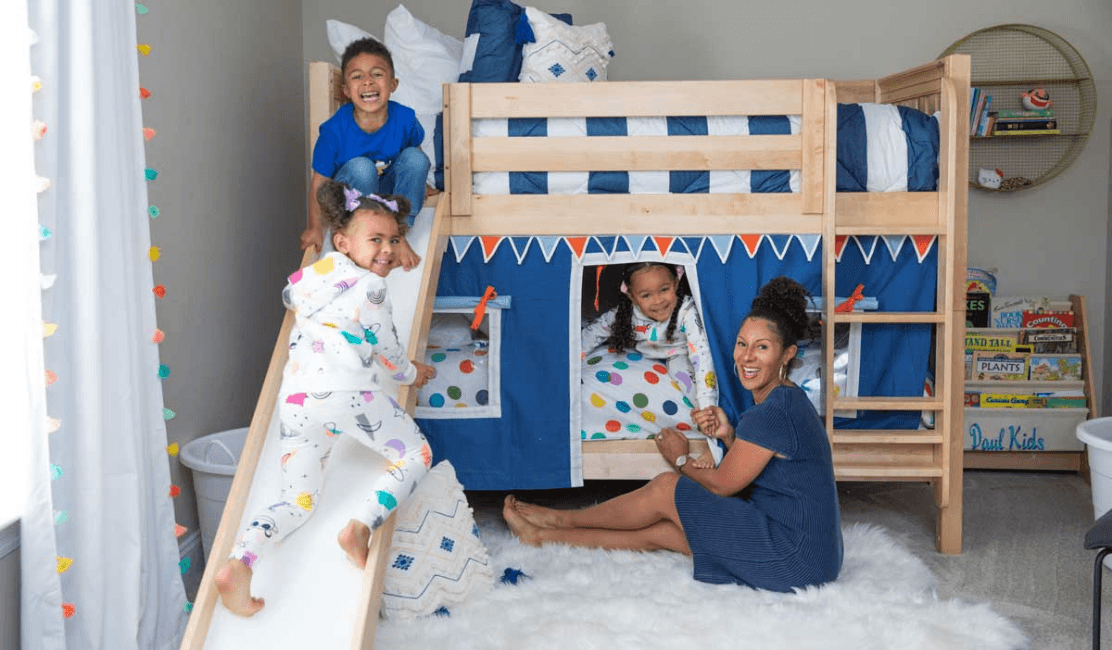 Moving often presents opportunities to start completely over with home furnishings. This is particularly true for growing kids who are ready for the next stage of development - like toddler room to preschool and beyond! When we first met Influencer Kerri Paul, she was in this exact situation. After moving into their new family home this past Spring, it was time to create a cool, new space for her 5-year-old boy/girl twins. This design refresh welcomed the kids home to their first "Big Kid" shared room. Meet this sweet family!
As her twins, Jules & Jeanne, outgrew their toddler beds, Kerri started searching for a way to upgrade them into a design that would be fun and long-lasting. With a larger room footprint to work with, Kerri zeroed in on bunk beds with slides since they had plenty of space to play. Kerri and her kids thought the Smile low bunk bed with slide was simply "epic". Take a look at her toddler room before and the amazing refresh after:
Because the Smile sits lower to the ground, the kids at a younger age do not have as many steps to climb, adding extra safety measures for elevated sleeping. This was a parental win! Jules and Jeanne were extra excited about sliding out of bed... what a fun way to start the day.
Plus, the added under-bed curtains gave them a built-in fort for playtime sessions. Even baby sister, Joie, loves it! (See all play options in our Fun Beds Collection.)
The twins love bunking together, and now they have even more reasons to hang out in their boy/girl shared bunk bedroom. This means more time out of Mom & Dad's room, too.
With the remaining square footage, Kerri created an attached playroom with toy storage and desks for crafting, drawing and learning. Maxtrix study desks were the perfect size for her kiddos, plus they'll have many more years to enjoy the traditional design of these desks as they grow up. 
Take a look at Kerri's twins' bedroom and how she overhauled their oversized space into a multi-dimensional and functional area for sleep, play and learning. Then, hear more from Kerri below! Shop her room collection here. 
Kerri Shares her MyMaxtrix Experience
My twins are 5-years-old, and they have a 4-year-old sister. I wanted a set that would be fun for them (with the slide) but, most importantly, one that's safe for their height and age range. 
I chose Maxtrix because the beds were obviously next level unique (hello - a bunk bed with a slide is so much fun) and also because of the craftsmanship. I had searched for a while looking forward quality furniture for my kids, but the all-wood and high-quality production that Maxtrix Kids stands by is really what interested me in the brand. 
The play curtains are the coolest additions to the bunk beds! My kids adore them because it makes the bed like a tent or a house that they go in and out of. It also amps up the cozy factor of the beds. My expectations were exceeded!
I've enjoyed working with Maxtrix. The quality is exceptional! For my kiddos, I only want the best, highest quality products for them, and this bunk bed with slide is super sturdy and safe for my little ones. I've enjoyed working with the company, as the products all came in a timely manner, packed well, and the customer service was stellar. I'd definitely suggest for any parent to go to Maxtrix Kids for their furnishings!
For a Mom looking to revamp her kid's room, Maxtrix products are DEFINITELY a treat! I am so proud of the twins' new beds, the look, the quality, and the uniqueness of the products! I was able to create a space that is functional and that the twins and their little sister are happy to spend time in and sleep in. 
I think that parents, especially of little ones know how important it is to create a bedroom and space that their kids WANT to sleep in more than their parents' bedroom! So that's an added plus! Everyone should check out Maxtrix Kids Furniture for the best kids' furnishings on the market!
Upgrade this Look Later for Tweens & Teens
Kerri's Smile bunk bed can easily change as her twins get older into a more sophisticated design. The slide and curtains easily come off, leaving a solid wood, classic design for years to come. As a low bunk bed, this bed can be raised to a mid or even tall height later, giving the kids more headroom on the bottom bunk. Or, they can turn this bunk into a triple stacked bunk or corner bunk bed for a third place for sleepover fun like Adrienne did for her growing boys:
If the kids ever want their own rooms, this bunk bed splits apart into two separate beds, giving both kids a twin size bed they can set in their own corner of the room. See how Alexie did this with her coed twins room below:
Kerri is one of many amazing designers who are showing great ways to style #MyMaxtrix rooms. See more in our Rooms We Love Collection or shop Kerri's collection here.