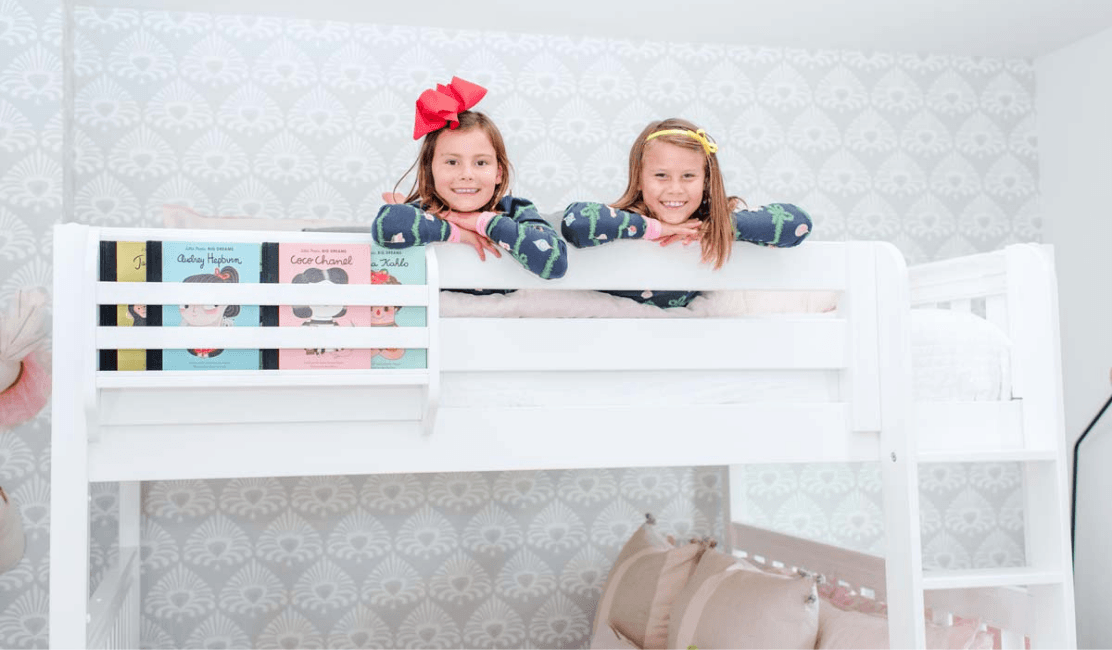 Moving to a new state, home and community can be a nervous endeavor for younger children. But, when Nora (8) and little sister Addie (7) found out they could plan out their new girls rooms, the bargaining began. Knowing they loved to sleep in the same room - even though they would have separate rooms in their new home - the girls settled on bunk beds. Mom, Christina Lee from Graceful Spaces Organizing, began researching options that would check safety, quality and aesthetic boxes. They discovered Maxtrix, and Christina immediately fell in love with the Queen bunk bed size. Shop their room.
Christina worked with the Maxtrix team to ensure the Queen size would fit in Nora's room. They had a few limitations they needed to work around, like a bump out in one corner, and the French doors effected the ladder entrance decision.
Finally, it was confirmed that the Queen size bunks would fit in the girls' room, and everyone celebrated. The Queen size provides extra room to stretch out, ensuring all sizes and ages are super comfortable. Plus, the classic stacked design saves valuable floor space and fit Christina's clean design approach. 
Because of its size, Christina was sure to check safety and quality standards before purchasing. Maxtrix bunk beds are tested to hold 800 lbs PER bed. This meant the girls could continue to have safe sleepovers with friends and out-of-town guests. 
High guardrails keep kids secured in their top bunk beds, and adding bedside storage like magazine racks keeps kids from needing to climb up and down often.
But, when they do need to climb, Nora and Addie can do so safely with extra wide, grooved steps. 
This Queen size take on a classic bunk bed is functional and long-lasting. Should they ever want to separate these beds, however, they can! That's the beauty of the Maxtrix System. 
Hear more about the girls' room and design from Christina or shop the collection!
Christina Chooses Queen Bunks 
As we began to talk with our family about doing a cross-country move, our girls quickly saw an opportunity to negotiate bunkbeds! I have been wary about them in the past due to safety as well as style. Initially, I looked at common brands but didn't feel the quality was there. I was so thrilled to receive a Maxtrix catalog. It was extremely clear that the quality was unmatched and safety would be no issue. I couldn't believe the many opportunities to be creative and  have an aesthetically pleasing look with the bunkbeds! 
Our girls are only 12 months apart and, therefore, sleepovers usually end up with all friends in the same room. Knowing we would have many visitors coming from our hometown, our goal for having bunkbeds was to be able to sleep as many sweet kids as possible - allowing everyone to experience the fun!
Maxtrix designers showed me various options that would work with our room; they even sent me drawings specific to my space with specs on the bed options. It took all the guess out of the choice. They sent me several options including the queen on queen bunkbed. 
Even during the challenges of a pandemic the company was extremely honest, upfront and realistic around shipping and set up. I was pleasantly surprised for an early delivery after only waiting a limited time. Every interaction was pleasant and friendly. Install was incredible and so easy! 
As a sturdy Queen bunk bed that does not easily move around, it gives me security in the safety and quality of the bed.
I absolutely love the option to reconfigure. When making investments into furniture, it is such a peace of mind to know that it's not a one time investment but rather something that can be adjusted to new homes if needed. We don't have plans to reconfigure just yet, but no doubt, we will be taking this bed with us and calling the Maxtrix team to help us determine what creative uses we can do in our next house.
I am so excited to tell so many different people about this bed! Moms, grandmothers, dads… anyone! The quality, the creativity, the function, and the beauty of the bed is unmatched! In every way I've been impressed and I'm so grateful to have a beautiful option that my kids are also thrilled to have in their new house. Maxtrix is a gem of a company.


Shop Queen Bunk Beds
Queen size bunk beds are growing in popularity for not only kids rooms but also guest rooms, vacation rentals, mountain and beach homes. Adults sleep comfortably in the extra space provided by the Queen & XL length bunk beds. See more options, including different bed heights, bed end styles and entrance types, and contact the Maxtrix design team for help with your Queen bunk bed.