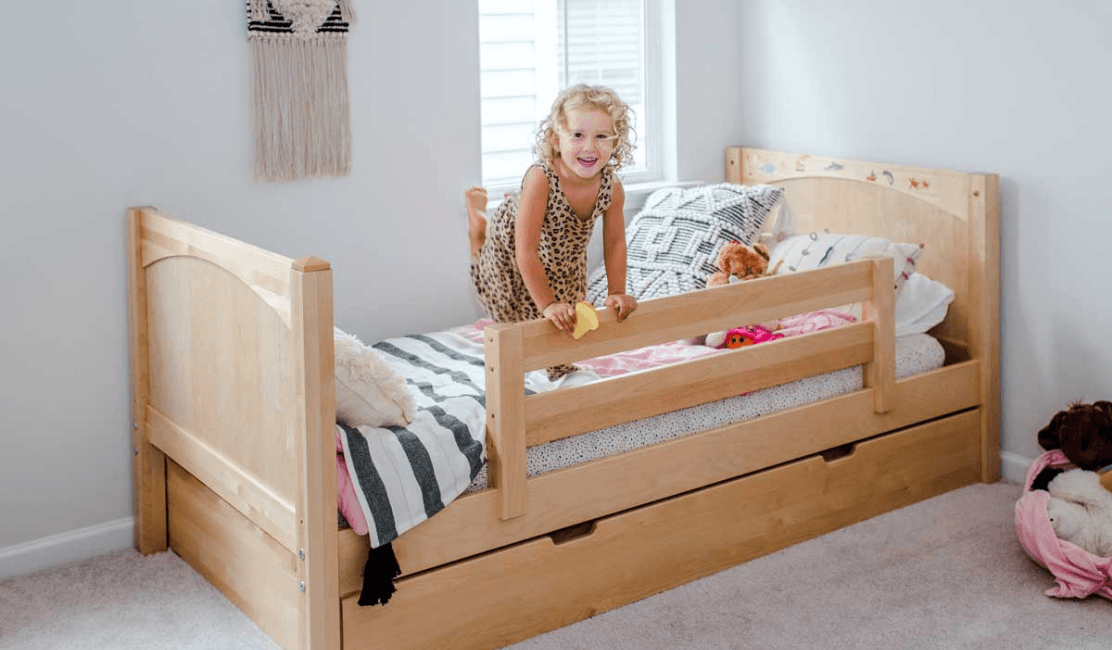 Shopping for
toddler beds
can be so much fun because there are so many different designs available for little girl and little boy's rooms. But, your toddler bed does not have to be a temporary solution until your kiddo is ready for his or her first "Big Kid" bed. Consider investing in a toddler bed that is a standard twin size - AND one that can be reconfigured over time. Our
daybeds
are perfect for this solution. When you accessorize them with a colorful fabric as a top tent, you can have a little kid look today but a sophisticated young child tomorrow as the top tent easily comes off, leaving the wood on the bed unvarnished. Let's meet the "Yo"
toddler bed with top tent
:
Here's a close-up look at our top tents, which are available in many color combinations. We have pinks, whites, blues, purples, greys, oranges and MORE!




Top Tents are kid approved as they create a nice, private spot for your little one to use to sleep soundly without room or sibling distractions. And, let's not forget the how perfect a tent is for indoor hide-and-seek! Trust us - they are sure to us this spot again and again. Rainy, hot or cold days are much more enjoyed in a fun bedroom with an indoor fort / tent.



When you're ready to take off the top tent, you are left with a safe, secure daybed with a front and back guardrail. Continue using this look until your child is ready for his or her first single bed - simply remove the guardrails for a whole new look!


Even better our single beds are the perfect introduction to our Maxtrix System as you can then easily elevate it to make a loft bed, add a bed to make bunk beds or leave it alone as a twin or full size bed that will stand the test of time (and look fabulous).


Complete the Toddler Room
Your toddler's Yo bed is available in white, natural or chestnut finishes. Complete your child's room by matching any of our kid's furniture - dressers, play tables, toy storage or bookcases. Here are a few of our favorites to compliment the Yo: